Loki, One of the most well known Emcees from Scot­land, a Glaswe­gi­an act­iv­ist who raps in his real accent. I inter­viewed him when I went to Glas­gow last week, the real souven­irs I took with me from Scot­land were all the inter­views that I did there. Listen and read this inter­view… you hip hop heads are in for a real treat!
You can listen to it here :
[youtube]http://www.youtube.com/watch?v=dztsuSEk-9s[/youtube]
http://misterlokiscotland.bandcamp.com/track/lokis-the-name-prod-by-sace
Q. How did you get into hip hop?
I listened to it pass­ively all through my child­hood because it was there and it was an emer­ging thing com­mer­cially. I got into it more act­ively when my friends star­ted bring­ing around CDs of everything from Gang­ster styles, to Tupac Shak­ur at first I grav­it­ated to main­stream hip hop artists like Big­gie Smalls, Wu Tang Clan. Then I first saw Eminem on TV in 1999 and I remem­ber being sort of trans­fixed – "what is this? It's really dif­fer­ent from all the oth­er hip hop I've heard up to that point". Also I've always been a writer and always enjoyed writ­ing as a kid as so it was a nat­ur­al pro­gres­sion.
Q. What is influ­en­tial to you and your peers in hip hop? So you were say­ing some emcees such as Eminem…
Well Eminem was more of a form­at­ive influ­ence, I would­n't say so much now, I know it's a very polar­iz­ing thing to say in under­ground hip hop – but for me, oth­er form­at­ive emcees that have influ­enced me, Kool Keith cause its quite sur­real and non con­form­ist , Mos Def – in terms of the con­scious ele­ment of the hip hop and also music influ­ences behind them wheth­er it's a lot of funk and jazz, I'm not an afi­cion­ado of music by any means I can go on with what I hear and how it makes me feel. So I'd say that and MF Doom, in terms of his con­sist­ently and his atten­tion to detail lyr­ic­ally, and the non lin­ear approach he has to lyr­i­cism. If you incor­por­ate those influ­ences into your own style you're giv­ing your­self a lot of free­dom and room.
Q. In an inter­view you said rap­ping in Glas­gow style is hon­est, it's true it reflects my per­son­al­ity gives mean­ing, real mean­ing to exper­i­ence as lived right now… Could you talk a bit about that?
One of the found­ing prin­ciples of hip hop is this idea about being your­self and a lot of emcees in par­tic­u­lar talk about being your­self. But in soci­ety it is the biggest issue they face – people find on a per­son­al basis is being your­self, going quieter deep­er, find­ing out who they are. In my music for any­one who pays atten­tion to it over the year they'll find that struggle of a per­son get­ting the wrong idea of who they are, a bit of truth about that, reflect­ing on that truth and com­ing up against more exper­i­ences that con­tin­ue to shape who they are. My music is per­son­al for cath­artic exper­i­ences –but as times went on but I came aware how my exper­i­ences are a uni­ver­sal one, so when I'm writ­ing I try to draw on more com­mon exper­i­ences. The listen­er doesn't just feel on my behalf but feels for them­selves – It's all about devel­op­ing an aware­ness as an artist and a per­son.
The back­ground was under­pinned by a strong com­munity eth­ic and in the face of lots of chal­lenges in work­ing class areas, which is pre­dom­in­antly where hip hop grows we always felt com­fort in the com­munity spir­it – wheth­er I like it or not, I am bring­ing that to the table – because it's part of who I am, so when I am express­ing myself, that's a big part of it
Q. ah, So are you Hip Hop?
I am Hip Hop!
Q. Hip Hop at its best, what do you think it does and is doing?
Hip Hop at its best raises con­scious­ness and it gives indi­vidu­als with­in a com­munity con­text, gives their lives focus and mean­ing and cur­rency – once I real­ized how my story and how I tell it gave me a value, in terms of express­ing your­self once I became aware of that it made me feel a lot more self worth because I knew I could con­trib­ute some­thing I did not have to acquire any­thing mater­i­al in order to do it. In this day and age it's a very import­ant thing to uncov­er that truth in life – the mater­i­al world is vacu­ous with the relent­less pur­suit of requir­ing things is mean­ing­less if you have noth­ing to chan­nel through the mater­i­al things. Hip hop has giv­en me a map for liv­ing.
Q. You are act­ively involved in the Yes cam­paign — do you see hip hop hav­ing a role in motiv­at­ing young people to vote yes in the ref­er­en­dum?
Yes def­in­itely – it's been some­thing I've been banging on about for about 2 years – any way I could get involved –wheth­er it's in a con­sultancy role for oth­er people who have resources to make things hap­pen– or me dir­ectly cam­paign­ing in my own way, work­ing with oth­er cam­paign­ers. Then It's really try­ing to alert young people to the idea that yes, I under­stand why your apathet­ic towards polit­ics but everything your allowed to and not allowed to is the res­ult of a polit­ic­al decision–to not be aware of the syn­tax of your own soci­ety is leaves you a tre­mend­ous dis­ad­vant­age, and that's the way the powers that be would prefer it to be.
So this is about crit­ic­al con­scious­ness this is about hav­ing an aware­ness about how your soci­ety is joined up… chal­lenge your­self to think in a new way.
Q. That's cre­at­ive, you said 'syn­tax of our soci­ety' what do you mean?
I may be mis­us­ing the word but I ima­gine syn­tax as being the code, the lan­guage what everything is made up of.
Con­cepts such as eco­nom­ics and law are fun­da­ment­al to soci­ety – most people don't know about any of these – most people need a law­yer in court to rep­res­ent them in civil court which is silly, most people don't under­stand the eco­nom­ic mod­el we live under nev­er mind altern­at­ive eco­nom­ic mod­el that's not based on debt. That's why soci­ety stag­nates. Every­one accepts the way the world is presen­ted to them.
Q. : Some non-Amer­ic­an rap­pers speak with an Amer­ica accent? Why do you think it's import­ant to speak with your own accent?

A lot of people intel­lec­tu­al­ize the reas­ons for doing that and say that it's because that is what they listened to – because of com­mer­cial­iz­a­tion – I need to appeal to a broad­er audi­ence…. You guys who are doing that, just Fuck Off – I'll say that again, just fuck off.
Really it's a form of self delu­sion, self hatred with­in an imper­i­al­ist soci­ety, one that's in decline and per­haps at its most aggress­ive– with a 'cul­ture' that's about redu­cing everything down to a homo­gen­ized mono-cul­ture into very nar­row terms because it's then easi­er to sell your stuff. If people doing it to then the [hip hop] mes­sage will get diluted and it will be all about mater­i­al­ism and image and all these vacu­ous things… I've no time for that
It's nat­ur­al for young people at first, but to people on the nation­al hip hop scene if you rap with an Amer­ic­an accent – you are seen as sus­pect now. As aspir­ing rap­pers they are com­ing out in their own accent now – that's cul­tur­ally sig­ni­fic­ant because how we act we talk is now seen as cool.
Q. Have you got any favour­ite UK/London MCs?
I'll be really hon­est – there's a lot of Hip Hop I am a wee bit too old for it. But I really love Leaf Dog (High focus records). I love everything they are doing. They are really chan­ging the sound and vibe of hip hop cul­ture. We are so used to being pulled by the grav­ity of Lon­don-cent­ric everything. People are so cyn­ic­al. It's hard to dis­cern what is a 'Lon­don' sound? Because so much sounds like that and it's so influ­enced by Amer­ica. If you haven't heard him, check it.. Leaf Dog
Q. What are you up to at the mo?
Just now I am work­ing on 2 pro­jects, I'm work­ing on my new album Gov­ern­ment is and a col­lect­ive album 'Toy Con­trol'. We're a col­lect­ive of the most high pro­file hip hop artists in Scot­land right now (oth­ers might think not – that we're doing com­pet­it­ive A‑Game hip hop, But you cant just say you're the best – you've got to prove it. We are battle MCs, we are hav­ing fun, chal­len­ging the very idea of the scene and ques­tion­ing if there even is a scene.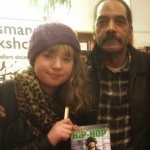 Inter­view by Lana Bell
The fol­low­ing two tabs change con­tent below.

Lana Bell, is an eight­een year old Lon­don­er who is based in Bris­tol. She is an emer­ging Spoken Word Artist, and the Poetry Edit­or for I Am Hip-Hop Magazine. She has been writ­ing for a dec­ade; though she has only been per­form­ing on from the age of fif­teen. She got into Hip-Hop music at four­teen, and she found a massive interest in Old Skl Sounds and the out­let that Hip-Hop music offered her.

Latest posts by Lana Bell (see all)