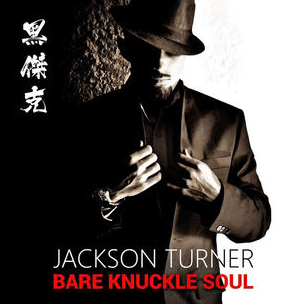 NYC's act­ive Jack­son Turn­er who now resides in China on and off is some­thing truly spe­cial. For all the hip hop heads who want to know of a extremely hard work­ing hip hop artist, get listen­ing! Turn­er has man­aged to pull off a nicely pack­aged new hip hop album 'Bare Knuckle Soul' which har­bours the genres of hip hop, boom bap, trap, reg­gae and soul. Using a steady bouncy hip hop lyr­i­cism to accom­pany a vari­ety of influ­ences in music; Turn­er aston­ish­ingly wraps all of these moods and music tex­tures togeth­er and cre­ates a real treat for listen­ers who are into these influ­ences. And listen­ers into what is pre­dom­in­antly an accur­ate reflec­tion of the birth of under­ground hip hop lyr­i­cism while def­in­itely approv­ingly talk­ing about every­day top­ics in a hyp­not­ic and chilled way. This is an album you can both show to your friends to prove you're undeni­ably cool and also the album you can show to your grand­moth­er when she asks what you've been doing over Christ­mas!
Each song cap­tures the par­tial essence of what for me hip hop should be about, relax­a­tion and reflec­tion. Yes there is a also lot of energy in vari­ous forms of high pas­sion, anger and scep­ti­cism that hip hop gen­er­ally addresses nicely but as a keen hip hop listen­er I feel when the mood of reflec­tion and relax­a­tion are stim­u­lated in a new hip hop album I become like a mag­net to that album. It is an art and a skill to reflect of struggles and life top­ics while sooth­ing your listen­ers too. Just like in the fam­ous early Grand­mas­ter flash hip hop track,' The Mes­sage', 'the world is like a jungle some­times i won­der how i keep from going under' it is pre­dom­in­antly a self-sooth­ing track that soothes and calms oth­ers. This is what I feel Turn­er excels in; get­ting a mes­sage across while sooth­ing people and really look­ing after his respons­ive and delighted listen­ers.
The album is released by TMG, Chin­a's biggest record label. Not to men­tion, Turn­er speaks flu­ent Chinese and has also released songs in Man­dar­in that he has writ­ten. He is one to watch out for, he's keep­ing the momentum and giv­ing us an album we need!
I am Hip Hop team look for­ward to the many more suc­cesses of Turn­er and advise tun­ing in and find­ing your own reas­ons to love this album!
The fol­low­ing two tabs change con­tent below.

Lana Bell, is an eight­een year old Lon­don­er who is based in Bris­tol. She is an emer­ging Spoken Word Artist, and the Poetry Edit­or for I Am Hip-Hop Magazine. She has been writ­ing for a dec­ade; though she has only been per­form­ing on from the age of fif­teen. She got into Hip-Hop music at four­teen, and she found a massive interest in Old Skl Sounds and the out­let that Hip-Hop music offered her.

Latest posts by Lana Bell (see all)