Hip Hop music is a worldwide phenomenon, however it is imperative to trace the origins of the music and how it specifically interrelated to the injustices of black America through its political undertones. Such elements of the Hip Hop culture have been identified with prominent black movements from the 1960s and 70s which promoted an essence of Black Nationalism. Hip-hop merged the two powerful forms of Black art; poetry and jazz and it has provided a formation of identity for many African American youth who are struggling around issues of manhood and womanhood. Black America had been denied their culture by white supremacy; however the Hip Hop movement had devised one that would universally encourage Black pride and empathise with troubles they faced.
After the failure and decline of such movements, it is the powerful, influential and rebellious music that seeks to reinforce Black Nationalism, unity and signify the struggle. The Black Power movement of the 1960s was the initial hope of democracy for Black America. It was a political movement for Africans worldwide however it had a profound relevance for the African Americans, who suffered social and racial out-casting.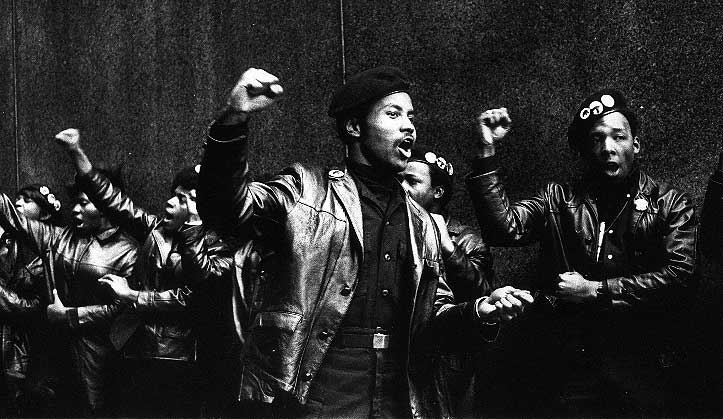 For the first time the Black race were able to embrace themselves and be treated as equal citizens. Black citizens in America were able to acknowledge their heritage openly. Although there was some increase of racial unity this did not stop racism, and in many cases black citizens were still treated unequally. Solutions to these problems that Black Power Movement advocates put into action often lead to the use of guns as a means of self-defence.
The main aim of the Black Power Movement was to embrace the black race and their colour, to give self-definition and finally put an end to internalised racism. In her book Outlaw Culture, Bell Hooks speaks about how the Black Power Movement challenged the black people to examine the impact of white supremacy. White beauty standards were the ideal in America, and because of this "internalized racism" was an issue within Black communities. It was this devaluation of Blackness that the Black Power Movement had politically addressed. Prior to this nothing was ever challenged when a darker skinned black person had been treated unfairly to a lighter skinned black person. However Hooks notes that as the Black people were given the freedom and equal rights to become as successful as white people, the devaluation of blackness emerged again, "once again the fate of black folks rested with white power. If a black person wanted a job and found it easier to get it if she or he did not wear a natural hairstyle, this was perceived by many to be a legitimate reason to change." It is clear that the revolutionary struggle for black self-esteem still plays a big role, although now addressed by Hip Hop artists, who embrace the black race. During the Black Power Movement many Hip Hop founders were being born or growing up through it. Hip hop culture emerged from an era that was suffering from the disappointment of powerful social movements. Although there was some progress there was a sense of depression surrounding the most oppressed.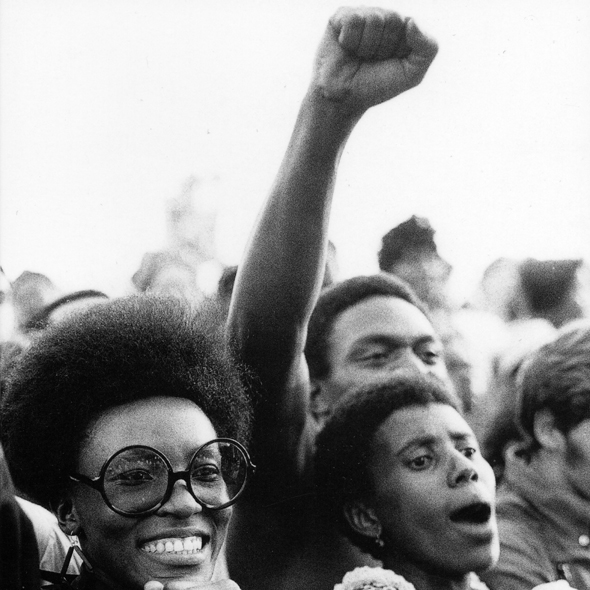 The rebellions of many had meant that the need for powerful nationalist leaders was vital and a close analogy can be drawn with many of the earlier hip hop artists who voiced the repressed anger that Black America was facing. Although many argue that a hip hop artist are entertainers and not leaders, Michael Eric Dyson notes that "such a view overlooks the urgent spiritual crisis passed on to hip hop generation by older black generations. It also slights the initiative and ingenuity of poor black youth who filled a leadership vacuum with artistic expression." Hip-Hop is a branch of the Black arts movement, which has improved the message and has brought much needed dialogue to issues affecting America's Black community in a manner that no popular art form has, prompting Public Enemy's Chuck D to refer to hip-hop as the "CNN" of the Black community. The Black Arts Movement's main goal was to create politically engaged work that explored the black culture and history. Through its reference of the social conditions of Black people and its ability to guide its listeners through the contemporary problems of urban life, Hip Hop is more than just art, like the Black Arts Movement it too is politically active.
Public Enemy was a rap group that encouraged a new wave of support for Black Nationalism and Afrocentrism. In 1988 they released "Party For Your Right To Fight" which was a song about black prerogative and a powerful, explanation of the Black Panther Party for self-defence. With a subversive title it was a response to white rock-rap group Beastie Boys party anthem "Fight For Your Right To Party" and illustrates the powerful, political and nationalist elements that rap had to offer. Hip Hop's active nature reproduced contemporary Black Nationalism. Many of these artists had grown up through past revolutions or had parents who were active during them which inspired them.
An artist who had a revolutionary background was Tupac Shakur whose mother Afeni Shakur was a member of The Black Panthers. Tupac had political dialogue in his music that reflected nationalism. He lived between what he labelled as "Thug Life" and his revolutionary ambition which was sparked from his upbringing. Not only did Tupac reinforce the nationalism that was within him he took a different approach to the failed revolutionaries of the past. His comprehension of past activists allowed him to realise the important social responsibility that came with the art of Hip Hop and used his music as a message to raise moral issues. To survive through the depression of the aftermath of the Black social movements in America, and challenge white supremacy, Hip Hop artists had immediately undertaken the role of the messenger, in which they delivered political dialogue, reinforced an image of Black Nationalism and Pride. This gave hope for Black America, allowed them to politically address the situation they were in, and learning from the faults of previous movements, find a way to successfully attain Black liberation.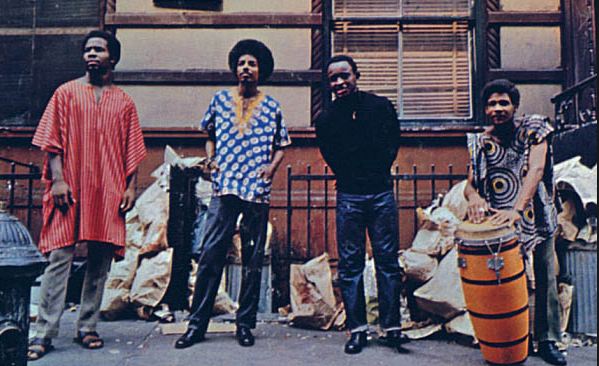 The Hip-Hop generation is a product of African American history, and an invention of a Black cultural production that reinforced Black Nationalism and Black pride and provided Black America with talented contemporary leaders who voiced the struggle they were facing. Its supreme impact comes from the fact that it has encouraged a profound Nationalism in Black America.
So with artists that have been known for their musical voice such as The Last Poets, Grandmaster Flash, KRS-One, Public Enemy (and many many more), and the break dancers and artists that allowed their movement and spray can to speak, Hip Hop was alive, and still is alive in a society that has used it to battle injustices globally.
Rishma Dhaliwal
The following two tabs change content below.
Rishma Dhaliwal has extensive experience studying and working in the music and media industry. Having written a thesis on how Hip Hop acts as a social movement, she has spent years researching and connecting with artists who use the art form as a tool for bringing a voice to the voiceless. Currently working in TV, Rishma brings her PR and media knowledge to I am Hip Hop and other projects by No Bounds.
Latest posts by Rishma Dhaliwal (see all)