This is our inter­view on the doc­u­ment­ary Viva Venezuela with Eth­e­sham who is part of RCG/FRFI.
Q. How was the exper­i­ence of film­ing Viva Venezuela?
It was an hon­our, it was beau­ti­ful, empower­ing, hum­bling, inspir­ing, invig­or­at­ing, fas­cin­at­ing and more. We went to Venezuela in order to bet­ter under­stand the revolu­tion­ary pro­cess and to make con­nec­tions with revolu­tion­ary people… and that is what we did. So we're happy and proud.
Q. From what you've observed, how are the people find­ing the new gov­ern­ment?
I can­'t speak for every­one but I would say that the elec­tion of Maduro [Venezuelan Pres­id­ent] does­n't make it a new gov­ern­ment. So as far as the pro­cess is con­cerned — the struggle con­tin­ues!
Last years elec­tion was a choice between the leg­acy of cap­it­al­ism and the path of social­ism. A choice between no health­care and free health­care. A choice between the past and the future.
For example, Venezuela now has the highest stu­dent pop­u­la­tion in the con­tin­ent. This com­pares starkly to a pain­ful past of bru­tal­ity towards pro­gress­ive stu­dents and young lead­ers.
This viol­ence was per­pet­rated by the US backed, neo lib­er­al olig­archy. The rich.
So, to a cer­tain degree, you can ima­gine how the his­tor­ic­ally mar­gin­al­ized people might feel about the gov­ern­ment of today. And you can ima­gine how the his­tor­ic­ally priv­ileged might feel too.
But as you will see in the doc­u­ment­ary — the Venezuelan gov­ern­ment is now one part of the wider struggle against cap­it­al­ism, imper­i­al­ism and racism. A struggle which has­n't ceased since Colum­bus first set foot on the con­tin­ent.
So in short, rather than just feel­ing the effects of gov­ern­ment, Venezuelans are closer to con­trolling the state than they have ever been. And cer­tainly closer than any­one in Bri­tain is.
There are still many con­tra­dic­tions though and the task ahead is hard, not least because they are pick­ing up the pieces left by imper­i­al­ism. And being shot at by imper­i­al­ism. And being lied about by imper­i­al­ism.
Many Venezuelan indus­tries are still dom­in­ated by private, cap­it­al­ist interests — who are unwill­ing to let go of the obscene priv­ilege they once enjoyed. So how does Venezuela move for­ward? How would WE move for­ward? How would WE dis­mantle cap­it­al­ism?
Q. What are your views about bring­ing cre­at­ive out­lets such as rap into protests and demon­stra­tions?
Cre­at­ive out­lets are essen­tial for human beings. There is a need for cre­ativ­ity in most cir­cum­stances, espe­cially protest and demon­stra­tion.
So it might be worth going fur­ther with the ques­tion.
We have an abund­ance of cre­ativ­ity around us and with­in us — so we need res­ist­ance and struggle to be reflec­ted by that cre­ativ­ity.
Artists: res­ist! Revolt!
Regard­ing rap, well, as people know, the his­tory of hip hop is black struggle, res­ist­ance, love, empower­ment and expres­sion… against racism and against injustice.
Is racism and injustice fin­ished? No! The con­di­tions which res­ul­ted in an out­burst of express­ive res­ist­ance have not changed much, even if a hand­ful of indi­vidu­als have enriched them­selves to obscene amounts through rap­ping, pro­du­cing, dan­cing and graff­ing — it does not neg­ate to the 'suc­cess' of hip hop — or an elev­a­tion away from racism.
Racism and imper­i­al­ism is des­troy­ing our plan­et as much as ever. The need for us to res­ist, struggle, love and empower each oth­er to ORGAN­ISE against injustice is as present as it has ever been.
Q. Can you tell us a bit about RCG please?
The Revolu­tion­ary Com­mun­ist Group has exis­ted for about 30 years. It pro­duces a paper called Fight Racism! Fight Imper­i­al­ism!
At the moment we are focus­ing our energy on fight­ing the cuts, fight­ing Brit­ish imper­i­al­ism and fight­ing racism! What does that mean con­cretely? It means ana­lys­is, dis­cus­sion and action.
it means sup­port­ing the Focus15 Cam­paign, Couni­han-Sanc­hez Fam­ily Hous­ing Cam­paign and Hands off Somalia. It has meant stand­ing on the streets for hours enga­ging with people about the bed­room tax and the bene­fits cap — which is threat­en­ing the lives of thou­sands of people.
All this on top of pro­du­cing lit­er­at­ure, organ­iz­ing events, meet­ings and dis­cus­sions to devel­op and get our point across and to draw people towards the need to organ­ize.
The cap­it­al­ists are more organ­ised than the people. This is a prob­lem. The only solu­tion is to be more organ­ised than them. And Venezuela and Cuba are show­ing how com­mun­ists and social­ists organ­ize to under­mine cap­it­al­ism. Lets take the chal­lenge!
Q. What are you doing at the moment with Viva Venezuela and any oth­er pro­jects?
Regard­ing the doc­u­ment­ary, we're now try­ing to push it out as much as pos­sible. We've done a few screen­ings already, and we packed out Bolivar Hall at our premi­er.
We screened it at a volun­teer run soup kit­chen in Brix­ton.
We made this doc­u­mantary to engage with people. To use the Venezuelan revolu­tion to inspire people here in Bri­tain, to com­mit to chan­ging the imper­i­al­ist, racist char­ac­ter of Bri­tain and to put the interests of the major­ity above the interests of the few. So this means — whenev­er we present the film, we do so against a back­drop of Brit­ish cap­it­al in crisis, aus­ter­ity, attacks on human rights and exploit­a­tion. And we always end by express­ing the needs to get act­ive and involved — and to fight, wherever you are.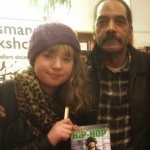 Inter­view by Lana Bell
Watch the doc­u­ment­ary:
[youtube]http://youtu.be/pJZl1bO8JQY[/youtube]
The fol­low­ing two tabs change con­tent below.

Lana Bell, is an eight­een year old Lon­don­er who is based in Bris­tol. She is an emer­ging Spoken Word Artist, and the Poetry Edit­or for I Am Hip-Hop Magazine. She has been writ­ing for a dec­ade; though she has only been per­form­ing on from the age of fif­teen. She got into Hip-Hop music at four­teen, and she found a massive interest in Old Skl Sounds and the out­let that Hip-Hop music offered her.

Latest posts by Lana Bell (see all)