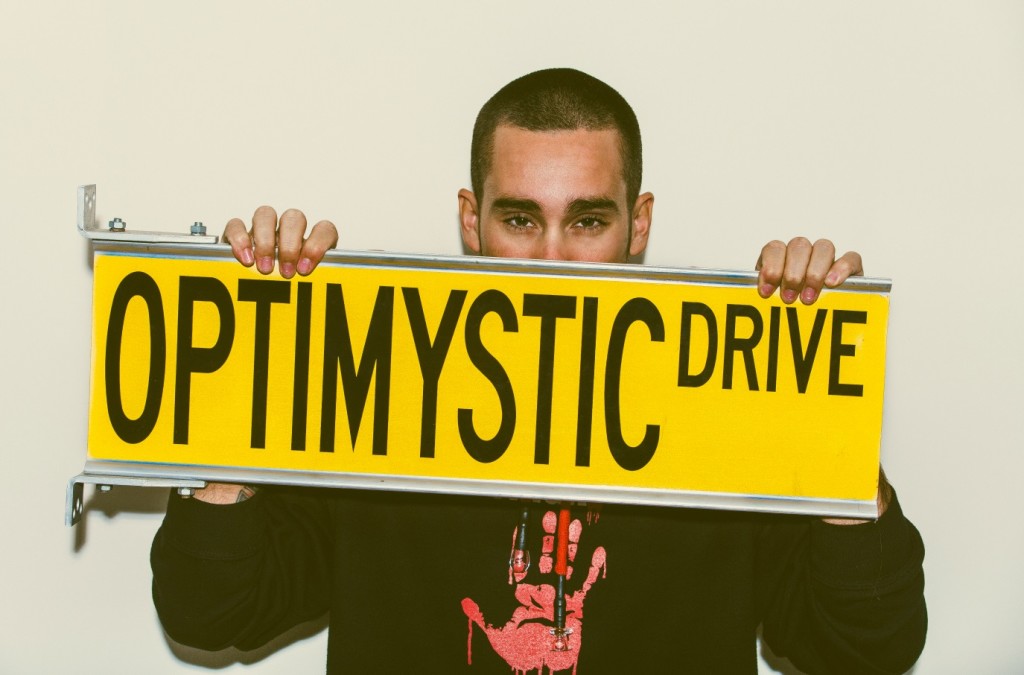 Under­ground emcee Opti­Mys­tic has been work­ing hard towards his latest hip hop pro­ject, the 'Day of the Guid­ing Light' album. Most def­in­itely no stranger to the music scene, Opti­Mys­tic has been mani­fest­ing dreams, mak­ing con­nec­tions and spread­ing his vibe the only way he knows how… with raw love and hard­core pos­it­iv­ity! His pas­sion and extreme addic­tion to the art of rap has lead him on an amaz­ing jour­ney from child­hood to the present moment.
Opti­Mys­tic released his debut solo album in 2005, 'ReVamp', an inde­pend­ent release that fea­tured Grammy award-win­ning super­star and all-round good fella 'Speech' from Arres­ted Devel­op­ment as well as artists such as Maya Jupiter, N'Fa (1200 Tech­niques), Big Village's 'Reverse Polar­it­ies' and Halfcast.
The huge forth­com­ing double album 'Day of The Guid­ing Light', has seen Opti­Mys­tic go fur­ther, to work with even more artists. The album brings on an arsen­al of inter­na­tion­al col­lab­or­a­tions includ­ing New York's Affi­cial Nas­tee heavy­weights ONYX, Keith Mur­ray (Def Squad) Krazy Drayz (Das EFX), Mr Cheeks (The Lost Boyz), Rock­ness Mon­sta (Hel­tah Skel­tah), Chip-Fu (Fu-Schnick­ens), Doitall (Lords of The Under­ground), Afu-Ra, Jeru the Dam­aja, Big Shug (Gang Starr Found­a­tion) and more!
The album fea­tures pro­duc­tion by pro­du­cers such as Daza­s­tah (Down­syde), Creed Birch, Rob Shaker, Loftee Beats, Wisdom2th and Sipn. Already Opti­Mys­tic has released music videos from this upcom­ing album on his you­tube chan­nel and web­site, includ­ing tracks such as 'Fear­less' and 'Rock On All Levels' shot in Brook­lyn, Browns­ville and Queens star­ring Afu-Ra, Doitall, Chip-Fu, Rock­ness Mon­sta and Mr Cheeks. Plus videos for 'Exquis­ite', 'Sick Az It Gets', 'Mon­ster Stomp' and 'Chosen Sac­ri­fice'. And there's more in the pipeline includ­ing 'Spit That Shit' shot in Times Square with Keith Mur­ray and 'Madd Rush' with Onyx.
With strictly hip hop vibra­tions pulsat­ing through­out the album, Opti­Mys­tic spits, rips and kicks a range of flows with vari­ety and pas­sion. This con­scious style rhymer deliv­ers top­ics of love, death, addic­tions, the great unknown, and just straight up hav­ing fun on the mic. OptiMystic's love knows no bound­ar­ies! So be pre­pared and stay aware, for if there ever was a time for this MC to be unearthed to the masses… it's now!
Your latest double album fea­tures a light and dark side, what come easi­er to you ?
It depends on the mood I am in, or the vibe of the beat that I am writ­ing to. Some­times I write early morn­ings when I feel fresh and ener­gized and some­times late in the middle of the night. It seems to be a bal­ance of the two.
Who are your biggest sup­port­ers ?
Mostly people that love and appre­ci­ate good hip hop that see the effort and heart I put into my music, but there are sup­port­ers of all sorts from dif­fer­ent walks of life, diversity is key… plus my mum thinks I'm cool, haha.
What inspired your name ?
My name came about from being a pos­it­ive energy per­son, no time for the bull­shit and neg­at­iv­ity , stay focused and enjoy the moments you have in this life, and spread the vibe.
What's your favour­ite movie ?
I love the Evil Dead movies… and Lord of the Rings tri­logy.
You have been film­ing music videos all over the world, what's your favour­ite loc­a­tion and why?
The video I shot with Rock­ness Mon­sta and Mr Cheeks, 'Rock On All Levels', we shot that on Sack­man street in Browns­ville and in a stu­dio in Queens. I think these were mem­or­able loc­a­tions because I would nev­er have vis­ited them if it wasn't for Rock & Cheeks.
Your renowned for your high energy levels when per­form­ing and pro­mot­ing, where you get it from?
Man… energy is life ! You just need to absorb your sur­round­ings and give it back ten fold with a little twist of your own shit in the mix of it.
What are the 3 most import­ant things in your life at present?
3 most import­ant right now would have to be my fam/friends, my work and my pas­sion… hip hop ! I need all 3 of these to keep me bal­anced. 'Oxy­gen to breathe, hip hop to live'.
Whats your favour­ite book?
I've read a few good books in my life, one that made a big impact was 'Con­scious Evol­u­tion' by Bar­bara Marx Hub­bard. Was an inter­est­ing read when I was 19.
You have worked with numer­ous artists through­out your career, who has been the greatest pres­sure to work with?
Oh man, I guess I would have to say Chip-fu. Not sure if pres­sure is the right term, but it was a little nerve wreck­ing when Chip said he would jump on board. The man has some craaaazy skills… and I didn't want to let him down or make him regret work­ing with me.… but all turned out bet­ter than expec­ted.
Which top­ic do you find easi­est to write about?
I guess any­thing from per­son­al exper­i­ence to just hav­ing fun with word play and rock­ing the mic. Once again it really all depends on the vibe of it all… wheth­er it's writ­ing about the death of a loved one, or about the love I have for someone or some­thing. Tim­ing is impec­cable.
The fol­low­ing two tabs change con­tent below.

Adam KG
Adam KG, is con­scious Hip Hop artist hail­ing from Lon­don City whilst walk­ing the world's pave­ments. He is inter­ested in the enter­tain­ment and media sec­tor, youth work and hol­ist­ic health.