Q. 1. First off thank you for this inter­view. If pos­sible could you give us your thoughts on our magazine "I Am Hip-Hop"?
I dig the site. It speaks to the Hip-Hop heads that aren't selling out or buy­ing in to the cor­por­ate mags and sites. It's import­ant to have unique voices across the cul­ture and a place where revolu­tion­ary minds can build, get the word out and share dope music. I fucks with it!
Q. 2. As a rap­per you seemed to have made a con­scious choice to rap about issues that affect people on a daily basis, such as polit­ic­al, per­son­al and his­tor­ic­al, when so many "main­stream" rap­pers seem to rap about money, cars, clothes etc. Why and how did you get to this choice?
I'm just being me. I was raised that no mat­ter what you do you have to give back to your com­munity. The music I was raised on spoke to the people, Mar­vin Gaye, Curtis May­field, and Stevie Won­der. I have noth­ing against oth­er rap­pers, they rap about what's import­ant to them or their lives, all i can do is be the best me yah dig. I don't think all musi­cians should do the same shit or rap about the same things, I like vari­ety. People have a revi­sion­ist ver­sion of Hip-Hop his­tory most of the time, there has always been mater­i­al­ism, it's just hip-hop is pop music now so it's more aligned with cor­por­a­tions and its force fed 24⁄7, but its always been that way cause people wanna be fly and look good. I write about what I know, what I do and what I'm into, I wanna talk to peoples souls and move them. I make Hip-Hop Soul music.
Q. 3. Who have been your main influ­ences thought out your music career?
My music is a gumbo, I love all types of music so there are all types of influ­ences in there. John Col­trane, Red­man, Bil­lie Hol­i­day, Duke Elling­ton, Rakim, Jimi Hendrix, Wu-Tang, Jay‑Z, Sam Cooke, Stax Records, Al Green, Chuck Berry, Guns N Roses, Snoop, The Rolling Stones, Miles Dav­is, Gil Scott Her­on, Sade, I could go on. My iPod is heavy!
Q. 4. How much influ­ence over you music does being Muslim have?
Islam has had an influ­ence on my life and my music is a reflec­tion of my exist­ence. My Moth­er and Grand­moth­er are Chris­ti­an, I have Jew­ish, Buddhist and Hindu friends and fam­ily mem­bers. I stud­ied philo­sophy in school and on my own. Learn­ing about all faiths and philo­sophies, build­ing with oth­ers, find­ing what i agree and dis­agree with, sim­il­ar­it­ies and dif­fer­ences influ­ence my out­look on the world, if that wasn't all added into my lyr­ics I wouldn't be me.
Q. 5. You work with troubled youth, and run a monthly food and cloth­ing drive in Jer­sey City, New Jer­sey. Can you talk a little about this pro­ject?
It's not just me, there is a group of ded­ic­ated broth­ers and sis­ters who have con­trib­uted for the past 7 years to keep this hap­pen­ing. Every 3rd Sunday of the month we do a food & cloth­ing drive on MLK Drive & Grant Ave. in Jer­sey City NJ. No organ­iz­a­tion or agen­das, just people who care about people and want to make the situ­ation bet­ter. We set up a table or have even laid out blankets on the corner and giv­en away clothes, toys, books, house­hold appli­ances, pampers, non per­ish­able food items and any­thing else people needed. We have been get­ting dona­tions from people all over and thats what keeps it going.
Q. 6. You have also set up a pro­ject called "It Takes A Vil­lage" for the vil­lage in Djati, Guinea-Bis­sau, West Africa. To people that may not have heard of it yet, could you explain the link between this pro­ject and your latest album "Music Is My Weapon" and the aims of the pro­ject"
All of the profits from Music Is My Weapon have gone to build a school & fresh water well in Djati a small vil­lage 3 hrs out­side of the Cap­it­al of Bis­sau in Guinea Bis­sau, West Africa. We have just reached the next phase in our fund rais­ing to build a med­ic­al facil­ity there as well. Hon­estly it is the best thing I have been a part of music­ally. Not just the sound but the pur­pose. The album is amaz­ing music with great fea­tures, Reef The Lost Cause, Eter­n­ia, Bar­on of Red Clay, Range, CF & Snow­goons. My broth­er Raj Flow did the videos, he also had traveled with me to Seneg­al & Guinea Bis­sau 2 years ago to con­duct youth writ­ing work­shops at a S.O.S. Vil­lage and rock. I was the 1st Amer­ic­an Hip-Hop artist to ever per­form out there, it was an hon­or & i loved the people and the land. It star­ted with Aus­tin Dacey ask­ing me to be a part of the Impossible Music Ses­sions where I inter­preted the music of The Balober­os Crew from GB who made a song titled "7 Minutes of Truth" attack­ing their cor­rupt gov­ern­ment and had got­ten snatched up by the mil­it­ary police out there. A few months later Shiv­ani & Hip-Hop Har­mony worked on get­ting up out to West Africa and we got to build with Cobi­ana Records & Balober­os. Ms. Devon Aus­tin reached out to us about being a part of the It Takes A Vil­lage ini­ti­at­ive and it truly has been a bless­ing every step of the way.
Q. 7. Lastly what can we expect from Has­an Salaam in the near future?
My next album 'Life In Black & White' will be good to go soon, its my most per­son­al work to date. Besides more shows I have also been trav­el­ing the coun­try going to Uni­ver­sit­ies & Col­leges giv­ing my lec­ture "From The Spir­ituals To Hip-Hop: Black Music's Socio-Polit­ic­al Import­ance in Amer­ica, and get­ting involved in all types of rachet beha­vi­or & wild shit so you can expect the unex­pec­ted. My life is art and the world is my can­vas. I appre­ci­ate yall inter­view­ing me for the site, peace to all the true sup­port­ers read­ing this! Walk On Water
HasanSalaamMusic.com
Facebook.com/HasanSalaamMusic
@HasanSalaam on twit­ter & ins­tagram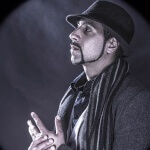 Inter­view by Arash Shari­fi
The fol­low­ing two tabs change con­tent below.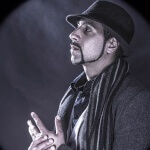 Arash has been pas­sion­ate about Hip hop for many years. He believes through hip hop you can teach, edu­cate and empower people to become bet­ter ver­sions of them­selves and help and sup­port their com­munity and oth­ers. Hip hop is more than just music, it can be a teach­er to us all.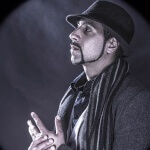 Latest posts by Arash Sharifi (see all)