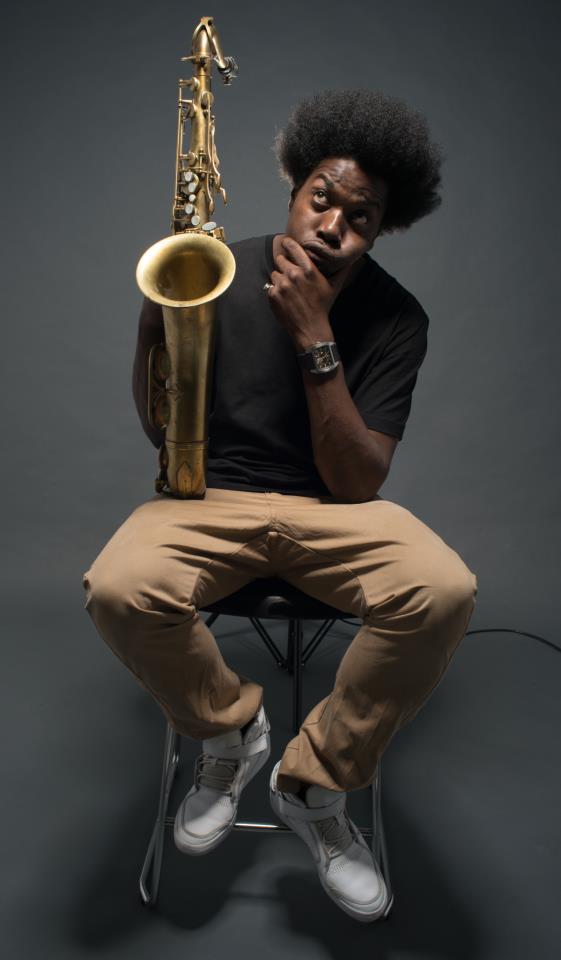 Award win­ning alto-sax­o­phon­ist and MC Soweto Kinch is one of the most excit­ing and ver­sat­ile young musi­cians in both the Brit­ish jazz and hip hop scenes. Undoubtedly, one of the few artists in either genre with a degree in Mod­ern His­tory from Oxford Uni­ver­sity he has amassed an impress­ive list of accol­ades and awards on both sides of the Atlantic — includ­ing a Mer­cury Music Prize nom­in­a­tion, two UMA Awards and a MOBO for best Jazz Act in 2003. In Octo­ber 2007, he won his second MOBO Award, at the O2 Arena, Lon­don where he was announced as the win­ner in the Best Jazz Act cat­egory- fend­ing off stiff com­pet­i­tion from the likes of Wyn­ton Mar­s­al­is.
His skills as a hip hop MC and pro­du­cer have also garnered him recog­ni­tion in the urb­an music world: hav­ing sup­por­ted the likes of KRS ONE, Dwele and TY, and being cham­pioned by the likes of Mos Def, Rod­ney P and BBC 1‑Xtra's Twin B.
Thank you for tak­ing the time to do this inter­view. To the people read­ing this and have not heard of you before could you explain why you came up with the name Soweto Kinch and what type of music you per­form?
Well my Mum has to take full cred­it for nam­ing me! Soweto is a Town­ship 'S‑Outh W‑Est' of Johan­nes­burg. I was born a couple of years after a major incid­ent there which aler­ted the world to the evils of Apartheid, and the racist policies of the South Afric­an gov­ern­ment. Chil­dren were protest­ing 'Bantu' edu­ca­tion which set out to fur­ther ghet­toise them, and the gov­ern­ment of the day opened fire on chil­dren killing many of them.
The name's (and more import­antly the story) def­in­itely inspired me, and I feel a huge debt to the cour­age those chil­dren showed– res­ist­ing racism and a bru­tal régime.
Music­ally, I guess my two biggest influ­ences are Hip Hop and Jazz — I play the sax­o­phone and I MC, you can find me hit­ting jazz jam ses­sions one day, and in a Dont Flop Battle the next!
How and why did you come up with the concept to mix your sax­o­phone play­ing and rap/poetry togeth­er?
When I star­ted tak­ing my MCing and sax­o­phone play­ing ser­i­ously, Hip Hop had turned a corner (in the 90s). Pro­du­cers were as likely to sample jazz records as they were James Brown — The Phar­cyde, A Tribe Called Quest and De La Soul all had a massive impact on me.
But I also had the influ­ence of art closer to home. My Father's a play­wright and I recog­nised the power of art to chal­lenge ste­reo­types — I was inspired by Lin­ton Kwei John­son, Steve Wil­li­am­son and Court­ney Pine in this coun­try who;d already star­ted to break out of the con­fines of 'genres.'
What or who inspires you to write the music you do?
I have a wide range of influ­ences and inspir­a­tions — ran­ging from life, love through to his­tory and polit­ics. I've tried through most albums to fol­low a theme as a thread, and that tram­mels my writ­ing pro­cess. On The New Eman­cip­a­tion, I was keen to reappraise 'slavery' and 'free­dom' in a mod­ern world of cor­por­a­tions, and sup­posedly post-racial polit­ics. On The Legend of Mike Smith, the 7 Deadly Sins was the inspir­a­tion — which allowed me to inter­n­al­ise dif­fer­ent moods and ener­gies for each track, as well as make some com­ments on the com­mer­cial music industry.
With Nona­gram, my latest release — I've taken numbers/geometry as my inspir­a­tion. I think our brains are pro­foundly affected by the worlds of sound, and laws of geo­metry that sur­round us every day with us pay­ing atten­tion to them. I wanted to explore an approach that would bring people togeth­er (irre­spect­ive of race, gender and class) and in some way alter con­scious­ness. So much com­mer­cial music is mar­keted in a tri­bal way, and our pop­u­lar polit­ics seems to be rein­for­cing divi­sions in our soci­ety. I intend for Nona­gram to be a bit of an anti­dote!
You worked with the BBC to coach 12 vul­ner­able young per­forms to show­case their first show. What were some of the chal­lenges for you and what did you take away from the exper­i­ence?
I really enjoyed that pro­cess, with Gol­die, Miss Dynam­ite, Guy Cham­bers and oth­ers. It was great to get a snap shot of how much tal­ent there is across the UK — and often des­pite economic/personal hard­ships. In some ways it was a con­tinu­ation of work I'd star­ted a long time before, and am still doing. I think the tag of 'dis­ad­vant­aged' is some­times unhelp­ful — as some the most tal­en­ted people I meet are from poorer back­ground and don't have the sorts of industry leg-ups that oth­ers do. If I took any­thing away, it was aware­ness that some of the most excit­ing art is hap­pen­ing in the places that the 'industry' ignores.
You cre­ated an event in Birm­ing­ham called the fly­over show. What is the event about and why did you decided to cre­ate it? Also now in its 6 year what are your plans for the fly­over show in the future?
The Fly­over Show, does embody the way I like to cre­ate and stage work. Its a day-long fest­iv­al that takes place beneath a motor­way fly­over in Hockley — and after the amaz­ing recep­tion we got this year I'm even clear­er of what the show's about. So many tal­en­ted artists live in Birm­ing­ham — once again in areas, cre­at­ing work the main­stream tends to ignore. People like Tre­mend­ous, Call-Me-Unique, Amerah Saleh, Trope, Jae Dot Sosa.. (the list is end­less) are con­stantly cre­at­ing ground-break­ing ideas and sounds, and just need a plat­form that endorses them — pro­pelling them to be more ambi­tious. Areas such as New­town, Hockley, Lady­wood, and Handsworth are often wil­fully neg­lected. How­ever, there are deep tra­di­tions in the com­munit­ies that have made them home — The show among many things is about refram­ing Black Brit­ish cul­ture, bey­ond the gang­land ste­reo­types and cel­eb­rat­ing the best in our city.
You have trav­elled per­form­ing at many events around the world. How does per­form­ing in dif­fer­ent places affect your per­form­ance and the type of music your write?
I really enjoy get­ting to travel and try out our mater­i­al on dif­fer­ent crowds. I've been lucky to get to places such as Palestine, Moscow and Zim­b­ab­we — and its always massively eye-open­ing get­ting beneath the ste­reo­types we hear on the news. I think its giv­en me a broad­er world-view — as well as con­vinced me our human sim­il­ar­it­ies vastly out­weigh the dif­fer­ences. I've also been sur­prised at how recept­ive people are to 'polit­ic­al' songs around the world. There's a sort of media myth — that the most suc­cess­ful artists are the ones who make com­mer­cial music. Con­trary to that idea — I reck­on the audi­ence for an Immor­tal Tech­nique in Egypt, or Pub­lic Enemy in Aus­tralia even now would dwarf a Lil Wayne con­cert… The only dif­fer­ence is mar­ket­ing.
Your latest album titled Nona­gram is being released in Novem­ber. What is the concept of the album and what can people expect from it?
As I star­ted to describe the new album is really about heal­ing and the con­nec­tions of sound to numbers/patterns. There's a lot of maths in art/sound and vice versa — it's some­times frus­trat­ing how we are taught to think of such rigid dis­tinc­tions between sub­jects. So I hope it's an eye/ear open­ing exper­i­ence hear­ing the new album, and encour­ages people to look past the super­fi­cial.
Find out more about Soweto Kinch Here.
The fol­low­ing two tabs change con­tent below.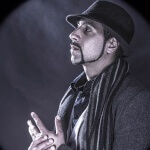 Arash has been pas­sion­ate about Hip hop for many years. He believes through hip hop you can teach, edu­cate and empower people to become bet­ter ver­sions of them­selves and help and sup­port their com­munity and oth­ers. Hip hop is more than just music, it can be a teach­er to us all.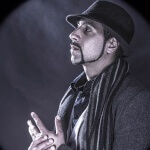 Latest posts by Arash Sharifi (see all)