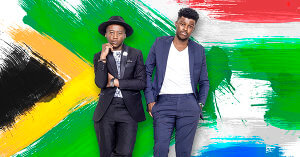 Whilst the drum pat­terns found in West­ern House music have become repet­it­ive over the years, those found in South Afric­an House seem to take us some­where else. When house music from Chica­go made it to SA, the Afric­an pro­du­cers were able to shape some­thing knew as they infused it with their own vary­ing cul­tur­al rhythms. Where an Amer­ic­an or European pro­du­cer used a soul sample or an elec­tron­ic sound to cre­ate a note, South Afric­ans were able to reach for unique instru­ments from their own his­tory. Some­times when listen­ing, you will hear Eng­lish-speak­ing vocals sung with a South Afric­an accent. At oth­er times you will be blessed with vari­ous indi­gen­ous lan­guages.
But although South Afric­an House music is so innov­at­ive, it has not found great inter­na­tion­al appeal. Even with­in the glob­al dance and elec­tron­ic scene, it has almost been pushed into a 'world' cat­egory. But through the suc­cess of SA's con­tem­por­ary music hero, Black Cof­fee, the genre is now reach­ing wider audi­ences. He has been hard at work push­ing house tracks by his fel­low SA's pro­du­cers. Through him, listen­ers are start­ing to real­ise that South Africa might be the unof­fi­cial house cap­it­al of the world with hun­dreds of artists deserving of more recog­ni­tion.
Two of these such artists are the duo that make up Black Motion. At their recent per­form­ance at XOYO, they moved their ded­ic­ated crowd with Djing, live drum­ming and dan­cing. Hav­ing been to a lot of house nights at the ven­ue, I could see that their per­form­ance illus­trated how dif­fer­ent the genre could truly be. Gen­er­ally a house DJ tries to put togeth­er songs that are sim­il­ar in tempo and feel, gradu­ally chan­ging the mood of the set over time. Instead, Black Motion cre­ated a set that throbbed and changed in speed and feel. It was some­thing organ­ic. And rather than it feel­ing like we were many sep­ar­ate groups in the audi­ence, it felt like one sea of eager dan­cers.
The drum­mer respon­ded to the yells of the crowd and the DJ would allow him to take centre stage. Some songs drew the audi­ence into a dance whilst some oth­er songs were brew­ing and min­im­al. The lat­ter kind are staple in the South Afric­an scene, more to cre­ate atmo­sphere than to tell a story. After such tracks, they'd bring it back to those with uplift­ing keys and strings. In most of the songs, the bass­lines were not clear or pen­et­rat­ing, they were cloudy and heavy, car­ry­ing the rest of the lay­ers.
Cer­tain songs would make the audi­ence move in sim­il­ar ways without their con­scious thought. It made me won­der wheth­er it had some­thing to do with the drum pat­terns them­selves, or wheth­er it was because the dan­cers were doing some sort of psy­cho­lo­gic­al imit­a­tion of one anoth­er. Either way, what it illus­trated was the com­mun­al power of the music. Fur­ther­more, there was none of the hos­tile edge that is usu­ally found in Lon­don clubs.
I wondered how much of the crowd were South-Afric­ans since many were able to sing along to the lyr­ics, a remind­er of their home. And how much of the crowd were merely mum­bling what they thought the lyr­ics soun­ded like (as I do in private)? How many of us had fol­lowed the scene from its begin­nings in the 90's and how many had recently researched this phe­nomen­on and decided to invest ourselves in it? But the most import­ant thing was that we were all able to appre­ci­ate and par­ti­cip­ate in this extremely altern­at­ive scene in this already altern­at­ive genre.
[youtube]https://www.youtube.com/watch?v=VnR_iVax4E4[/youtube]
The fol­low­ing two tabs change con­tent below.

A writer with an interest in Philo­sophy, Soci­ology, Anthro­po­logy and all things intro­spect­ive. Someone who is equally at home in under­ground house raves as he is in café's. He is con­tinu­ally ques­tion­ing the sys­tem and his own lines of reas­on­ing. There­fore, he is always rein­vent­ing him­self.

Latest posts by Nicholas Milverton (see all)