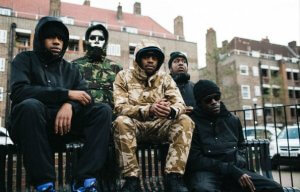 Last week a music event was hos­ted by the Music Ther­apy Char­ity, Nor­doff Robins. It was centred around their nation­al aware­ness day, 'Get Loud'. The aim was to spread a mes­sage about the import­ance of using music to over­come dif­fi­culties in life. As a char­ity, Nor­doff Robins focuses on provid­ing music ther­apy for people who are vul­ner­able and isol­ated. There­fore the cli­ents can be from a wide vari­ety of back­grounds. For example, some of the pre­vi­ous work by Nor­doff Rob­bins has assisted in help­ing people with Aut­ism to find peace and well­being. Their oth­er work has assisted in those going through phys­ic­al rehab­il­it­a­tion or trauma.
How­ever, almost iron­ic­ally, the head­line act for the night was the south Lon­don group, '67'. For those who are not aware, '67' are known to talk about money, drugs and viol­ence. Because of this, I found it quite dif­fi­cult to under­stand how the mes­sages of the Char­ity and the group coin­cided. How would a listen­er be emo­tion­ally bet­ter off after listen­ing to the music? Not to dis­cred­it '67' music­ally or con­cep­tu­ally of course, but I found it con­fus­ing that they would be chosen for the event. Almost to prove my point, a fight broke out between the fans dur­ing the set. This ended bloodily and the two fans were taken out of the club.
But could the organ­iser have been mak­ing a subtler link to the under­ly­ing mes­sage? Maybe the point was not simply to provide people with music that made the listen­er feel good. Instead, maybe it was to show­case acts that truly expressed them­selves through their art. I make this assump­tion because I know that a key ele­ment to much of music ther­apy is the actu­al inter­ac­tion between the cli­ent and their cre­ation of music. For example, a cli­ent might learn to play an instru­ment or learn to sing in order to express them­selves in a way they weren't able to.
So it's cer­tainly pos­sible that the organ­iser real­ised the con­nec­tion between the dark­er side of rap and the artist's per­son­al relief through express­ing lyr­ics that may not be pos­it­ive but are hon­est non­ethe­less. In a way, it would be sim­il­ar to the gen­er­al ther­ap­ists' request that the cli­ent not brush over the neg­at­ive aspects of a story.
So when '67' hit the stage and were wor­shipped by their fans, maybe the hope was that they would be recog­nised for their vivid depic­tions of life. That des­pite the fact that their music has the poten­tial to glor­i­fy the life of gang­sters, we should look at it from a dif­fer­ent angle alto­geth­er. It is just expres­sion. Think, for example, if the mem­bers were unable to have found music as an out­let. Maybe their situ­ation would be con­sid­er­ably worse.
It is very pos­sible that this was the over­arch­ing philo­sophy of the night. As the mem­bers of 67 incited the fans to mosh and the teen­age fans pushed against each oth­er excitedly, maybe the point was not to think but to feel. To take the time to express one­self and to let it all out. Music­al expres­sion is ther­apy even if the res­ult­ing music may not be so pos­it­ive.
The fol­low­ing two tabs change con­tent below.

A writer with an interest in Philo­sophy, Soci­ology, Anthro­po­logy and all things intro­spect­ive. Someone who is equally at home in under­ground house raves as he is in café's. He is con­tinu­ally ques­tion­ing the sys­tem and his own lines of reas­on­ing. There­fore, he is always rein­vent­ing him­self.

Latest posts by Nicholas Milverton (see all)