I am warmly wel­comed as soon as I enter this invite-only Hip- Hop event. The first per­son I see is Selvasse (pro­nounced: Selassie), the boy­friend of one of my good friends. We shake hands excitedly, both of us sur­prised to see each oth­er. But then I real­ise that I shouldn't be sur­prised, I might have even expec­ted him. Selvasse is known in the under­ground Hip-Hop scene for his unques­tion­ably gentle and abstract style. In the past he's opened for Ander­son Paak on a Boil­er Room set. After my sur­prise sub­sides, I am greeted by oth­ers who ask me what I do.
'Do you pro­duce? Rap? Write'. This is a hard ques­tion to answer since I dabble in a few of those things.
'I'm review­ing the event,' I say, 'But I also pro­duce,' to which their eyes light up. Then I say, 'But mostly house music', and the excite­ment goes out of their faces as fast as it arrived. The preach­er in me struggles to remain silent. I want to give my age-old talk about how house and Hip-hop came from the same place. But this isn't the right time, this is a Hip-Hop event and I have to respect the art.
Shem, one half of the 'Black Male Beats' Duo tells me more about the under­ground Hip-Hop scene in the UK at the moment. The scene is in a trans­ition­al phase in its devel­op­ment, find­ing new listen­ers in those that have over­looked our home-grown tal­ent. People are start­ing to real­ise that we have more than Grime, UK trap or the older Hip-Hop of Jeh­st or Roots Manuva. There is a wave of pro­du­cers that have been push­ing a smooth­er con­tem­por­ary style. The only hurdle seems to be in deliv­er­ing this music to the wider audi­ence and not get­ting lost in the waves of pro­du­cers on sound­cloud. But Shem is cer­tain that this par­tic­u­lar scene is grow­ing. I am inclined to agree. There is a con­scious­ness brew­ing in the UK with more people com­ing togeth­er in unity. This music might be the music­al force that it is needed.
'Lek's on the Beat', a young pro­du­cer starts off the night. His beats sound very cur­rent, the cool UK trap sound that is pop­u­lar at the moment. It is the sort of thing that we are used hear­ing from '67'. In fact, one of his beats is used by 'Har­lem Spartans' in their track 'Money and Viol­ence' which has nearly one mil­lion views on You­tube. This is a massive achieve­ment for someone who has only been pro­du­cing beats for two years.
We are returned to the boom-bap style by two pro­du­cers from the 90's crew, '57th Dyn­asty'. They begin their set by play­ing rugged rid­dims which would be fit­ting on a late Wu-Tang album. The 57th Dyn­asty were major fig­ures in the UK Hip-Hop scene in the 90's and early 2000's. While listen­ing, I ima­gine how influ­en­tial the group must have been on an emer­ging 90's youth cul­ture which was divert­ing from the Soul and Reg­gae of the gen­er­a­tion before them. One of the mem­bers brought his son along to the event. I thought he was only there for mor­al sup­port before he hits the decks and plays some of his own instru­ment­als and remixes. A remix of Mary Jane Girls, 'All Night Long' is a par­tic­u­lar stand out.
'Shai Sev­in' and 'Lo-Fi' are an inter­est­ing com­bin­a­tion. Shai, like his music, is loud and more dra­mat­ic, get­ting the crowd hyped to his hard-core rid­dims. Lo-Fi, on the oth­er hand, is more calm and soft-spoken. His beats are dreamy and reflect­ive. It makes me think of look­ing out of a win­dow on a winter Lon­don after­noon. So sooth­ing are his instru­ment­als that an MC might ruin their mood.
'Emmavie' is a stand-out of the night. She brings some power­ful, much-needed fem­in­ine energy into the build­ing. The sis­ter sound of Neo-Soul sud­denly flows through the room and changes the mood. Feel­ings of hope, for­give­ness, tran­scend­ence and love breathe through her tracks. Her vocals sound per­fect on the instru­ment­als and one wants to exclaim, 'but she's already made it!'.
The same can be said about Selvasse. There is a matur­ity to his music that can't be denied. Maybe it has to do with how he spent his life between Ghana and Lon­don. It's dif­fi­cult to cat­egor­ise his music. It's more dra­mat­ic than hip-hop, more orches­trated. So many dif­fer­ent sounds are used and as soon as you get used to one sound, anoth­er one enters that's even fresh­er than the last.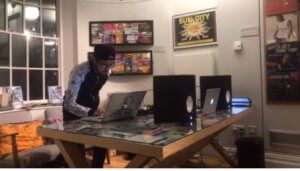 'Black Male Beats' finally step to the decks and the audi­ence applauds. It is easy to see that they are loved not only for their music but for their rela­tion­ship to the com­munity. They thank the Black Cul­tur­al Archives for set­ting up the event and soon they are back to doing what they are good at. The jazz, funk and soul ele­ments are cent­ral to their par­tic­u­lar brand of Hip-Hop. They over­lay 90's RnB or Jamaic­an vocal samples over xylo­phones and oth­er jazz instru­ments. The horns are also import­ant, con­sol­ing the listen­er at just the right time.
I step out into the smoking area for a moment to receive an inter­na­tion­al call. When I'm fin­ished, I stand there for a minute, tak­ing in the energy. Party-goers pass by on the street bey­ond the gate. They are eager to see what the night will bring. I look back to the doors of the event. People are huddled by the entrance, exchan­ging con­tact details and encour­aging each oth­er in their craft. The light from indoors looks cosy and warm. I can see Shem's afro as he pushes out the tracks. It reminds me of a soul­ful-house DJ set.
It's at this moment that I'm filled with hap­pi­ness by all these artists who are doing what they love. All under­ground or inde­pend­ent artists can be prone to self-doubt due to a lack of recog­ni­tion or because their craft is yet to bring in a good income. But a night like this is a pos­it­ive remind­er that the most import­ant thing is the enjoy­ment and com­fort that the craft brings. The audi­ence is so sup­port­ive and I'm sure that every­one ends up leav­ing the build­ing feel­ing even more empowered and con­fid­ent than when they entered.

The fol­low­ing two tabs change con­tent below.

A writer with an interest in Philo­sophy, Soci­ology, Anthro­po­logy and all things intro­spect­ive. Someone who is equally at home in under­ground house raves as he is in café's. He is con­tinu­ally ques­tion­ing the sys­tem and his own lines of reas­on­ing. There­fore, he is always rein­vent­ing him­self.

Latest posts by Nicholas Milverton (see all)