Ray­mond Antro­bus
http://raymondantrobus.blogspot.co.uk/
Ray­mond Antro­bus is a spoken word poet and pho­to­graph­er, born and bred in Hack­ney. He is co-cur­at­or of Chill Pill/Keats House For­um and has per­formed along side authors and poets such as Mar­gret Atwood, Michael Horovitz, Lemm Sis­say, Ben­jamin Zephaniah & Kwame Dawes. Ray­mond appeared on series 5 of BBC Radio 4's Bespoken Word. He has been per­form­ing poetry since 2007 and is the Inter­na­tion­al Far­rago slam cham­pi­on 2008, Anti-Slam Champ 2010, won Best Per­form­ance by a Lon­don poet at the Far­rago annu­al poetry awards 2010 & Can­ter­bury Word Slam Champ 2012. He's per­formed at Lit­er­at­ure Fest­ivals at London's South­bank Centre and Uni­ver­sit­ies across Lon­don, Manchester and Cov­entry. Ray­mond has also toured Ger­many, Italy, South Africa & USA. He is one half of Speed Cam­era Shy'; a music pro­ject that com­bines Spoken Word/Rap with Dub Step. Sign­ing with Amer­ic­an Under­ground label Audio Gradi­ent. Ray­mond is cur­rently study­ing on the pilot Spoken Word Edu­ca­tion pro­gramme as part of the MA Writer/Teacher at Gold­smiths
Con­ver­sa­tion With A Home­less Man On Shored­itch High Street
Yeah bruv, no one's giv­ing today. People get fuckin' miser­able when it's rain­ing, it's like the sky takes the sun right out the people. Ya know, people think you got to be dumb to end up home­less, but look at these people bruv, any of them can end up smelling like the shit they walk into. Even my dad said be care­ful of women, they fuck you up bruv, alco­hol and drugs were inven­ted by men try­ing to run a woman out their skin. Nuff men top them­selves over women, I get it, trust me bruv. If I could start over you know what I'd do? I'd leave the crazy bitches alone and I'd learn three words a day in anoth­er lan­guage.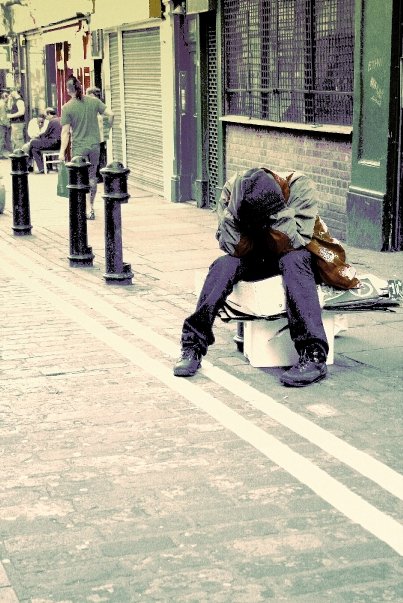 With­in three years I'd speak five lan­guages, there's a lot of money in lan­guage trans­la­tion bruv. I got a daugh­ter ya know. Beau­ti­ful little girl, I don't see her cause' the mum fucked me off. Bruv, you ever felt your heart in someone else's hands? Women don't have fin­ger nails bruv, just blood and fuck­ing claws. I shouldn't be think­ing about this shit too much, you can't think your­self happy bruv. I had a mate who read a lot of books, he was into that rad­ic­al black shit about Africa and shit. My man went fuck­ing psy­cho, shot two police­men on his door­step then shot him­self, it was the books bruv, he went fuck­ing mad. I got two books, the dic­tion­ary and the bible. Yeah, there's this barber shop I go to and they cut your hair for free if you say you believe in God. Bruv, I walk in there hold­ing my bible so I can get a free shave too, they say I got to look good for God. I think its bull­shit though, I just want a free cut in case I see my daugh­ter. Would­n't want her to see me look­ing like this.Anyway, bruv, you got any change?
The sun has come out.
The con­ver­sa­tion pieces are part of a series Ray­mond Antro­bus pub­lished last year, you can buy it here: http://www.amazon.co.uk/Shapes-Disfigurements-Of-Raymond-Antrobus/dp/1909136077/ref=sr_1_1?ie=UTF8&qid=1386254763&sr=8–1&keywords=Raymond+Antrobus
The fol­low­ing two tabs change con­tent below.

Lana Bell, is an eight­een year old Lon­don­er who is based in Bris­tol. She is an emer­ging Spoken Word Artist, and the Poetry Edit­or for I Am Hip-Hop Magazine. She has been writ­ing for a dec­ade; though she has only been per­form­ing on from the age of fif­teen. She got into Hip-Hop music at four­teen, and she found a massive interest in Old Skl Sounds and the out­let that Hip-Hop music offered her.

Latest posts by Lana Bell (see all)