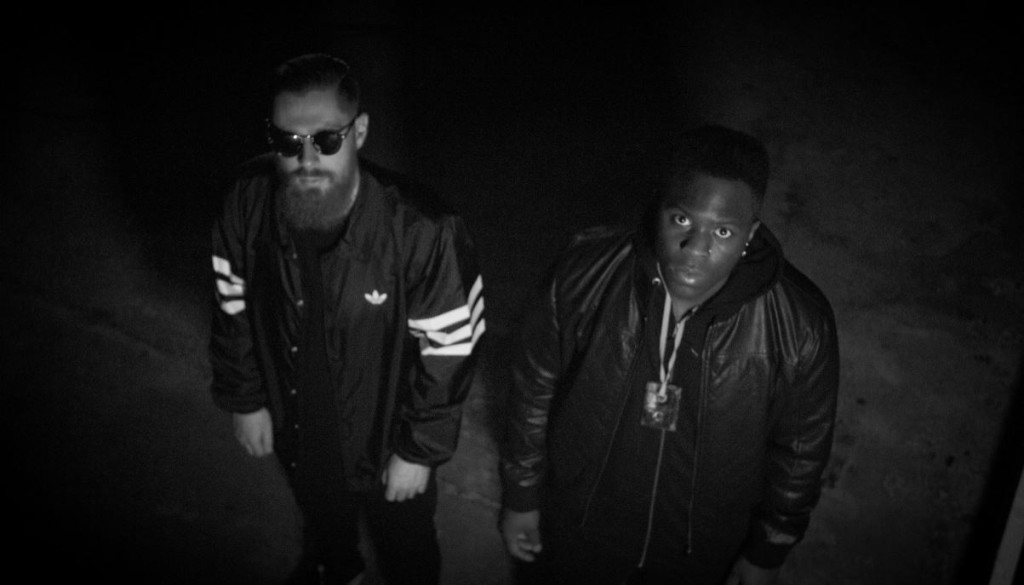 IAHH Catch up with U.K Hip Hop duo Krash X Ele­ments in light of their Debut release 'Astro­nauts and Crosses.'
What is it that brought you two togeth­er as a group?
Krash Wil­li­ams: In 09 we linked up as part of a team and were the 2 main rap­pers doing music work­shops in pris­ons. Lit­er­ally I remem­ber our 1st meet­ing, Ele­ments was play­ing me some of his beats and spit­ting bars and then we star­ted chat­ting about mak­ing a tune togeth­er to per­form on tour. The tunes got bet­ter and so we just added mir­cow­ave foods, Logic Pro and late nights into the mix.
In your opin­ion what's the biggest prob­lem with the rap scene today?
Krash Wil­li­ams: People don't talk about bod­ies of work as much any­more. People read in lyr­ics because a lot of artist's would rather vent on social media instead of mak­ing a song about what they really feel. At the same time a lot of up and com­ing artists includ­ing ourselves would­n't neces­sar­ily have a big plat­form to be heard so it's a catch 22.
We love the art­work on your soon to be released EP "Astro­nauts and Crosses", do you actu­ally look like the car­ton depic­tions and the front cov­er?
Ele­ments: To tell you the truth, I'm way short­er than Krash in real life, got me feel­ing like a giant on the cov­er tho!
Krash Wil­li­ams: Yeah pretty much haha
What are your day jobs or are full time artists?
Ele­ments: I work in men­tal health, before that I was work­ing for a home­less­ness char­ity
Krash Wil­li­ams: I work for ITV as a run­ner and occa­sion­al assist­ant edit­or.
As a group who are you main inspir­a­tions?
Krash Wil­li­ams: You gotta rate Out­kast for cre­at­ing their own lane as duo and mould­ing the game. Andre 3000 is was one of the 1st people I ever heard as a sick emcee and dope sing­er too. Also Kano, Massive Attack, Kanye and J Dilla to name a few.
Ele­ments: Yeah to add to that Yasi­in bey, wretch 32, Kendrick Lamar
What have you learnt from deliv­er­ing work­shops through­out pris­ons in the UK?
Ele­ments: People talk about things in lyr­ics they would nev­er be pre­pared to speak on in con­ver­sa­tion. Music, espe­cially hip hop is so import­ant because it gives people a plat­form to express them­selves hon­estly and reflect on things. Music is so import­ant for express­ing your­self. The amount of tal­ent out there is crazy but even regard­less of your tal­ent or how far you plan to take it writ­ing lyr­ics can be like ther­apy. For some people it's their only way to talk about their feel­ings and exper­i­ences in an hon­est way.
Krash Wil­li­ams: There's a lot of tal­ent that is unheard due to life cir­cum­stances and a lot of the people we met had been in and out of pris­on due to a sys­tem that fails them. People that even­tu­ally 'make it out' of the sys­tem usu­ally have to devel­op the drive to do so but must work 10x harder than most people out of pris­on but from tough back­grounds.
What's your favour­ite food?
Ele­ments: It's got to be my wife's cur­ried chick­en.
Krash Wil­li­ams: It's between cur­ried goat with rice and peas and Chick­en stew and Jol­lof rice for me…please don't make me choose between the two LOL. Or if I wanna go com­pletely left I would say cer­eal in gen­er­al.
When did you first start pro­du­cing music, and what promp­ted that?
Krash Wil­li­ams: Ele­ments pro­duced the entire EP and I've pro­duced a pre­vi­ous solo pro­ject so I'll let him answer this one.
Ele­ments: I star­ted off mak­ing beats when I was like 16, I'd already been try­ing to Dj for a few months and I got really inter­ested in how the music was made. I remem­ber I looped the drums from don't change your love by the five Stair­steps on a cracked ver­sion of cool edit pro and layered anoth­er loop on top. I can still remem­ber the feel­ing. That break is mad fam­ous and has been used on loads of clas­sics but at the time I did­n't have a clue about all that. I was hooked from then. I've nev­er got bored of it and I'm learn­ing all the time.
Where do you see your­self in 5 years?
Krash Wil­li­ams: Hope­fully hav­ing a 2 or more pro­jects under our belts and a bunch of singles. A track record of con­sist­ency along with more people that are into what we do. It would be great to be able to prop­erly eat off music too.
Ele­ments: Rais­ing a fam­ily and mak­ing music
Whens your next Lon­don gig?
Krash: Still in the pipeline so you'll have to fol­low us at @krashxelements on insta to keep up to date.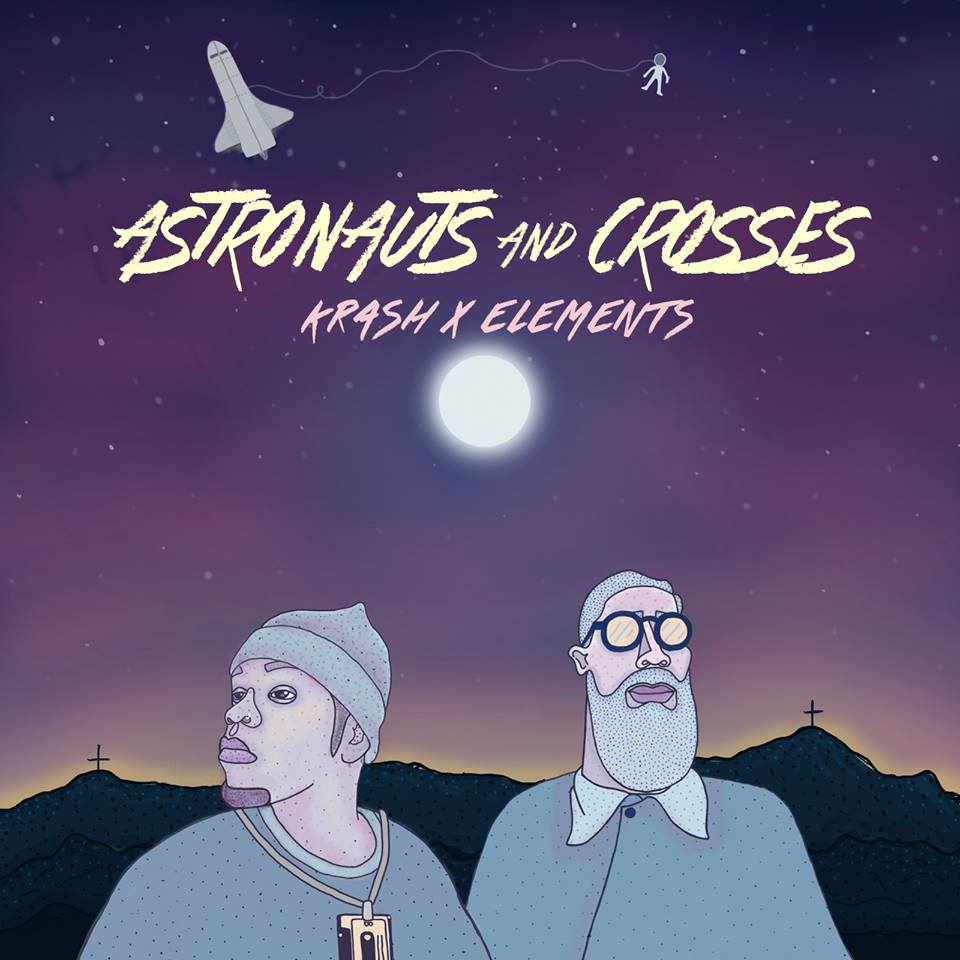 I'd you could rewind the clock on the cre­ation of your EP "Astro­nauts and Crosses", is there any­thing you would of done dif­fer­ently?
​Ele­ments: Nah man, there was the time pres­sures of fit­ting it in between 9–5 and fam­ily life but that's what makes the music real. Work­ing on the Col­lab from dif­fer­ent ends of the coun­try has been mad but we know each oth­er deep­er than rap so the music is still authen­t­ic and we cut the vocals and wrote some of the verses in my home stu­dio in New­castle.
Krash Wil­li­ams: I can­'t pin point any­thing that I would want to do dif­fer­ently on this pro­ject because it was so organ­ic and pain­fully hon­est to us, that to fine tune it any more would dam­age it…you gotta show the scars meta­phor­ic­ally speak­ing. How­ever any­thing that we would want done dif­fer­ently will be on the next pro­ject for sure.
The 1st track off the EP of the same title, Astro­nauts and Crosses!
The EP will be avail­able across all major plat­forms includ­ing Spo­ti­fy, Apple music, iTunes, Deez­er, Google play, Tid­al etc.
Travel with us on social media:
@imkrash­wil­li­ams @elements1070
www.instagram.com/krashxelements
The fol­low­ing two tabs change con­tent below.

Adam KG
Adam KG, is con­scious Hip Hop artist hail­ing from Lon­don City whilst walk­ing the world's pave­ments. He is inter­ested in the enter­tain­ment and media sec­tor, youth work and hol­ist­ic health.