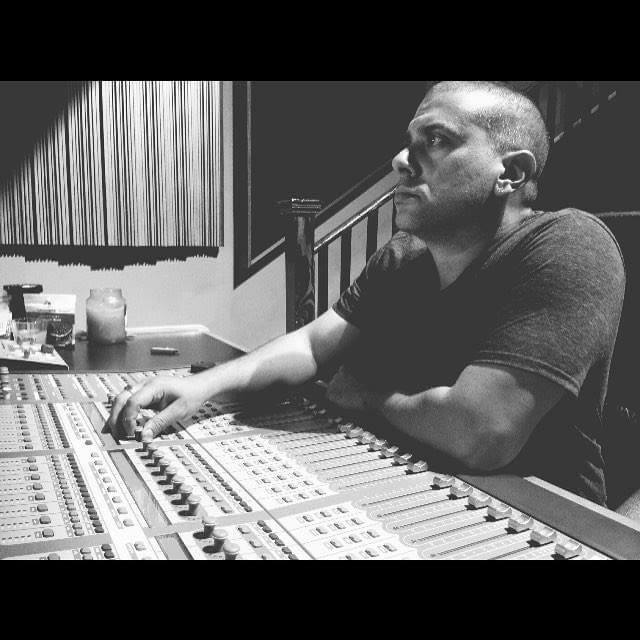 Frank "Frank G" Guas­tella has been a con­sist­ent force on the cre­at­ive scene for many years. Since his start as a pro­du­cer, video­graph­er, engin­eer, and live musi­cia
n, Frank has cre­ated and per­formed across sev­er­al music­al genres, includ­ing hip-hop, R&B and rock. Through his abil­ity to integ­rate live instru­ment­a­tion into his stu­dio work, and a nat­ur­al tal­ent for song­writ­ing, he has developed an ori­gin­al and dis­tinct st
yle, appeal­ing to a wide vari­ety of listen­ers.
His NJ com­pan­ies, ISH Pro­duc­tions and Cre­at­ive World Media, have provided music and visu­als for many artists such as CeeLo Green, Wu Tang Clan, John Amos, Talib Kweli, Styles P, KRS-One and oth­ers. His work has also been fea­tured on a vari­ety of net­works, includ­ing HBO, the NFL, PBS, MTV, and Siri­usXM.
When he is not work­ing in the stu­dio, Frank G's cre­ativ­ity extends into the classroom as a teach­er of bio­logy at South Orange Middle School.
I watched your video on the cre­ation of the song 'Mar­vin'. I can see that you have a lot of respect for

Raek­won

. Can you tell us what it was like to work with him
?
First and fore­most, grow­ing up I was a huge Wu Tang fan. They were super innov­at­ive to me and I always respec­ted their unique influ­ence on hip hop cul­ture. From their record­ings, the indi­vidu­al per­son­al­it­ies of its mem­bers, to their live shows and mar­ket­ing, I was intrigued by the group's abil­it­ies to cre­ate a real move­ment. That being said,
Raek­won
was always one of my favor­ite emcees out of the group, prob­ably because of his abil­ity to integ­rate storytelling in his rhymes. It was like he was always paint­ing a visu­al with his words and I was drawn to emcees that had the abil­ity to do that. Need­less to say, I had count­less instru­ment­als in my cata­log that I put aside spe­cific­ally for
Raek­won
in hopes that one day we would link. I met
Raek­won
offi­cially at his stu­dio in 2012 after respond­ing to a ran­dom engin­eer­ing request by him and his team on Twit­ter. They were look­ing for some loc­al engin­eers to help with some upcom­ing pro­jects and I, along with a good friend/frequent col­lab­or­at­or, Roads Art, ended up recording/mixing him on a few fea­tures that he was put­ting out at the time. One night in the stu­dio, I ended up play­ing some instru­ment­als and he was like, "Yo, who wrote these?!" I began show­ing him some beats and he star­ted writ­ing and record­ing to them imme­di­ately. When Rae is into a par­tic­u­lar instru­ment­al it's unmis­tak­able, and he star­ted get­ting pretty excited about the music I had shown him. That was a moment I'll nev­er for­get. We have had really good chem­istry when it comes to mak­ing music togeth­er.
[youtube]https://youtu.be/ZOazvbzJX0w[/youtube]
In 'mar­vin' are you using samples or are you play­ing the notes through a daw?
For his new album, The Wild, we had dis­cussed cre­at­ing pro­ject with some of those clas­sic soul sound­scapes Rae's fans are accus­tomed to. As far as the song "Mar­vin," goes, I used a sample from a Banks & Hamp­ton song, "Pas­sion and Promises."and also played some instru­ments. I played live bass, drums, a gui­tar part, and some keys to round out the song. I recor­ded, chopped and mixed everything dir­ectly in Pro Tools.
Which pro­du­cers were you influ­enced by?
There are so many pro­du­cers, in many genres, that I have learned from and stud­ied intently. As far as hip-hop is con­cerned, my favor­ite pro­du­cer of all time is Dilla, hands down. His sound was unlike any­thing I had ever heard before and his music instantly puts me in a cre­at­ive mood. Aside from Dilla, my influ­ences include 9th Won­der, Fly­ing Lotus, Dr. Dre, Pete Rock, Tim­ba­l­and, Just Blaze, and Organ­ized Noize.
Is it dif­fi­cult to juggle your bio­logy teach­ing with the music­al jour­ney?
For me per­son­ally, it isn't dif­fi­cult to juggle a bunch of things. I have always been someone who val­ues work eth­ic, as it's one of the few things you as an indi­vidu­al can con­trol. So per­son­ally, filling my day with things that keep me inspired is the most import­ant aspect of stay­ing happy. I am inspired by inspir­ing oth­ers. Wheth­er it be through music, or the con­nec­tions my cre­at­ive jour­neys cre­ate, or my influ­ence on future gen­er­a­tions in the classroom, I think the abil­ity to juggle mul­tiple pas­sions has opened more doors for me than the aver­age "cre­at­ive." I have had former stu­dents of mine reach out to me years later, and end up intern­ing for me at my stu­dio. I have unex­pec­tedly met industry con­tacts through par­ents of stu­dents that I have had an impact on. I enjoy being busy so I embrace it. In addi­tion to my pro­duc­tion com­pany, The ISH Pro­duc­tions, I co-own a graph­ic design/video­graphy com­pany called Cre­at­ive World Media, so I am still con­stantly jug­gling and try­ing to diver­si­fy. I think when you're pas­sion­ate about what you're doing, wheth­er that's one thing or ten things, it nev­er feels dif­fi­cult to bal­ance because at the end of the day, you enjoy the work you do.
How long have you been pro­du­cing and what made you take that step into the actu­al cre­ation of music?
I have been play­ing music­al instru­ments prac­tic­ally my whole life, but I star­ted focus­ing on pro­duc­tion full-time around 2003, after my band Philip's Head had broken up. It was around that time that I had star­ted turn­ing my love for hip-hop into some­thing more ser­i­ous and began focus­ing on devel­op­ing my sound and my cata­log.
How long did it take you to find your style and get settled in your sound?
I think find­ing your style and get­ting settled in your own sound is an ongo­ing pro­cess. I am con­stantly devel­op­ing as a musician/engineer and I am always try­ing to push myself to be bet­ter. So I am still dili­gently con­tinu­ing to devel­op my sound. I think I am also pretty aware of try­ing not to settle into a par­tic­u­lar sound in order to avoid get­ting bored. I try to approach every time I sit down to pro­duce music as a chance to do some­thing new.
Can you describe your earli­est beats?
My earli­est beats soun­ded more like soundtracks than actu­al beats, in my opin­ion. When I first star­ted pro­du­cing, I was more con­cerned with mak­ing as many beats as pos­sible and learn­ing the DAW's, not neces­sar­ily mak­ing great sound­ing beats. I thought they were great back then, but they make me cringe now! You can clearly hear the sim­pli­city in them. As I developed as a pro­du­cer, and more import­antly, as an engin­eer, I was bet­ter able to "pro­duce" the sounds in my head more accur­ately and with more emo­tion and intent.
Have you always pro­duced hip-hop or have you dabbled in oth­er styles?
My favor­ite music to pro­duce, and most pre­dom­in­ant, is hip-hop and r&b, but I have been for­tu­nate to pro­duce in oth­er genres as well. I have writ­ten songs licensed for tele­vi­sion and radio, and those oppor­tun­it­ies have allowed me to integ­rate many dif­fer­ent styles into my pro­duc­tion. Even when I am pro­du­cing hip-hop though, I try to incor­por­ate oth­er styles into my ideas. For example, I recently released an album with some of my former band-mates and oth­er close musi­cian friends of mine entitled, 12 Ses­sions. We met for some ran­dom jam ses­sions for twelve weeks straight and the songs from each of these ses­sions con­tin­ued to evolve through­out the pro­ject, as each week, dif­fer­ent musi­cians added their touch and musi­cian­ship to the com­pos­i­tions. These com­pos­i­tions were then treated as "ori­gin­al samples" to be fur­ther chopped, manip­u­lated, and arranged to form com­pletely new pieces of music. If you have time to check it out, it's avail­able for free on cre­at­ive­world­me­dia.com! I think it's always import­ant to keep push­ing hip-hop and explor­ing new and unique ways of present­ing it to people.

The fol­low­ing two tabs change con­tent below.

A writer with an interest in Philo­sophy, Soci­ology, Anthro­po­logy and all things intro­spect­ive. Someone who is equally at home in under­ground house raves as he is in café's. He is con­tinu­ally ques­tion­ing the sys­tem and his own lines of reas­on­ing. There­fore, he is always rein­vent­ing him­self.

Latest posts by Nicholas Milverton (see all)