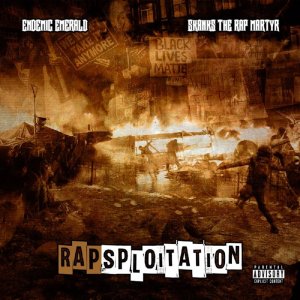 Since the decline of the CD and the rise of iTunes and spo­ti­fy, I would be a lying if I said that I always listen to a new album from start to fin­ish in order. How tempt­ing is it to shuffle or skip to tracks with inter­est­ing titles or known fea­tures. I find due to how access­ible music is now that I simply work out my jour­ney time to work or home and put togeth­er a playl­ist that will fill it. Rapsploit­a­tion is 32 minutes of the purest Hip Hop. The kind that throws you back to when you did­n't skip tracks because it required effort or your CD play­er was old or broken. It's refresh­ing to listen to an album from start to fin­ish that flows so effort­lessly.
In 2017, (in my opin­ion) it's hard to find Hip Hop that does­n't have a Trap ele­ment to it or if born and raised in East Lon­don like me, you prob­ably lean towards a Grime met­ric. Endem­ic Emer­ald & Skanks the Rap Mar­tyr have provided a dope old school dis­play of lyr­i­cism, flow and fin­esse that is authen­t­ic and time­less.
From the title alone, this album nails it. The exploit­a­tion of black people and their cul­ture is has always exis­ted but now seems exem­pli­fied and has gained great­er vis­ib­il­ity due to social media. This is the comeback. The answer to the issues. We fight back through art.
Since 2013, Endem­ic Emer­ald & Skanks the Rap Mar­tyr have been col­lab­or­at­ing in New York to provide a strong duel pro­spect­ive of Hip Hop.
The album starts con­tro­ver­sially with a snip­pet from the 1986 New York inter­view with Peter Tosh. Peter Tosh was a reg­gae artist who was tor­tured and murdered dur­ing a home inva­sion the year after. The inter­view refers to the exploit­a­tion of reg­gae artists and black music in which Tosh says ' I'm going to kill the fuck­ery' which is the last line of the 'Rapsploit­a­tion intro' stat­ing what the rest of the album will do.
Stand out songs include 'Trouble' with beau­ti­ful vocals provided by E Class Wright. It touches on police bru­tal­ity and gang cul­ture with the vocal provid­ing a mel­an­choly yet hope­ful energy. This song helps to take the listen­er into real time men­tion­ing Sandra Bland, imme­di­ately tells us which peri­od this album is from, some­thing that it hard to dis­tin­guish by pro­duc­tion value alone which gives the album its edge- old school pro­duc­tion, new stor­ies to be told.
'everything ain't always what it seems, we're here to wake you out your dreams'
This lyr­ic from the chor­us of the track 'Make Believe' again reminds us that this album is dis­cuss­ing dead friends and the ill treat­ment of the black com­munity. Its dir­ect intent shows that we as a com­munity need to open our eyes and really see what is hap­pen­ing in order to make change. This track comes straight after 'Trouble' which is clev­er as it does­n't allow us to take a break from the issues. The per­fect wake up call.
'Straight out da NYC' provides nos­tal­gia with its sample of Ja Rule's 'New York' – remind­ing us that it has been 13 years since that track was released. Any glow up of New York has a spe­cial place in my heart. After all..it is where Hip Hop star­ted. Although Endem­ic Emer­ald & Skanks the Rap Mar­tyr are Brook­lyn based you can­'t deny the power­houses that the bor­ough provides.
Best beat of the album is 'Half Baked'. The ascend­ing piano melody that gives us this sense of urgency which ties per­fectly with quick punch­lines laid over by Haz Diggs. Three minutes and forty five seconds of geni­us.
This album is such a joy to listen to if you're a true Hip Hop Head. Your head will nod, your brain will be edu­cated and the best part…ten years from now it will come on your shuffle and you will listen with a smile. An immut­able clas­sic.

www.twitter.com/EndemicEmerald
www.facebook.com/EndemicEm­er­ald
www.twitter.com/therapmartyr
The fol­low­ing two tabs change con­tent below.
Valerie Ebuwa
Valer­ie "wing girl" Ebuwa is a freel­ance dance artist and yoga teach­er from East Lon­don. She is cur­rently dan­cing for 3 con­tem­por­ary dance com­pan­ies and is one of the found­ing mem­bers of Eclectics Dance and CEO of Hip Hop House.
Latest posts by Valerie Ebuwa (see all)