Q. What does your mc name Xidus Pain mean to you and how did you come up with the name?
The name Xidus Pain has a lot dif­fer­ent mean­ings broken down it's an acronym
Xidus Is Da Uni­ver­sal Soul­Jah Pos­sess­ing An Inter­na­tion­al Notion I chose this acronym because I don't con­sider the music I make UK Hip Hop its just HipHop or bet­ter yet good inter­na­tion­al music because there's far too much divi­sion with­in my Cul­ture caused by the media. I also believe in God (Elo­him) that's why I chose to spell sol­dier as Soul Jah because my soul belongs to God and is not for sale.
For those that don't know the mean­ing of the word Exodus/Xidus it means a depar­ture a move­ment so when I rap I con­sider it the Exodus of my Pain because I am in a relaxed state of mind and my pain leaves me when I rhyme. I see it as every­one has a way of deal­ing with their pain and the way I deal with mine is through music because it's very thera­peut­ic and its food for the soul.
I came up with the name Xidus Pain when I and one of my good friends Gen­es­iz G who I work with music­ally used to battle rap a lot when we were young­er. Gen­es­iz used to start the battles and I'd fin­ish them so basic­ally he would start and I would make the oppon­ent depart by beat­ing them this was way over 10 years ago so now I feel the name has grown with me as I have matured spir­itu­ally & men­tally.
Q. As well as rap­ping you free­style. For people out there that would like to learn or improve their free­style skills what advice could you give them?
The first bit of advice I would give to any­one about free­style is to do their research on the true defin­i­tion of what Free­style is. I was taught that a Free­style is an impro­vised spon­tan­eous verse or a track which you make up on the spot instead of a pre-writ­ten verse no one has heard. The best way to improve at Free styl­ing is by prac­ti­cing as much as pos­sible and actu­ally being around oth­er artist which Free­style that you con­sider good. Anoth­er good tip is mak­ing sure you ask people ques­tions and dis­cip­line your­self if you keep repeat­ing words expand your vocab by read­ing in order to stay sharp.
Q. You are part of a hip hop move­ment called Guer­rilla Repub­lik and a mem­ber of Hip Hop crew Chess Move Car­tel? Could you tell us a bit about each one and how you got involved with them?
Guer­rilla Repub­lik draws its inspir­a­tion from the first suc­cess­ful slave revolt in Haiti 1794, this rebel­lion exem­pli­fies unity, strength, determ­in­a­tion and the will of God. I got involved and became a part of Guer­rilla Repub­lik due to a friend intro­du­cing me to them and explain­ing what they stand for because I'm a big fan of unity, edu­ca­tion, com­munity work and know­ledge with­in HipHop I joined the move­ment .Big up to Rapt­iv­ist Cap­it­al X for hook­ing me up with all the Guer­rilla Repub­lik shows and Brent Lee Regan for intro­du­cing me to their work salute.
Chess Move Car­tel is a crew of Hip Hop artist, pro­du­cers, Dj's from mainly the UK and US who got togeth­er because of their love of Hip Hop as an art form. Chess Move Car­tel has mem­bers and close affil­i­ations with artist such as Alchem­ist, Mr Green, Craig G,Young Zee, DJ Grazzhoppa, Pace Won, Just Blaze, Record Kingz AkA Juilano Cre­at­or and Jabba Tha Kut . A massive shout out to my broth­er Shad­owstar Box­er who is also a big part of Chess Move Car­tel and Oliv­er Twist for hook­ing me up with the crew.
Q. You have worked with Grand­mas­ter Melle Mel and The Suga Hill Gang. How where both these exper­i­ences for you?
Suga Hill Gang & Grand­mas­ter Melle Mel were my ment­ors they gave me advice and told me stor­ies as I chilled with them for the day and night as a teen­ager at The Junc­tion in Cam­bridge. I felt really blessed because I got to watch them rehearse, ask them ques­tions spit raps with them and then per­form the full ver­sion of Rap­pers Delight at their live show after being pulled up on stage by Melle Mel who also gave me his micro­phone so I could rap along. The whole exper­i­ence was amaz­ing and I thank God I got to spend time with some humble down to earth Hip Hop legends.
Q. Where do you draw your inspir­a­tion from when writ­ing your lyr­ics?
I draw my inspir­a­tion to write from Life exper­i­ences, what I see, what I've seen, what I read, polit­ics, movies, car­toons and doc­u­ment­ar­ies, com­puter games and people I meet so basic­ally everything inspires me.
Q. Lastly what new pro­jects can we expect from Xidus Pain in the fur­ther?
I have just released a new pro­ject called Sleep­less Cypher which is avail­able on Rhyme Pad Records it's just an all-out Hip Hop pro­ject with nice rhymes and some real soul­ful beats myself and fel­low Peter­bor­ough nat­ive Moses touch on dif­fer­ent top­ics and we bring you the listen­ers into our Cypher. I also have 2 tracks on the Rock­Fresh album Super­im­posed head phones which fea­tures a whole host of artist like Life MC, Craig.G, Kenn Starr, Mic­all Parkn­sun and many more and it's a free down load so make sure you go get that. I will be doing some work with a lot dif­fer­ent artist such as clas­sic­al pian­ist AyseDen­iz Gok­cin, Key­board­ist Don Airey who's played with the likes of Black Sab­bath & Deep Purple, Indie band We Are Fic­tion, DJ Nappa(Phil Life Cypher) , S‑Class Aka Stakka Lyr­ics from Del­eg­ates Of Cul­ture, Cappo, myself and Hemp­stead New York MC Smoovth are both going to work on a joint pro­ject and there's plenty more in store as well.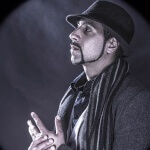 Arash Shari­fi
The fol­low­ing two tabs change con­tent below.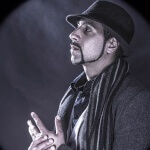 Arash has been pas­sion­ate about Hip hop for many years. He believes through hip hop you can teach, edu­cate and empower people to become bet­ter ver­sions of them­selves and help and sup­port their com­munity and oth­ers. Hip hop is more than just music, it can be a teach­er to us all.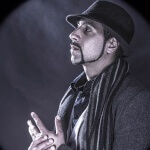 Latest posts by Arash Sharifi (see all)