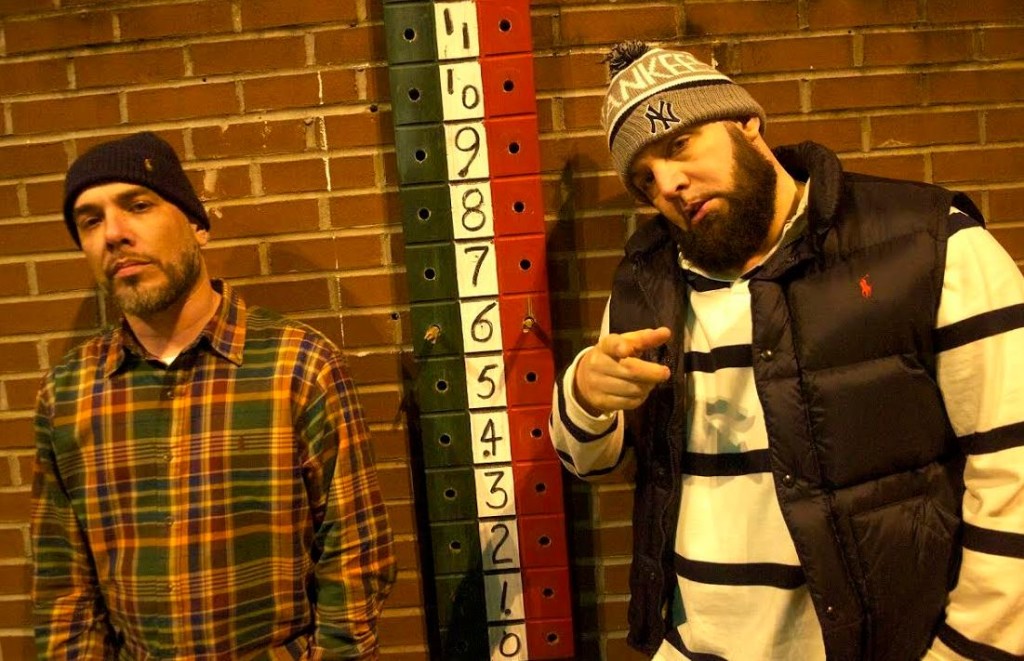 How did you guys meet, and fur­ther­more what led you to form the group Con­stant Devi­ants ?
We met at a col­lege that a mutu­al friend of ours went to. Cutt would go there to dj parties and I would just come up there from Bal­timore to be in New York chas­ing my dream.. We linked at a party he was dee­jay­ing at, I jumped up, got on the mic and the rest is his­tory !
You guys release through Six2Six Records, the label you set up. What do you think are the pros and cons of oper­at­ing through your own label com­pared to being signed to someone else ?
I don't see any cons in it in this day and age for us. Maybe years ago, or maybe for someone who does­n't have any idea on how to nav­ig­ate the "do's and dont's" of the game, there was more value to being signed to a sep­ar­ate deal. In that case you're hav­ing more taken care of for you, but of course there's a flip­side to that in what you give up. For us in our situ­ation now, oper­at­ing with our own label is the only way at this point. We have com­plete con­trol over what we do and how we do it!
So what was your exper­i­ence of grow­ing up in Bal­timore and New Jer­sey, and how did that com­pare with your time liv­ing in Brook­lyn?
Grow­ing up in Bal­timore, it pre­pared me for all of life's tri­als and tribu­la­tions. When I lived in New Jer­sey I real­ized how both places were so sim­il­ar, every­where has good and bad sides to it. Liv­ing in Brook­lyn was cool, but by that time I had become the per­son I am, so it was just anoth­er chapter in the story. Like I said, I was already pre­pared and at this point. Your homet­own moulds you, so now I can fit in any­where I go
So look­ing back, if you could give one piece of advice to your­self before you star­ted your music career, what would it be ?
Nev­er change your dir­ec­tion for someone else's vis­ion!
And look­ing for­ward, where would you like to see yourselves in 5 years time, and what's the plan for achiev­ing that?
I'm cool with the fact that we have a fan base that grows organ­ic­ally. I would like to still be rel­ev­ant to them and maybe a few oth­ers 5 years from now. Our plan is to con­tin­ue to cre­ate what we do best, but we always look to put a little extra twist into the next thing, just like we did for the concept behind "Omer­tà".
OK, mov­ing onto your new album "Omer­tà", you've applied a theme and adop­ted the char­ac­ters of Luciano and Lansky. What inspired you to take that "role play­ing" approach?
It was just some­thing we wanted to try. We like to do some­thing dif­fer­ent every time around and chal­lenge ourselves. We always wanted to do some­thing based around our Itali­an and Rus­si­an back­grounds but earli­er in our career it was too obvi­ous and over­done. Mean­ing spe­cific­ally the por­tray­al of a mafiosa life­style, wheth­er that's as rep­res­en­ted on film or artists assum­ing that per­sona. So we felt the time was right and ran with it. I wanted to speak on that life­style from a more tra­di­tion­al storytelling stand­point, and also use it meta­phor­ic­ally to com­pare situ­ations. It's like a series of short stor­ies on one record.

Your pre­vi­ous album "Avant Garde" was only released last year, how­ever we've heard that both were con­ceived dur­ing your time in Switzer­land. Tell us more about that and what would you say are the key dif­fer­ences between the two releases oth­er than the theme of "Omer­tà".
Well they were inspired at 2 dif­fer­ent times in Switzer­land but they are totally dif­fer­ent pro­jects and approaches. I would say there is abso­lutely noth­ing sim­il­ar about the pro­jects oth­er than the fact that we gave the audi­ence exactly what we wanted to give. The pro­jects are like yin and yang, "Omer­tà" has a much harder edge son­ic­ally and matches the over­all theme.
M.I., tell us more about the move into act­ing and film pro­duc­tion. How did you get star­ted with that, what upcom­ing pro­jects do you have and is this some­thing you expect to do more of in the future?
It's just growth for me as an artist. As much as I love mak­ing music and will con­tin­ue to do so, I want to grow into more than that. I don't want to live in a box, so I will con­tin­ue to expand. Like, shit, I suck at paint­ing but I do that also !! I just want to cre­ate and leave a leg­acy. It's kinda cath­artic. We have 2 films in the works right now. "Six2Six" the movie and "Can­'t Live Without My Radio". The former also has Treach (Naughty by Nature), Syleena John­son and Chief Rock­er Busy Bee in act­ing roles. We found out recently that the Hip Hop Film Fest­iv­al will be screen­ing it at the Nation­al Black Theat­er in New York dur­ing the first week of August, then we're plan­ning to release it later in the year. "Can­'t Live Without My Radio" is still a bit of a work in pro­gress, but it's a com­edy centred around a radio sta­tion.
Look­ing at your music and film work, who would you say would be your top three artists / groups and act­ors you'd really like to col­lab­or­ate with if you were giv­en the oppor­tun­ity
That's such a hard ques­tion for me because I am just an artist. I don't pay much atten­tion to any­one else and what they are doing. All of that is cool and I'm not being arrog­ant, but col­lab­or­a­tions are in my opin­ion over­rated. All of that said, I'm com­pletely open minded, if someone got in touch look­ing to col­lab­or­ate I'd be down to look at that, see what would come out of it. But I don't have a list as such.
What's you guys' favour­ite meal ?
It depends on what day it is… Lol. I don't think in all hon­esty that there's a meal that isn't my favor­ite !!! But just so long as there's no pork.…
If you could live any­where in the world, where would you choose?
At the top of it.. Only friends and fam­ily invited!
And finally, what do you feel you'll have gained most at a per­son­al level from your careers as hip hop artists and run­ning a label ?
We have had a chance to make a state­ment and live etern­ally through our art. If we left here today I feel I have had a chance to say some­thing that res­on­ates with at least one per­son and will be quoted at some point. Thanks for the love!
The fol­low­ing two tabs change con­tent below.

Adam KG
Adam KG, is con­scious Hip Hop artist hail­ing from Lon­don City whilst walk­ing the world's pave­ments. He is inter­ested in the enter­tain­ment and media sec­tor, youth work and hol­ist­ic health.