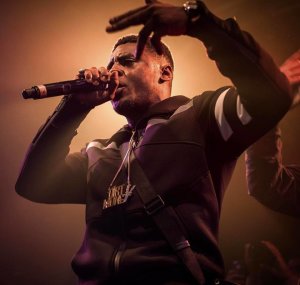 A year has passed since I first heard Birm­ing­ham artist 'Mist'. I was in a quiet Span­ish vil­lage and he was being played out of a port­able speak­er. There was some­thing spe­cial about Mist's Brummy accent over those dark, smooth beats. It fit per­fectly with the scene as I looked out the win­dow on a place I didn't under­stand. Unlike a lot of new UK rap, it made me want to reflect and pon­der on my own path in life.
Wheth­er inten­tion­ally or not, Mist's mes­sage to the listen­er seems to be to focus on one's goals des­pite any bar­ri­er that may be in one's way. He does this by telling the story of how he has dealt with major life events like the death of his par­ents. In one instance he says that his daugh­ter grew up whilst he was in pris­on. Tears came to his eyes but he nev­er let them shed, he was too busy com­mu­nic­at­ing with the sky. Des­pite him being phys­ic­ally con­tained, it couldn't des­troy his dreams of a bet­ter life.
These sorts of con­cepts are simple yet power­ful, scattered through­out his music. There is a cer­tain wis­dom to Mist's words, a reflec­tion of his deep med­it­a­tion whilst in pris­on. One par­tic­u­lar phrase stuck with me, 'the only thing you're prom­ised in life is death'. His con­clu­sion, com­plete your goals before that time comes.
His ori­gin­al pro­du­cer, Shad­ow, deserves a lot of cred­it for cre­at­ing the elec­tron­ic world from which Mist raps. Shad­ow exper­i­ments with dif­fer­ent synth plu­gins, bring­ing vis­ions of an inner city X‑files. In most of the tracks, the lack of high-hats pulls it fur­ther away from any sim­il­ar­it­ies to trap music. It gives the track more space and air to breath. The bass­lines come in strong but they are not over­power­ing. They keep the listen­er groun­ded in a thug ele­ment in spite of the trip­pi­ness of the synths. Out of the dark­ness of the instru­ment­al we ima­gine how low Mist's mind must have once been.
Recently, I went to his sold-out con­cert with the same friend who first played him to me. We were both curi­ous about how those unique beats would sound on club speak­ers. We ima­gined that we'd be spaced out, sway­ing to the music and pick­ing out the soft recess­ive sounds that we may not have pre­vi­ously noticed. And what kind of stage per­sona would such an enig­mat­ic char­ac­ter have?
But as I watched from a bal­cony at KOKO club in Cam­den, I couldn't help but feel like there was some­thing miss­ing from the act. A sim­pli­city was lost. Instead of spit­ting in his calm voice, Mist shouted his lyr­ics on the mic like a hard-core rap­per. The DJ acted like he was per­form­ing for a trap artist and kept stop­ping the track for effect. In these moments the crowd chanted back the lyr­ics. The bass was too heavy, the synths too quiet. The depth of the tracks seemed to be lost to an ener­get­ic atmo­sphere.
What was ori­gin­ally so power­ful about the com­bin­a­tion of Mist and Shad­ow was that it could make you fall into a trance. Though Mist cre­ated vivid con­cepts that brought his world to ours, the sound and level of his voice made it relax­ing to listen to. You could ignore the lyr­ics and go into your own thoughts. In some way, he seemed to be in our side. Now he appeared like a wealthy, Amer­ic­an trap artist.
My friend had an ingeni­ous idea that would have brought some ori­gin­al­ity to the per­form­ance. The DJ could have played the instru­ment­al first, using effects to dis­tort and play with the sounds. He might have even changed the tempo so we could hear how intric­ate the arrange­ment was. After he had done this for a while, Mist's voice could finally enter the scene, as cool and calm as he ori­gin­ally recor­ded it.
But this is just an idea, maybe the crowd received what they wanted. Maybe bravado is neces­sary in the UK rap scene. But it's import­ant for Mist to real­ise what made him unique in the first place.
[youtube]https://youtu.be/PhywgXm92hI[/youtube]
https://www.facebook.com/officialmistmusic/
The fol­low­ing two tabs change con­tent below.

A writer with an interest in Philo­sophy, Soci­ology, Anthro­po­logy and all things intro­spect­ive. Someone who is equally at home in under­ground house raves as he is in café's. He is con­tinu­ally ques­tion­ing the sys­tem and his own lines of reas­on­ing. There­fore, he is always rein­vent­ing him­self.

Latest posts by Nicholas Milverton (see all)