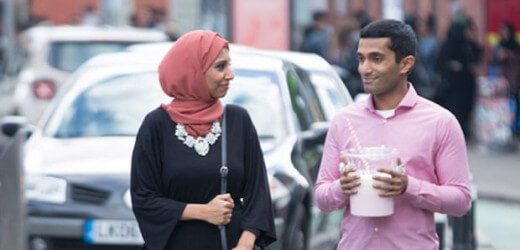 This mod­ern age romantic com­edy, 'Find­ing Fatimah' is actu­ally quite refresh­ing as it did not take itself too ser­i­ously. Cour­ageously address­ing many stig­mas in the Muslim, par­tic­u­larly Asi­an com­munity I won­der why such issues are always addressed with humor per­haps they are easi­er to openly address this way.
The Brit­ish movie set in Manchester stars Danny Ashok as the young Muslim 'Shadid' on a quest to find love in the form of his future life part­ner, which turns out to be quite a struggle. The movie opens with a self video of Shadid recor­ded for a dat­ing site which insantly adds a does of real­ity and some­thing we could all relate to – want­ing to find the right part­ner to share our lives with. At the age of 30 with no career pro­spects, as a strug­gling stand up comedi­an, his quest to find love is fur­ther com­plic­ated by the fact he is a — divor­cee.
He is accused of being a, 'bad Muslim' for exper­i­en­cing a mar­riage which didn't work out, as a res­ult he feels he is forced to even­tu­ally hide this fact from his poten­tial part­ner which goes on to com­plic­ate mat­ters. This storyline allows the writers free­dom to address many oth­er taboos which are faced in the Muslim com­munity, even today such as inter eth­ni­city mar­riages – Shahid is Banglade­shi and Fatimah is Pakistani and even though both are Muslim, this is an issue for their fam­il­ies.
Mis­con­cep­tions of status in soci­ety, it's com­mon for Muslim par­ents to want their chil­dren to marry rich and suc­cess­ful part­ners (such as Fatimah's sis­ter in the movie) how­ever she tells Fatimah to break the cycle by mar­ry­ing the one she loves – Shadid. This was futhur rein­forced by Fatimah's fath­er try­ing to set her up with Jahid who is involved in polit­ics, but he turns out to be a recre­ation­al drug user which her fath­er is will­ing to over­look – once again I think this is very true to real­ity when some­times 'being a good Muslim' is con­fused with being 'suc­cess­ful in soci­ety'. This whole theme is echoed by Fatimah's par­ents almost 'love­less' mar­riage where com­mu­nic­a­tion between the couple is very weak.
Anoth­er point which was touched on was domest­ic abuse on men by women which I have nev­er seen men­tioned in the Asi­an com­munity it is usu­ally the oth­er way around, so I felt this was a brave move.
I really enjoyed the var­ied cam­era angles and extens­ive use and ref­er­ence to social media rein­for­cing that in this day and age many Brit Asi­ans turn to apps and online web­sites to find their life part­ners. I felt some of the ste­reo­types were slightly over­done but per­haps this was to make them very appar­ent such as Shadid's ex Wife Fiza who had ridicu­lously penciled on eye­brows. As a Brit­ish Muslim myself I can't per­son­ally say I have friends such as those char­ac­ters but they were enter­tain­ing none the less!
Over­all it was good to see some up and com­ing Brit Asi­an act­ors in an enter­tain­ing movie, light­heartedly address­ing some very real issues with­in the Brit­ish Muslim com­munity which I think would be enter­tain­ing and thought pro­vok­ing to every­one both Muslim and non-Muslims as we can all relate on try­ing to find the right life part­ner.
Find­ing Fatimah Is in cinemas now.
[youtube]https://www.youtube.com/watch?v=s3U4yeaJSCk[/youtube]
The fol­low­ing two tabs change con­tent below.

Faizah Cyanide
Faizah works in clin­ic­al research by pro­fes­sion and has been an avid Hip Hop lov­er since the early 90's, hav­ing cre­ated her own Hip Hop event, 'Breakin' Bound­ar­ies' in the early 2000's which was pre­dom­in­antly based around the concept of bboy battles, she has worked with sev­er­al inter­na­tion­al events pro­moters and dan­cers to inspire oth­ers through this art­form.

Latest posts by Faizah Cyanide (see all)