Know­ledge Reigns Supreme, KRS, KRS-One, simply one of the most com­pel­ling, legit and uncom­prom­ised per­form­ances you'll ever have the hon­our of bear­ing wit­ness to, hon­estly.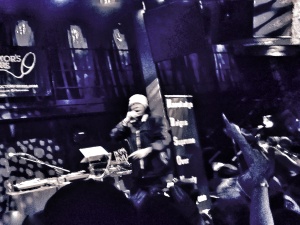 The hun­dred or so acts I've happened upon in my life give me some brag­ging rights, but more than any­thing they give me a bench­mark, be it Skinny­man at a beach front bar in Brighton or Kanye on main stage at Glasto, there are levels, and they are not often met.
Pres­ence
The first thing that hits you is a boom­ing free­style, a huge pres­ence com­mand­eer­ing the stage and a fierce grip turn­ing the micro­phone into a truth-chan­nel­ing device. The sound­man can­'t keep up, lit­er­ally, whilst the off-the-dome-35-years-in-the-mak­ing free­style let's the crowd know we're in busi­ness. From start to fin­ish the show was high octane, not in an unbear­able way, but a right­eous rebel with a mes­sage kind of way. His son spun the decks, protégé and test­a­ment to the teacher's pre­ci­sion. The ven­ue made it intim­ate; we crowded in tightly to hear the ser­mon, and we all left faith­ful.
KRS con­stantly reminded the crowd that we're not fans, but fam­ily. His wife brought down a cake for his son, his son smiled out to the audi­ence, the Jazz café was trans­formed into a homely kit­chen, it was a fam­ily affair and uncle KRS was out to school us on this moment­ous occa­sion, beats, bars and big les­sons.
"We're about anti-sex­ism, anti-racism, anti-ageism, let the people see this… Fuck colo­ni­al­ism!" KRS-One (Jazz Café, Cam­den, Aug 9th 2015)
Rel­ev­ance
Earli­er in the day I'd been at a black lives mat­ter anniversary protest in cent­ral Lon­don, we com­mem­or­ated the life of Michael Brown, but also of Mark Dug­gan gunned down by police in Tot­ten­ham, of Sean Rigg strangled out by police in Brix­ton and the 1514 oth­ers since 1990. My voice was cut up from chant­ing and my spir­it was ground down by cease­less police bru­tal­ity.
KRS was nev­er one to shy away from the real­ity of the day, he takes on the police, the cor­por­a­tions, the politi­cians, every-one who stand against people power is firmly in his scopes, and he didn't for­get to let people know what he thinks of the BBC. I felt I had the power to keep res­ist­ing. 'No-one is illeg­al!' he roared across the room, KRS's way to intro­duce a track was to chant its chor­us acapella a few times, warm­ing it up and then drop the track hard – I'd only seen that on the screen before, in per­son, it works a treat.
The Invaders was the standout track for me, it stirred my soul, deeply, this track with its eer­ie South Amer­ic­an pipes and threats to the United States, was timely and tight. Only days before I was at a deten­tion centre for women migrants, chant­ing for their free­dom, and against their tor­ture, KRS's per­form­ance invoked the same spir­it of those brave free­dom fight­ers.
"All these rap­per have cor­por­a­tions behind them, they're all cor­por­ate, and I'm not sign­ing any­thing unless my fam­ily is with me." KRS-One (Jazz Café, Cam­den, Aug 9th 2015)
Edu­ca­tion
KRS is all about know­ledge and learn­ing, he spoke of how edu­ca­tion is a joke, he told the crowd how as soon as his son could read and write he snatched him out of school and put him in home school­ing. The per­form­ance was as much an insight into KRS's philo­sophy as it was a demon­stra­tion of his cata­logue. We were reminded about the 'nation of Hip-Hop', about how the cul­ture informs us, and we inform the cul­ture.
I left the show full of life, full of reas­ons and full of respect for one of the last remain­ing legends in the Hip-Hop world. KRS-One, a real Hip-Hop don.
Want to join the dis­cus­sion about KRS-One's work, this art­icle and the live show simply head over to News­So­cial, the free mobile app where all the import­ant con­ver­sa­tions are hap­pen­ing, make sure you don't miss out!
The fol­low­ing two tabs change con­tent below.

Joshua Virasami
Joshua Vir­asami, of Mauri­tian her­it­age, was born in 1990, South West Lon­don, UK. After fin­ish­ing state col­lege he dropped out of Uni­ver­sity. Since then has spent his time trav­el­ling, writ­ing, mak­ing music, pho­to­graph­ing and par­ti­cip­at­ing in/organising civil dis­obedi­ence.

Latest posts by Joshua Virasami (see all)