CEO of New Per­spect­ive Music Group and eclect­ic rap­per Steven Dar­nell releases highly anti­cip­ated "The Rise of Steelo Green" mix­tape. The 10-track pro­ject includes pro­duc­tion from Black Meta­phor, Beat Men­ace, and Osym Beats just to name a few.
Dar­nell is an Alabama nat­ive cur­rently resid­ing in New York City. "The Rise of Steelo Green" epi­tom­izes his youth, come up, and rise to fame. Dar­nell deliv­ers ingeni­ous doses of storytelling and tight lyr­i­cism that entices listen­ers in for his rhymed laced auto­bi­o­graphy.
In "Break­fast", the first track, Dar­nell intro­duces him­self and declares rap­ping as his reli­gion. Through witty punch­lines he describes some bad decisions as well as prom­in­ent soci­et­al issues. "Sur­viv­al Mode" piggy­backs off that rack and delves in a bit deep­er, "In this white man's world I flow like Fre­d­er­ick Douglas." He star­ted out at age 15 with Pac on repeat and over 10 years mastered his craft, "immacu­late con­cep­tion my flow heav­en sent."
"God Bless" speaks to the sup­port­ers and the haters. Although he's been thrown to the wolves, the ardu­ous rhyme slay­er returns with fur; simply put Dar­nell is The Golden Child of rap.
"Don't Be Mad", "Learn Some­thing", and "Real Hip Hop" are raw, hair-rais­ing tracks. Dar­nell embod­ies his youth from poster col­laged walls of the greats, and hours and miles of hust­ling his music tapes to hand me downs, free lunch, and an open oven door heated home. Do take heed, and 'learn some­thing' because it's through all this Darnell's spazzed out free­style on Sway has doubters stuck and fumbled both on court and curb­side.
Dar­nell pays homage to Hip Hop pion­eers along with the cul­ture, but he also deliv­ers some heat for the new gen­er­a­tion of fans like "Cost of Trill" and "Bar­tian." These south­ern anthems are ideal for pop­ping bottles in the club, 'straight from the south ready to blow."
"Cathed­ral" and "Georgia's Son" embrace Darnell's love for music and rhymes. He entails that vis­ion of pen­ning every new chapter in his life through his pol­ished, vivid lyr­ics.
"The Rise of Steelo Green" is brim­ming with clas­sic boom bap beats, rendered soul­ful tones, and thun­der­ing bass that intens­i­fies the emo­tion spewed from Dar­nell on each auto­bi­o­graph­ic­al track. Stream the mix­tape above and fol­low Dar­nell below.
Fol­low Steven Dar­nell on Face­book | Ins­tagram | Twit­ter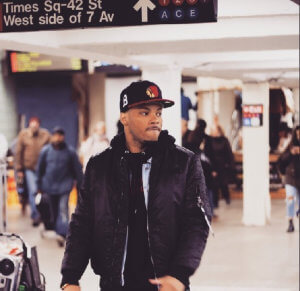 The fol­low­ing two tabs change con­tent below.

MJ Savino
MJ is Hip Hop Blog­ger, Pub­li­cist, Book­ing Agent, Act­iv­ist, but fan first and fore­most. "Hip Hop saved my life, it is only right I give back to the cul­ture"!

Latest posts by MJ Savino (see all)