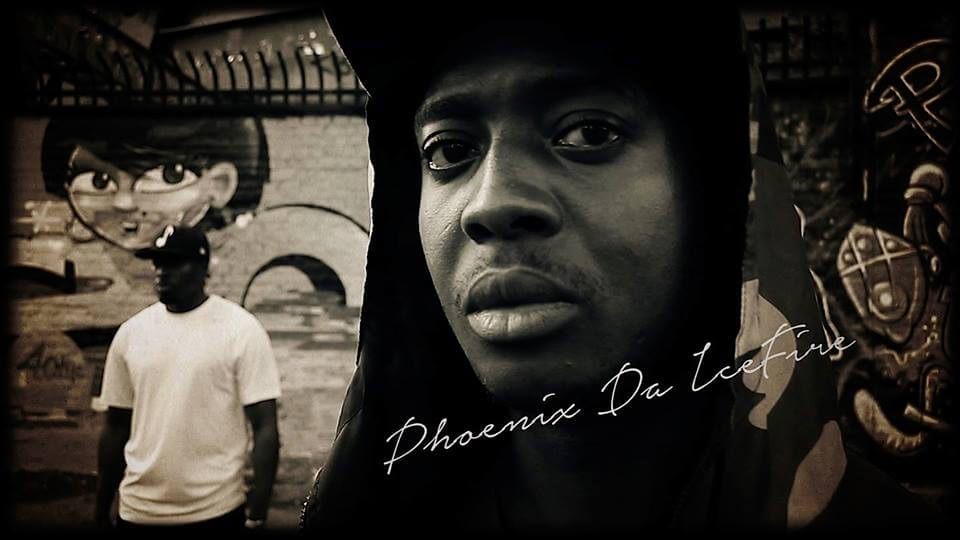 Phoenix Da Ice Fire is a UK based Hip-Hop artist. At the age of only 26, he has been mak­ing music for many years. He has trans­ited across many genres, try­ing to situ­ate him­self in a place where music­ally and per­son­ally he feels com­fort­able to be him­self. When he finally found hip hop, he found his home. It stood for everything he rep­res­en­ted and everything that he wanted to be. When he dropped his mix­tape Bap­tism Under Fire (2009) he was here to stay. And as I learn in the com­ing year, big things are on the way.
Walk­ing into the home of Phoenix Da Ice Fire, I did­n't know what to expect. Here is a man I have had com­mu­nic­a­tion with, but nev­er met in the flesh, and who pub­licly has many dif­fer­ent per­so­nas. These mani­fest music­ally, polit­ic­ally, philo­soph­ic­ally, and also, for all I know, per­son­ally. As Phoenix Da Ice Fire there are no real stric­tures, he does not appear to be a fixed char­ac­ter. And though primar­ily known as a Hip-Hop artist, he is not afraid to try some­thing new. So dis­par­ate is his work and so diverse in his tal­ents that he has even cre­ated 53 char­ac­ters in a graph­ic nov­el he is cur­rently cre­at­ing. He shows me some of the work and it is spec­tac­u­lar.
So who am I going to meet? Paul Nel­son, the pro­vider and fam­ily man who goes out to work every­day, am I going to meet the front present­a­tion, Phoenix Da Ice Fire the per­former and that alone, then there is Sol­ar Black from Black Chron­icles? Poten­tially this sounds like a man frag­men­ted, a man who poten­tially lacks a strong iden­tity, someone rap­idly change­able. A chamele­on if you like.
On the con­trary what I find is the oppos­ite. The above ver­sion could not be fur­ther from the truth. From the moment I meet Phoenix there is a con­sist­ent sturdi­ness to him. He nev­er changes in a way that could be con­strued as dis­turb­ing. In fact, he comes across as a true Gen­tle­man, genu­ine. He even walks with dig­nity. His fam­ily is his one place of con­stancy. They are imper­at­ive to him and they treat me with such cour­tesy, a stranger in their home, that I was actu­ally quite moved.
I bring up with him the dif­fer­ent iden­tit­ies he assumes and just how pro­lif­ic he is – he writes a song or script a day without fail. It is almost eman­at­ing out of him at such a rate and at such high qual­ity that I ask if he feels as if things are being channeled through him some­times. This imme­di­ately strikes a chord. Our dis­cus­sion around his rep­er­toire of char­ac­ters is fas­cin­at­ing. At first he looks con­cerned, as if he I might be think­ing that he could be a bit of a fraud, that not being and present­ing one per­sona is a neg­at­ive thing, That he is not being quite 'whole'. But I remind him we all are frag­men­ted. We all are forced to play dif­fer­ent roles at dif­fer­ent times, be it work, at home or with friends. It is the deni­al of this that is prob­lem­at­ic.
To me, he is whole, extraordin­ar­ily whole. And it is this solid­ity that allows him to delve so deeply into all the parts that make up who he is. None of us is 'whole' in a true sense. We all have dif­fer­ent aspects to our per­son­al­ity, par­tic­u­larly the dark­er ones, which we are afraid to see. Phoenix has the strength to look in places where many would turn away.
Yes, he is a frag­men­ted man, as we all are, but the way he bravely explores those per­so­nas allows him to integ­rate them togeth­er. Instinct­ively I felt a cohes­ive, coher­ent, depend­able man. He has ele­ments of self doubt, many, I think, eman­at­ing from his past, but this is a bene­fit to his music. He always strives to be bet­ter. Nev­er did I detect any arrog­ance any­where. I detec­ted excite­ment. I detec­ted pas­sion. I also did detect self belief in his work but without the ego to match it. There were times when he was play­ing me his new tracks where he was jump­ing about like a child, he couldn't wait to for me to see what he was doing. And that is what mak­ing music is about. His pas­sion is elec­tric.
So what shaped this fas­cin­at­ing man? Born Sept 1st 1987 in South East Lon­don. He had a 'nor­mal' upbring­ing until two dev­ast­at­ing events shaped his young life. One was the death of his fath­er when he was just 13. The second was being moved to Dept­ford from Lew­isham under the wit­ness pro­tec­tion scheme. And this is where it hits me. This is why Phoenix has always had to take on a mul­ti­tude of roles. He lost his fath­er, and had to become a man too fast. Secondly, he lit­er­ally had to assume anoth­er iden­tity. In his home he played me a beau­ti­ful song called 'The Day You Passed', about both events. "I knew things would nev­er be the same , that day. I nev­er thought I'd visu­al­ize you this way… things will nev­er be the same. I'll nev­er for­get your name. You're alive in my memor­ies'. I'm not ashamed to admit a tear came to me eye. When the track stopped, we were left with a power­ful silence and I felt a deep pain and sad­ness radi­at­ing from Phoenix. Though years have passed it is appar­ent that this loss hasn't dis­sip­ated, it helps his music, but psy­cho­lo­gic­ally it still impacts deeply.
At a young age he star­ted off in the gar­age scene under the ali­as SWIFTLY after he had moved to Dept­ford. He made the trans­ition to rap with fel­low Gar­age mem­ber AKS, now part of MIDAS TOUCH. But it was late 2006 that he met Dwain Thom­son, a music pro­du­cer at the time. Even­tu­ally they became Tripple Dark­ness
This is where we engage in a dis­cus­sion about dif­fer­ent genres, he has always main­tained that 'Bap­tism Under Fire' is still some of his best work, even though music­ally he may have elev­ated from that time. This, he main­tains was because Gar­age and then Grime had become too lim­it­ing for him and he was find­ing the energy neg­at­ive. This was his big ven­ture into Hip-Hop and he was hungry. There was noth­ing to hold him back. He didn't know the 'rules', the struc­tures of the industry, he was free. To Phoenix Hip-Hop is syn­onym­ous of 'free­dom'. He was feel­ing a com­pel­ling need to artic­u­late him­self, the frus­tra­tion and trauma of his young­er years had pent up and grown. In 'Ther­apy', a track from his crit­ic­ally acclaimed 2009 release, 'Quantum Leap', he states "Hip-Hop runs through my veins like life sup­port". The scars, the voices, the dam­age, they don't "fade away", but "the melody takes away the pain".
Music for Phoenix is more than a simple expres­sion of daily life; it is a com­plex expres­sion of his inner demons. It is an anaes­thet­iz­ing drug. This reminds me of a quote by the legendary sing­er Tom Waits, he says "I love beau­ti­ful Melod­ies telling me ter­rible things. It is cath­artic; his medi­cine."
I ask Phoenix what Hip-Hop means to him. He imme­di­ately replies, "It is the voice of the voice­less". It is all about being cre­at­ive, not being held back by lim­its. "You do not allow your­self to be defined, you do not just accept what is laid before you. You fight".
Phoenix is a man on a mis­sion. As soon as I've sat down he is busy play­ing me new tracks. The first one is called Winged Scarrop off his forth­com­ing album, The Bap­ho­met, likely to be released next year. It will come under the name of Sol­ar Black, his Black Chron­icle name. He tells me that for the first time in his long career he has signed a record deal and the album will be dropped under a label. What change this brings we have yet to see, but I voice con­cerns about music­al free­dom and he assures me that there will be no inter­fer­ence with artist­ic cre­ativ­ity and will hope­fully give him more time to focus on what is import­ant.
In this new album Phoenix will again offer us up a slightly dif­fer­ent per­sona, it is slightly more bru­tal than Phoenix Da Ice Fire. A Phoenix is a bird already deep in the dark­ness, immersed in the ashes and then it rises. In Bap­ho­met, Paul Nel­son becomes Sol­ar Dark­ness. When Phoenix is Sol­ar, he is a little more held back, a bit more encryp­ted, and, he tells me, a much dark­er char­ac­ter. So here we see the con­trast with the names. Sol­ar, the sun, is already out, unlike when the Phoenix begins, but in this form Phoenix brings a shad­ow to the mix that starts to eclipse the sun. The light is not totally gone, but the album name Bap­ho­met explains it all. It is really an expos­i­tion of neg­at­ive forces that are at work on this earth in the here and now, he talks of self destruc­tion. He talks of gov­ern­ment cor­rup­tion. And a lyr­ic repeated on Winged Scarrop is that 'war against real­ity is dark­ness force'. Some­times you must fight dark with dark, fire with fire, or you will not see it. Enabling your­self to see the dark­ness will bring the light, and because there is just enough sol­ar to do this, the open­ings are wide enough to become that Phoenix once again, should he choose that path.
[youtube]https://www.youtube.com/watch?v=F79wBlBZzDw[/youtube]
Towards the end of the inter­view I ask Phoenix if he has an eth­os, an ideo­logy, some­thing he wants to achieve through his music? Imme­di­ately says he wants to "uplift people", and quite humor­ously he phys­ic­ally jumps as he says this. "I still have aims and desires. I want to push bound­ar­ies." In essence, he wants to be all that Hip-Hop stands for. And he is always mov­ing for­ward, at an aston­ish­ing pace at that. He has some impress­ive col­lab­or­a­tions on his new album, includ­ing with mem­bers of Wu Tang Clan.
He still gets such a buzz from his music that it's palp­able in the room. I ask him for his career highs? "without a doubt it was going to New York in 2014 and per­form­ing with Baam­baata, anoth­er high­light was sup­port­ing Big Daddy Kane in Brighton. There is a sub story to this that again takes us back to the ever present issue of his Fath­er. Phoenix and his crew were trav­el­ling from Lon­don. At the sta­tion a ran­dom man just sort of latched on to them. He walked onto the train with them, walk­ing past guards with no tick­et. At Brighton he fol­lowed them to the ven­ue, walked in again for free as if he was meant to be there. This exper­i­ence sent chills up his spine. It was if, he said his fath­er was watch­ing him.
We are touch­ing on some­thing deep here. I ask, if his dad hadn't died, do you think things would be dif­fer­ent now. "Def­in­itely" he answers. "I don't think I'd be doing Hip-Hop. I'm cer­tain of that". Phoenix's dad's death was a tragedy, in his most form­at­ive years. But if it lead to Phoenix doing what he is doing today then on a per­son­al level I would say there was a frag­ment of Sol­ar (the sun) glim­mer­ing through the great Dark­ness. The philo­soph­er Jean Paul Sartre once said "Free­dom is what you do with what's been done to you." And Phoenix has chosen a path that has already shown a poten­tial of great­ness. But as he tells me, again with excite­ment not arrog­ance, "You've only heard the start of it!"
Phoenix tells me he doesn't think his fath­er would be pleased or proud with his path. His fath­er was a work­er, a pro­vider, he built him­self up. But everything he has just told me about his fath­er, well he could just as eas­ily be describ­ing him­self. He is a fam­ily man, he provides, he works, and he is a sol­id, brave man who is vul­ner­able when he needs to be. He doesn't hide from his own demons and pain and in doing so devi­ates com­pletely from the ste­reo­typ­ic­al and mis­guided image of rap. I would say he is an ambas­sad­or. He is aston­ish­ingly artic­u­late, he is self taught. His range of know­ledge is phe­nom­en­al and it is a mis­guided notion that know­ledge gives you power. It is how you util­ize that know­ledge that gives power.
As R.D Laing (a pre-emin­ent psy­chi­at­rist in the 1960s) says, "there is a great deal of pain in life and per­haps the only pain that can be avoided is the pain that comes from try­ing to avoid pain". Phoenix nev­er turns away.
Phoenix is in my view exceed­ingly tal­en­ted in many areas. He nev­er accepts the norms of soci­ety without ques­tion. He fights in a way that is not det­ri­ment­al to his cause, he comes across with dig­nity and integrity.I can­not speak for Phoenix's fath­er in terms of wheth­er he would be proud of him, but I can say that Phoenix is a man to be very proud of, and from what I heard, music­ally, per­son­ally, and saw visu­ally tonight, he is only just tak­ing off.
If you would like to know more about Phoenix Da Ice Fire please vis­it: www.phoenixdaice­fire.com
The fol­low­ing two tabs change con­tent below.

Kate Taylor
Kate Taylor is a Lon­don based writer whose Interests are based primar­ily on music and art and also the philo­sophies and polit­ics that accom­pany them. In addi­tion she has an Msc in psy­cho­logy, has worked as a ther­ap­ist, and paints abstract art pieces.

Latest posts by Kate Taylor (see all)