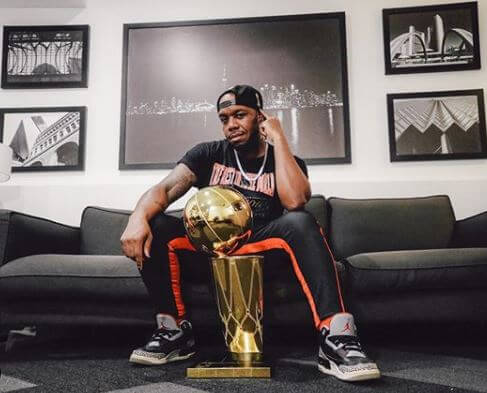 Dee­jay 4Korners is the offi­cial Dee­jay for the 2019 NBA Cham­pi­ons the Toronto Rap­tors. Dee­jay­ing for the Rap­tors since 2005 and now an inter­na­tion­al Dee­jay and pro­du­cer. With some of the biggest clubs under his belt as well as Cannes Film Fest­iv­al, Lon­don Fash­ion Week, Abu Dhabi For­mula 1 and the Olympic Games.
It is not unusu­al to see A‑Listers like Drake, Michael Jordan, P‑Diddy and many oth­ers at his events. 4Korners has many awards includ­ing Cana­dian Dee­jay of the year.
Late last year he launched his indie Music and Life­style Brand "JN SHP­PRD". Using his influ­ences and inter­na­tion­al exper­i­ences to cre­ate a plat­form to express his cre­ativ­ity.
​What was life like before 4Korners grow­ing up in Canada? What where some of your earli­er aspir­a­tions.
Before I was any­thing, I was a Black Boy. I grew up here in Toronto, Canada and although the gen­er­al glob­al per­cep­tion of Canada is one of peace and har­mony and every­one is polite etc, etc, I think it's import­ant to say that this has not been my exper­i­ence. It is not uto­pia and racism does and always has exis­ted here. I've exper­i­enced Anti-Black Racism con­sist­ently my entire life. I don't remem­ber NOT being aware that some people didn't like me because I'm Black. And des­pite the fact that 2020 has been trash in many ways, the world's eyes have been opened and we're now work­ing harder than I've seen in my life­time to cre­ate the change that has been needed here and every­where for far too long.
Now, as far as my career wise, hon­estly, before 4KORNERS I had zero aspir­a­tions of being a musi­cian. Like NONE! In hind­sight, I real­ize that I was destined to live a life of music, but I really didn't see it grow­ing up. The irony is, I took piano & music the­ory les­sons as a child. I even did some clas­sic­al music com­pet­i­tions, but I quit around age 12 or so because it stopped being fun. I was in band all through high school too, play­ing brass & wood­wind instru­ments, but after I gradu­ated, I stopped play­ing those too. And ever since I can remem­ber I was into records. My Dad had a dope col­lec­tion and I used to use my allow­ance to buy records when I got old enough to choose my own music. But even through all of that, I thought I was going to be a writer / journ­al­ist with mild aspir­a­tions of being a pro bas­ket­ball play­er. That's what I went to uni­ver­sity for. But while I was there, I dis­covered nightclubs, got heavy into DJing and it's been all music ever since.
What music did you grow with & what artists/groups influ­enced you?
I grew up on a whole lot of music. Michael Jack­son was and is still my favour­ite artist of all time. I had posters, pins, knock off jack­ets lol, everything. Bey­ond him I grew up on everything from Prince, to The Beatles, Cameo to Cul­ture Club. Mar­vin Gaye, Bob Mar­ley, Mot­ley Crue, INXS…pretty much everything my Dad listened to and what I saw on TV and heard on the radio. My Dad was def­in­itely my biggest influ­ence music­ally. He was in a band in the 70's and was always a music guy. As I grew. I got into Run DMC, LL Cool J, Tribe Called Quest, NWA, Bell Biv Devoe, Janet Jack­son, Inner City. I could go on forever. Basic­ally, my music­al taste has always been really, really diverse.
What got you into Dee­jay­ing and who if any are your favour­ite Deejay's?
I knew about DJing grow­ing up from see­ing guys like Jazzy Jeff and Jam Mas­ter Jay on TV. My idea of a DJ was the guy who played the music in Rap groups. But when I got to uni­ver­sity, I saw club DJs for the first time & fell in love with DJing and DJ cul­ture. Loc­al guys like Baby Blue Sound Crew, Dr. Jay and Start­ing From Scratch were the big names in the city and I got to know them all just from going to their parties and being around. When I star­ted DJing at home, teach­ing myself how to mix & scratch, I star­ted going to the clubs before they opened and helped them carry their records inside so I could get in for free and hang around the DJ booth to watch what they were doing. Some­times I'd hand out fly­ers for them. And for loc­al pro­moters, for a small fee, but more to get in. Good with them as I was try­ing to get a foot in the door to DJ myself. They noted the hustle, and it def­in­itely paid off later.
OK so, why 4Korners – how did this name come about.
Every­one always asks that. I guess how DJs get their names is kinda inter­est­ing to most. Mine, long story short I always wanted to travel as a DJ. I decided really early that I didn't want to be loc­al. I wanted to tour the world. So, I took the say­ing "4 corners of the world" and adop­ted it as my name, kinda like speak­ing it into exist­ence. I changed the C to a K (because my name is Kirk) and boom! I had my DJ name. For a while it was actu­ally the 4KORNERS Sound Crew, there were oth­er mem­bers, but as time went on, I ended up being a solo act again. I like it bet­ter this way.
Did you think that Dee­jay­ing in the retail store would get you here?
HAHA! No way, not even a little bit. Retail? I star­ted DJing at the retail cloth­ing store Roots Canada on week­ends simply because it was a gig. I worked 5 hours a day every Sat­urday & Sunday for $10/hour. So, 10 hours of DJing for $100 essen­tially, but I wasn't DJing any­where else at the time so it was worth it to me. It was like a retail job but instead of fold­ing sweat­ers I played music. As I star­ted get­ting club gigs, I still did the Roots thing because it was fun, it was extra money and I made some good con­tacts there. DJing there led to a lot of oppor­tun­it­ies that I would have nev­er expec­ted.
How does it feel being the offi­cial Dee­jay for the 2019 NBA Cham­pi­ons the Toronto Rap­tors?
Being the champ feels awe­some!!!! I'm a lifelong Rap­tors fan to begin with, I've been work­ing with the team since 2005 and we weren't always a win­ning team, so going all the way was incred­ible! There are only a hand­ful of DJs that are NBA Cham­pi­ons. I'm in an élite group of guys with one of them BIG RINGS!
How do you plan a set or do you just go off the cuff?
How I plan my sets really depends on the type of show. At nightclubs, I gen­er­ally put togeth­er a folder of songs that I want to play for sure and then I free­style it bey­ond that. That's espe­cially import­ant when I'm tour­ing inter­na­tion­ally because every city / coun­try has their own loc­al hits. When I'm doing a stage show I usu­ally plan my set list from start to fin­ish because I treat those more like con­certs. I'll per­form my own songs, have artists that I've col­lab­or­ated with hop on stage and per­form with me, some­times I'll hire dan­cers etc. So, it really depends on where and what type of per­form­ance I'm doing.
How do you find your music? Do you use music pools? Or do you rely on the con­nec­tions from oth­er Deejay's?
I find my music in vari­ous ways. I work with the world's largest record pool, DJcity, so I def­in­itely get a LOT of my music from there. Bey­ond get(ing) music sent dir­ectly from record labels, artists them­selves, I trade music with oth­er DJs and when neces­sary I buy music from Beat­source or iTunes. But more & more I'm play­ing my own songs that I've made. That's really where I'm tak­ing it.
What are the best ways now to crate dig or source new music with there being so many new artist/producers these days?
First things first, I only play music that I really like. So, I crate dig on Apple Music, Spo­ti­fy, Tidal…I check out a lot of cur­ated playl­ists to find new sounds that I might not know. I also use Shazam a lot when I'm out or watch­ing TV or whatever and hear some­thing dope that I don't know. I'm really big on find­ing new music & artists. I take that info then I check DJcity and Beat­source to grab them and add them to my col­lec­tion. Anoth­er great way that I men­tioned is trad­ing with oth­er DJs. This is the BEST way when it comes to tour­ing. I have a net­work of DJs all over the world so if I'm headed to Europe on tour, I hit up my people in each coun­try to get a few key records from the coun­tries I'll be hit­ting. I learn so much that way. Like, for example, nobody knows what's hot in the Par­is clubs bet­ter than the dopest DJs in Par­is. We all lean on each oth­er & learn from each oth­er that way. There's a real DJ com­munity glob­ally.
How did your Indie Music and Life­style Brand "JN SHP­PRD" come to life and why "JN SHP­PRD"?
Aww man, JN SHP­PRD was such a nat­ur­al pro­gres­sion. The moment I decided to start ser­i­ously mak­ing and releas­ing my own songs, I knew I was going to start my own label. A lot of my favour­ite pro­du­cer / artists had their own labels which gave them the free­dom to make and put out whatever music they wanted. Phar­rell Wil­li­ams & Chad Hugo had Star Trak, Dr. Dre has After­math, Dip­lo has Mad Decent, Skrillex has OWSLA etc, etc. That free­dom is essen­tial to me. My first label was called Wrong Angle Records which I launched in 2016 but hon­estly, my music was trash and I had no idea how to run a label. So that tanked. I took some time, put my head down and worked at my craft before launch­ing JN SHP­PRD in late 2019. I'm still build­ing the brand but it's def­in­itely on track.
What is the ulti­mate goal for "JN SHP­PRD"?
The ulti­mate goal for JN SHP­PRD is for it to be part of my leg­acy. I named it after the neigh­bour­hood where I grew up (Jane Street & Shep­pard Aven­ue) and I'm tak­ing this brand glob­al. I don't know if I'm gonna be like the Rolling Stones and con­tin­ue to tour forever. But I do know that I will always want to make music, sign and devel­op artists, design cloth­ing and oth­er products, pro­duce events, make films and bey­ond. I say music & life­style brand because at its core it's about the music, but from there noth­ing is off lim­its.
You have a very unique Dee­jay job spin­ning at The Rap­tors Games. How would you say this dif­fers to event and club Dee­jay­ing?
DJing the Rap­tors games is very unique. I'm one of the first DJs in the world to be offi­cially linked to a pro sports team. It's awe­some and super chal­len­ging. At clubs and events, my job Is to make people dance and there's gen­er­ally a nar­row demo­graph­ic of people in the room. At the games, it's more of a pro­duc­tion. There's a script, spe­cif­ic music­al cues and moments and my job is to cur­ate a playl­ist that cre­ates the right atmo­sphere and touches 20,000 people of all walks of life. Where a club might have 19–30-year olds mostly, a game has everything from babies & tod­dlers to seni­or cit­izens and everything in between. You really gotta know your music and have a firm grasp on what to play & when, while fol­low­ing a sched­ule and work­ing with a full team of enter­tain­ers. It's a lot!
You Dee­jay a vari­ety of music includ­ing Afrobeats and Dance­hall what do you think about the Soca Scene in Canada?
My DJ sets are filled with all kinds of music from all over the world, but espe­cially Black music. My par­ents are from Trin­id­ad so Soca is in my blood, and with that Carib­bean upbring­ing comes reg­gae and dance­hall for sure. As for Afrobeats, I was intro­duced to it 4–5 years ago from play­ing shows in the UK, France & the Neth­er­lands where it's been big from time. I've been pep­per­ing my sets with artists like Wizkid and Mr Eazi and more for years, so it's really dope to me that the music has gone glob­al and people every­where are now into it and super­stars like Burna Boy and Afro B and so many more have emerged.
What music do you listen to when you are not plan­ning a or play­ing a Dee­jay set?
What I listen to in my spare time really depends on my mood. I like to listen to House Music in the morn­ings to get my vibe and energy high. When I'm chilling, I like R&B and Soul (music). Artists like Masego, Jorja Smith, Jan­elle Mon­ae, Syd, Daniel Cesar, stuff like that.
Where is favour­ite place to Dee­jay and why?
Of course, I love play­ing Rap­tors games, and I love being on stage where I can per­form my music and bring out guests on a con­cert vibe. But as far as nightclubs, hon­est answer, any­where that the energy is right. Any­where that I can take the crowd on a genre bend­ing music­al jour­ney and they ride with me the whole time. That's my favour­ite. There are a few rooms in par­tic­u­lar that I've played in recent times that really fit that descrip­tion. Mad­dox in Lon­don. Theatro in Mar­rakech, ASL in Shang­hai, Soubois in Mon­tréal, there are a bunch.
Have you had any crazy situ­ations whilst Dee­jay­ing?
HAHA aww man, I've had a lot of crazy moments. This DJ life is really on some Rock­star shit for real. I work with some very fam­ily friendly cli­ents so I'm not really gonna go into any of that on the record, but yeah…I got stor­ies lol
From all the A‑Listers you have had the chance to meet who have been some of the most mem­or­able?
THIS I can talk about. Jay‑Z is the man! I met him here in Toronto. He's lit­er­ally one of the greatest of all time and he was so chill. Anoth­er one, I was in Vegas one time and someone bumped into me. I turned around and it was 50 Cent say­ing "I'm so sorry" lol. Most polite celeb I've ever met. Chris Tuck­er is hil­ari­ous. I was play­ing a party that he was at once and he ran across the room to ask me to play "Roy­als" by Lorde, only he didn't know what it was called so he kinda per­formed it for me, dance moves and all. He was EXACTLY like you'd ima­gine him to be. I spent the after­noon with Ryan Leslie & Cas­sie at the stu­dio once, they were both so dope. Ryan put me onto a lot of game & Cas­sie, who was pretty young at the time, was an abso­lute sweet­heart. Anoth­er, I was on tour in Canada with The Game and we went to Dairy Queen togeth­er lol. I there's a lot man. I've been doing this for a long time.
Have you ever been star struck or caught off guard by any A‑Listers?
YES! That same party that His Tuck­er was at, it was the Hockey Hall of Fame induc­tion private party for NHL legend Chris Che­lios. And bare legendary celebs were there. Cindy Craw­ford, Cuba Good­ing Jr, Kid Rock etc. But at one point I saw them all geek­ing out around this one guy, but his back was turned so I couldn't see who it was. I was taken aback though because these are all big movies stars and rock stars and all that, but they seemed to be fan­ning out around this one dude. Man turns around and it's Michael Jordan!!!! I froze! I wanted to go say hi but I couldn't move my feet lol. That's the only time I've ever been star­struck in my entire life!
Some Deejay's hate requests from the crowd how do you feel about this?
Nah, I'm not big on requests either. Don't get me wrong. Every now & then someone asks politely enough and has a dope request. But for the most part people are obnox­ious and demand­ing and are ask­ing for songs I'm gonna play any­way or songs I would NEV­ER play! Best prac­tice in my opin­ion, talk to the DJ like he/she is a human being. Ask, don't demand. And you will always get fur­ther if you tip. Swing me a 50 or 100 and yeah, I'll squeeze your song in. Some DJs really hate that so that one is not uni­ver­sal, but in some cit­ies it's a com­mon thing. I've doubled my pay a few times in cer­tain places, I'm not mad at that!
In July you col­lab­or­ated with Top Tier DJ's across North Amer­ica includ­ing DJ Enuff, Kar­din­al Off­ishall, Dia­mond Kuts, Fran­zen, Justin Cred­ible, Fafa Fahn to name a few for DJ's United Against Racism. How did this pro­ject come together/about?
Yes, that was a really import­ant ini­ti­at­ive. I'm always down to donate my ser­vices for the great­er good and in light of the resur­gence of the Revolu­tion against Anti-Black racism, I was proud to par­ti­cip­ate. The homie DJ Charlie B from here in Toronto put this togeth­er and we raised over $55,000 and donated it to the Black Health Alli­ance. Bey­ond that I put my mix up on my Band­camp page and am donat­ing all pro­ceeds from the sales of that mix to the same organ­iz­a­tion.
What is your inspir­a­tion behind your singles?
The inspir­a­tion behind my music var­ies. I do have two main object­ives when mak­ing music though. One is to make music I can per­form at my shows, so gen­er­ally dance­able music. I'm a DJ first and I want to be able to play my music out, so no bal­lads or any­thing lol…not yet at least. I nev­er say nev­er. The second thing is I make it a point to be diverse with my releases. I make all kinds of Black music. We are a glob­al people and we've cre­ated so many genres that it doesn't make sense for me to pigeon hole myself into just one cat­egory. People see me and assume Hip-Hop, and they're right. But I also make House Music (as 4KORNERS and also as part of my group 401 WST), I make R&B, Twerk, Trap, Dance­hall, Afro, Pop, Rock…I don't lim­it myself. Just like all the music I grew up on, and all the music I dis­cov­er while tour­ing, I put all that in the pot when I'm cook­ing.
Do you build your tracks around the artist, with the artist or for the artist?
All of the above. My favour­ite way to cre­ate is to get in the room with the artist(s), spark an idea and write and pro­duce the record from scratch. But thanks to tech­no­logy, I'm not depend­ent on being in the same place to cre­ate with someone. On some tracks I've sent the pro­duc­tion over email and they've sent me back their vocals. Some­times I'll send ideas back & forth with anoth­er pro­du­cer and we come up with the record that way. I even wrote and recor­ded a song over Ins­tagram Live earli­er this year with an artist by the name of City Fidelia. I'm open to all forms of cre­ativ­ity, as long as we end up with a dope record in the end.
As this pan­dem­ic has hit the Dee­jay scene very hard. Few Dee­jays could use SM plat­forms to spin due to copyright's whilst oth­ers got an in. My ques­tion is what does the future of Dee­jay­ing look like for you?
Hey man, we're not gonna be quar­ant­ined forever. The future of DJing will always be play­ing music for people in per­son. But for now, we've had to get a bit cre­at­ive. I'm not wor­ried. People will always want to party and go to con­certs. We'll get back to that once it's fully safe to do so. And when we do, I think people are gonna go harder than ever!!
Will we/club/Deejay's ever truly recov­er after Cov­id. as things open up slowly how do you see the club and night scene in the near future?
100% we'll recov­er. Near future? Doubt­ful. But even­tu­ally, abso­lutely. And quite hon­estly, a lot of DJs won't be DJs at that time. They will have had to do some­thing else to pay the bills. But for those of us who are lifers, we'll always adapt and keep doing what we love. I've said this before many times. DJing isn't what I do, it's who I am.
Do you think that a digit­al Dee­jay­ing maybe be the future & if so, how could we make this work?
I think it's def­in­itely some­thing that has been added onto the pot. I think it will be dope for DJs to live stream from ven­ues even as things open back up. I'm already see­ing some do it. Ima­gine being able to hear your favour­ite DJ spin and get a feel of the club or con­cert atmo­sphere even when they are in a dif­fer­ent city or coun­try? I think it will be dope to offer that to my fans. Like, come on tour with me vir­tu­ally. It's def­in­itely some­thing to add to the arsen­al.
What tips could you give up and com­ing Dee­jays?
My advice, if you love music, do it. DJing is so much fun! But if you want to take it ser­i­ously and make it a career, prac­tice, prac­tice, prac­tice! And make sure you love the craft enough to do it for free or for very little money because that's how it starts for most of us and it takes time to move up the lad­der. But def­in­itely do it and have fun with it!
Have you any advice on how to get on the Dee­jay cir­cuit? Also, would you say it is true it is who you know rather than what you know?
The best advice I can give on that is very simple. Wherever it is that you want to DJ, go there. Sup­port the ven­ue, the pro­moters, the DJs. Be phys­ic­ally in the build­ing and get to know the people who make it hap­pen. But also make sure you're build­ing your skills all the while. Who you know is def­in­itely import­ant, so get to know the movers! If ever there's an oppor­tun­ity, they'll be much more likely to give the DJ that they know and like a shot than a stranger. But once you get that shot, you bet­ter be able to handle it. Like KILL IT!
What have we got to look for­ward to from 4Korners?
Look for­ward to not being able to go any­where without hear­ing me! SO, much more music and short films from 4KORNERS and from my House Music group 401 WST. And also expect music from some of the artists I'm devel­op­ing and mer­chand­ise com­ing through JN SHP­PRD! I'm being very pro­lif­ic with it. And when the world opens up again, I'll be in your city!
I want to thank 4Korners for tak­ing the time to talk with us. I am look­ing for­ward to his future endeav­ours and when he is in town, I will defi­antly try and sneak in to one of his events. For more on DJ 4Korners click on the links below.
Peace,
Love,
& All That Good Stuff!
Links –
The fol­low­ing two tabs change con­tent below.

Jay St Paul
Jay St Paul AKA Uncle JuJu is Founder & CEO of Hi…Creativity LTD | Dee­jay | Graph­ic Design­er | Illus­trat­or | Journ­al­ist | Writer | Pod­cast Host | Radio Presenter. Born and raised in West Lon­don Jay has always found love and solace in being cre­at­ive and express­ing him­self. Always look­ing to improve where he can and look­ing to learn new things as that is the jour­ney of being a cre­at­ive.

Latest posts by Jay St Paul (see all)