Last week saw the release of the "Knoxxville EP" by Hydera­bad based pro­du­cer Yung Raj. It is the first release from 4NC¥ a label set up by Pavan formerly of For­eign Beg­gars. Half a year in the mak­ing, the album fea­tures Nate08 from Mum­bai and UK MC and artist Jam­mz. The EP has a dis­tinct Brit­ish sound with its throw­backs to Jungle and Grime and it also rein­ter­prets Acid House and Foot­work with Indi­an instru­ment­a­tion.
DJ Isuru talks to Yung Raj about the EP, with info on his career so far, music­al influ­ences and future pro­jects.
Where did you get the name Yung Raj?
The name Yung.Raj was giv­en to me by Pavan from For­eign Beg­gars, post a per­form­ance where I shared stage with them (as a beat­box­er) 6 years ago, I was­n't using any ali­as back then and the For­eign Beg­gars Ins­tagram post from that show said shouts to Yung Raj on the beat­box and me and Pavan had a few chats and decided that the name is dope!
Where did you grow up and where did your jour­ney as a music fan start?
I grew up in the city of Hydera­bad, India and I remem­ber there was a music teach­er in my school who used to try and get all the kids to sing and he used to play the keys, I dug the singing part but watch­ing him push the keys down and me hear­ing a chord really changed some­thing in me that day onwards as I still remem­ber that moment really clearly. Like many oth­ers in India, I did have a phase of listen­ing to the Bol­ly­wood music that my par­ents played but luck­ily my aunts and uncles were so cool they gave me CDs full of Nir­vana, Tool, Linkin Park, Eminem and a whole bunch of oth­er shit that was pop­u­lar in India at the time in the col­lege cir­cuits but I was still in school so it was pretty dope to have that expos­ure early on as it def­in­itely influ­enced my dir­ec­tion.
You ori­gin­ally star­ted out as a beat­box­er, how did that influ­ence your later pro­duc­tions?
Beat­box­ing really acts like a step sequen­cer in my head when I'm pro­du­cing and its easi­er to vocal­ise the ideas I'm think­ing of even if i dont record them and because of the free­style nature of my beat­box­ing all the lil fills and breaks and dynam­ics are sort of ingrained because of years of beat­box­ing even though I don't real­ise it that much. I've only recor­ded my own beat­box­ing in a few songs of mine but for the most bit I just use it as a com­pos­i­tion tool at the moment.
You spent over a year work­ing on the EP could you tell me about the pro­duc­tion pro­cess?
Through the year I sit and keep cre­at­ing and com­pile the ones that make sense togeth­er into EPs and beat-tapes. This one's a bit dif­fer­ent as it marked my trans­ition from my old stu­dio to my cur­rent one so all the tunes on this EP are a bit dif­fer­ent to what I was cre­at­ing last year, the stu­dio now is in the same house as my par­ents and that changes the vibes a bit too so for a lot of these tunes I'd star­ted the skel­et­on wheth­er it be drums or bass and then worked on them gradu­ally to the point where I was happy with them. I make some cof­fee, open up Ableton, and just try to cre­ate what I'm feel­ing in the moment.
What does the term Lo-Fi mean to you?
I try not to think about the term 'Lo-Fi' so much coz to me it just mean lo fidel­ity but its being used to label a lot of hip hop as that and has become a way of chan­nels and record labels to cap­it­al­ise on the insane work that the beat­makers have done but I def­in­itely feel a lot of my music would come under 'Lo-Fi' as I try and leave a lot of arti­facts and dirt and noise in my tracks.
Which artists influ­enced your sound with this EP?
I'm big into the sound­cloud dig­ging so I just go through a lot of stuff that I've saved from my favor­ites on SC and listen to them on rota­tion when not mak­ing music, it's a bit con­fus­ing for me to point out the exact influ­ences coz it includes too many genres and too many artists but basic­ally good under­ground elec­tron­ic music.
You have track titles such as "Who really cares", "This too shall pass", "Exist­en­tial Bread", is there an under­ly­ing philo­sophy behind your pro­duc­tions on this EP?
Yeah that's kind of the vibe, that don't take things too ser­i­ously so that you can start hav­ing fun or at least not be too hard on your­self, adjust with the times and accept the only con­stant that is change. That's my way of life too but of course I'm still riddled with truck­loads of self doubt and anxi­ety but I keep using titles in my music to remind myself of things like that. Almost like self-notes and at the same time broad­cast­ing it to the world if that makes sense.
Who is Nate08?
NATE08 is a pro­lif­ic, beat­maker, DJ and bass play­er from Bom­bay and one of my home­boys!! He makes a lot of killer shit from hip-hop to house to jungle and is def one of the dopest bass play­ers I've heard in the coun­try. Before the pan­dem­ic, we'd meet quite often as I'd travel to Bom­bay and we'd sit and cook a lot of beats or play some b2b's.
Who is Jamzz?
Jam­mz is a grime MC and record pro­du­cer from Hack­ney, East Lon­don and the founder of the record label I Am Grime, his flows are ruth­less and his beats are super cold! Big ups to Pav for link­ing us up for the track it was a real fan­boy moment for me. Huge shoutout to Jam­mz for abso­lutely murk­ing it on the track we made togeth­er, I really cant wait for every­one to hear it!
How did you dis­cov­er Jungle? Did it have an impact in India?
When I was 15, I met a DJ in the city who showed me turntables and vinyl for the first time in my life. His name is Dakta Dub, and he showed me the roots and just qual­ity records play­ing in the stu­dio, we used to chill and watch doc­u­ment­ar­ies on Dub and pretty much through that and my own dis­cov­er­ies on the inter­net led me to a pleth­ora of artists from the UK and I kept dig­ging, plus it was bound to hap­pen coz my most favor­ites beat­box­ers were from the UK too and they kept beat­box­ing genres like Dub­step and DnB etc. So yes, the sounds on this EP are kinda draw­ing inspir­a­tion from what's hap­pen­ing out there but more like an audio trans­la­tion of what's hap­pen­ing in my own head.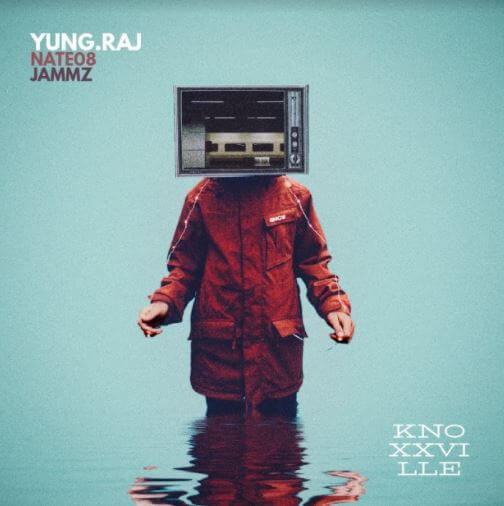 Your track "Knoxxville" sounds very Acid House inspired, how import­ant is Acid House to your music­al jour­ney?
I'm a suck­er for Acid bass­lines and the TB-303 is a beast, hear­ing it used over the years in dif­fer­ent ways and genres, I always wanted to make a track with the squelchy acid bass vibe so I did it on Knoxxville, not gonna lie I haven't heard enough Acid House but I still love it.
Were you inspired by Char­anjit Singh's album "10 Rag­gas to a Disco Beat" which also fused Indi­an instru­ment­a­tion and music­al­ity with Acid House?
That album is legendary and one of my favs, I'm really gut­ted I nev­er got to meet him or see him live. It's crazy how ahead of his time he was, and how cas­u­al he was about it. Def­in­itely want to make some­thing in that dir­ec­tion but since I do not have a good grasp of Ragas I'm gonna wait until I can do it right! RIP Char­anjit Singh.
You ref­er­ence Foot­work on the EP, which artists from that genre inspired you?
As the indi­vidu­al list would be really long let me just shoutout the crews, The whole TEKLIFE crew from Chica­go spear­head­ing the scene, Juke Bounce Werk from NY, all the jungle influ­enced stuff from the UK and so many more that I'm miss­ing on this list right now. RIP DJ RASHAD!
"Exist­en­tial Bread" really stood out to me, almost uncat­egor­iz­able in terms of genre, you men­tioned not being tied down by genre, could you elab­or­ate?
Just hav­ing heard artists like Fly­ing Lotus, Aphex Twin and J Dilla to name a few you could broadly go ahead and say Hip-Hop or IDM but in my opin­ion it still does­n't exactly fit the sound as I feel that's more artist driv­en than genre driv­en (I might be wrong) so I kinda take that and not try to put it in a cat­egory so that the cre­ation pro­cess can breathe more freely. I just want people to like my music for what it is and not have an expect­a­tion in their mind as to what(genre or sound) the next one is gonna be like.
The EP will be released on the label 4NCURRENCY (4NC¥) What was it like work­ing with the label founder Pavan of For­eign Beg­gars?
I used to bump For­eign Beg­gars loud on my speak­ers all through high school and till this day still. Ever since I first met Pavan, it's been a killer ride and now get­ting to release an EP under 4NC¥ is sort of a dream come true still, I've got mad love for him and the pro­cess has been dope start to end! I love how he let me do my thing and let the EP come about the way it did!
Are you work­ing on a fol­low up? What form will it take and what genres are you exploring/deconstructing?
Not neces­sar­ily a fol­low-up but yes I'm back to cook­ing every­day and put­ting some beats in the vault, I went to music school for 2 semesters after high school so with all this free time dur­ing the pan­dem­ic I've been play­ing more keys than I used to, so my more recent pro­duc­tions are tak­ing shape more through melod­ies and har­mon­ies as opposed to the raw and gritty bass and drum combo from some of the tracks on Knoxxville. I'm think­ing more in terms of BPM than genres nowadays so let's see where it goes!
Are you work­ing on any oth­er inter­est­ing pro­jects at the moment?
Yes I've got a beat­tape in the works with Owl­ist from Jaipur, who's anoth­er crazy beat­maker and a friend of mine. We both share the same love for samples and beats so we're send­ing each oth­er chops and drums put­ting stuff togeth­er for now. Oth­er than that, just mak­ing beats without think­ing too much coz some of the best ideas come through like that!
Are there any con­tem­por­ar­ies of yours who you think more people should be listen­ing to?
NATE08, Three Oscil­lat­ors, Oceantied, Hanu­man­kind, Par­im­al Shais, Owl­ist, Kayoti, Kartik to name a few! Lots of hom­ies in the sub-con­tin­ent mak­ing some really really killer stuff rn, we just get­ting star­ted!! Dont sleep on em!
Could you pick one track by any artist that has been very import­ant to you?
I tried think­ing super hard, what's that one track that changed things for me but I just can­'t seem to come up with a name, so here's a track that keeps me com­ing back to it for dif­fer­ent reas­ons, I use music as ther­apy more as a listen­er than a cre­at­or so some tracks just hit the nos­tal­gia feel­ing right on the spot and calm me down, and this is one of those for me, like I can instantly remem­ber the day I first heard this track whenev­er I play it — The Glitch Mob — Starve The Ego, Feed The Soul.
Listen to 'Knoxxville' Here
Fol­low Yung Raj below:
Ins­tagram: www.instagram.com/yung.raj
Face­book: www.facebook.com/Yung.Raj.Beats/
Twit­ter: twitter.com/Yun­gRa­j­Beats
You­tube: www.youtube.com/channel/UCH6I…
Sound­cloud: @yung_raj
The fol­low­ing two tabs change con­tent below.

DJ ISURU
DJ Isuru is a music journ­al­ist and broad­caster on SOAS Radio. He also runs the Mishti Dance event series fea­tur­ing the best in Asi­an Under­ground. www.mishtidance.com