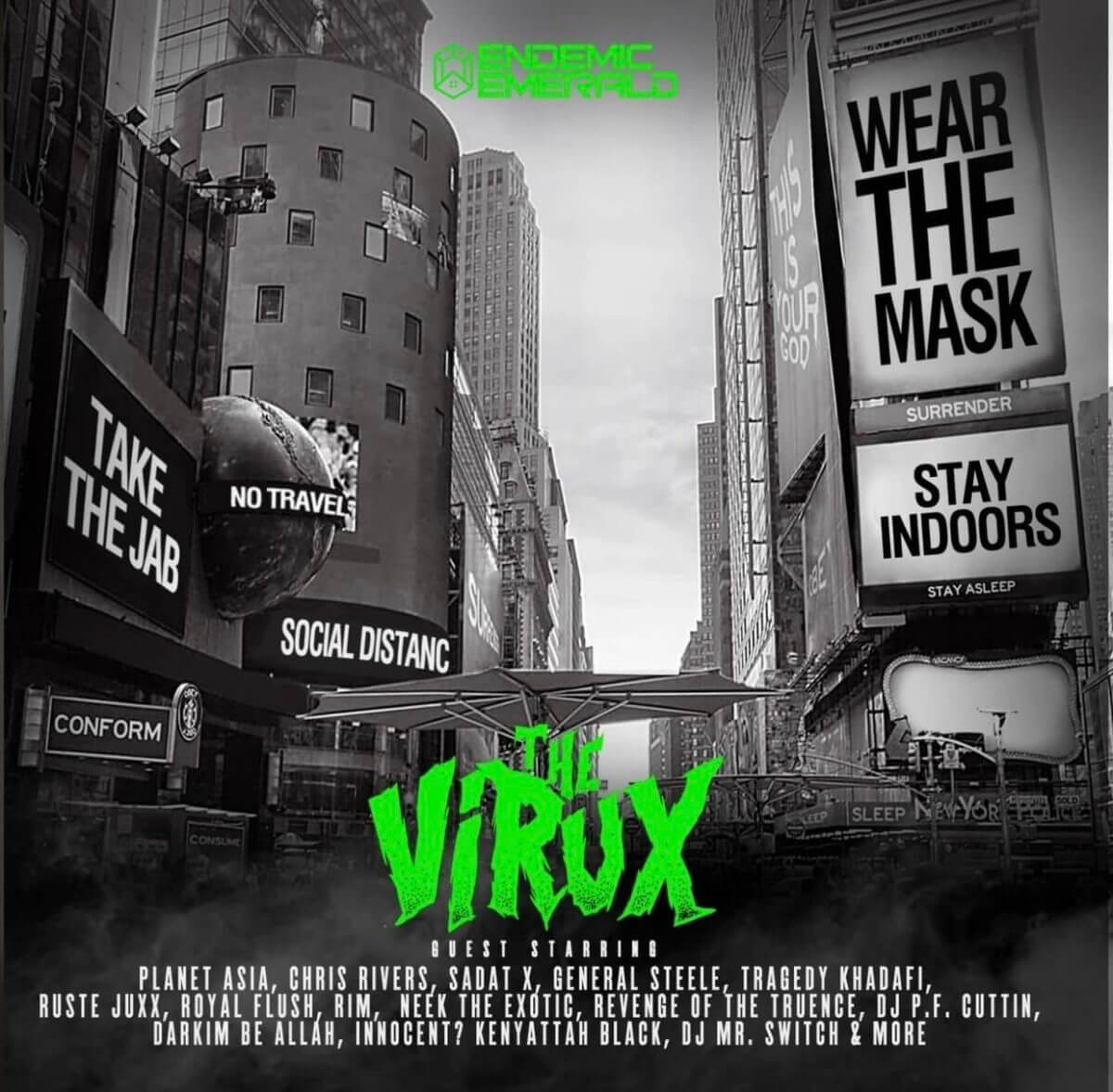 NYC-based pro­du­cer Endem­ic Emer­ald is proud to present the release of his 3rd album entitled "The Vir­ux". Fea­tur­ing such renowned emcees as Gen­er­al Steele, Chris Rivers, Sad­at X, Plan­et Asia, Tragedy Khadafi, Ruste Juxx, Rim & Roy­al Flush — to name but a few — the set is packed with high class tal­ent embed­ded in elec­tri­fy­ing sound­scapes. Endem­ic, known for pro­du­cing out­stand­ing com­pil­a­tion records [Ter­min­al ill­ness 1 & 2] once again does not dis­ap­point with this offer­ing, which com­prises a cohes­ive selec­tion of epic, yet gritty east coast bangers. Col­lab­or­at­ing with a com­bin­a­tion of legendary and upcom­ing rap­pers "The Vir­ux" has that clas­sic feel from begin­ning to end, ensur­ing it to become an under­ground favour­ite.
On this pro­ject with the power­house of legendary and upcom­ing Hip-Hop fea­tures that should be enough to turn most ears of real Hip-Hop heads. If not, then I don't know what to tell you as "The Vir­ux" is filled with melod­ic gritty New York beats, intel­li­gent rhymes, com­plex flows that are superbly delivered. I had to re-listen to the album sev­er­al times and rewind tracks just to absorb what was being said.
What I really enjoy is the fact that there is more know­ledge of self being spoken then the usu­al murder, murder, kill, kill we are overly exposed to. Also the con­trast from the dark, grimy and melod­ic head bump­ing boom-bap beats to the know­ledge that is being dropped really brings back that Hip-Hop thought pro­vok­ing nos­tal­gia. With the fea­tured artists you can tell that they bounced off each oth­er and in some ways tried to out rap each oth­er. Which is what Hip-Hop is all about espe­cially when you jump in the booth. Well I shouldn't be sur­prised, I mean just check out the fea­tures.
"The Vir­ux" fea­tures
Gen­er­al Steele | Best known for being a mem­ber of the duo Smif-n-Wessun with Tek, and also the super­group Boot Camp Clik.
Tragedy Khadafi | Rap­per and record pro­du­cer who helped spawn oth­er Hip-Hop artists such as Mobb Deep, Capone-N-Nore­aga, Nas and many oth­ers both through pro­duc­tion and influ­ence. He was the first in the Queens­bridge pro­jects to cre­ate intel­li­gent street music, and is doc­u­mented to be the first to use the phrase "Ill­mat­ic" in 1988 on a record called "The Rebel", from the Mar­ley Marl album In Con­trol, Volume 1, which was an inspir­a­tion and influ­ence on fel­low New York rap­per Nas.
Ruste Juxx | He was a protégé of Sean Price, and a fre­quent guest rap­per on Duck Down Music record­ings. His first appear­ance was on the song "Mag­num Force" off Hel­tah Skel­tah's Mag­num Force.
Roy­al Flush | His 1997 debut album, Ghetto Mil­lion­aire, fea­tured pro­duc­tion from Buck­wild, L.E.S., Da Beat­minerz and some verses from Nore­aga in vari­ous songs, and received crit­ic­al acclaim.
Plan­et Asia | He is prom­in­ent for being one half of the now reunited Hip-Hop duo the Cali Agents and is cur­rently a mem­ber of the groups Gold Chain Mil­it­ary and Dur­ag Dyn­asty. He is also well known for his vast dis­co­graphy of mix­tapes.
Darkim Be Allah | Wu-Tang Clan affil­i­ate, renowned since the late 90's for his work with the Wu-Tang fam­ily & edu­cates with the 5% teach­ings of the Nation of Gods & Earths.
Revenge of the truence | Are a Duo com­posed of Lyr­i­cist MuG­Gz and Lyricist/Producer Tay Dayne (LTY Music). Togeth­er they bring a fresh and authen­t­ic brand of street sci­ence to the New York hip hop sound.
Sad­at X | Best known as a mem­ber of altern­at­ive hip hop group Brand Nubi­an.
Chris Rivers | He is the young­est son of the late rap­per Big Pun.
Supreme | Rose to prom­in­ence in early 1981 when he formed The Supreme Team based in South Jamaica, Queens, New York City, New York.
Addi­tion­al fea­tures
Kasim Allah | Lucky Tatt | FRD FRLN | Rim | Inno­cent | Foul Monday | DJ Mr. Switch | kenyat­tah black | mil­it­ant eth­os | Skanks | DJ P.F. Cut­tin | Mic Handz | Dready Kruger | Neek The Exot­ic
"The Vir­ux" also doubles up as a great intro­duc­tion to these artists and their works. I was truly pleased and sur­prised to see many of the artists on this pro­ject and was a joy to listen to.
Stand out tracks for me
Cham­pi­on Sound Ft. Darkim Be Allah & Kasim Allah | The Awaken­ing Ft. Plan­et Asia, Lucky Tatt & FRD FRLN | Crit­ic­al Mass Ft. Rim, Inno­cent, Foul Monday & DJ Mr. Switch | Actu­al Sci­ence Ft. Plan­et Asia, Sad­at X, Darkim Be Allah & Kenyat­tah Black | They Live Ft. Chris Rivers & Revenge Of the Truence | Battle Zone Ft Ruste Juxx, Skanks, Supreme & DJ P.F. Cut­tin | Yes­ter­day Is Tomor­row Ft. Inno­cent, Mic Handz & Dready Kruger
So, if you want to refresh your Hip-Hop palette and dig into some­thing with some ser­i­ous sub­stance this pro­ject will do it for you. What a pro­ject for the wrap up of 2021.
"The Vir­ux" is avail­able now on all stream­ing plat­forms.
The fol­low­ing two tabs change con­tent below.

Jay St Paul
Jay St Paul AKA Uncle JuJu is Founder & CEO of Hi…Creativity LTD | Dee­jay | Graph­ic Design­er | Illus­trat­or | Journ­al­ist | Writer | Pod­cast Host | Radio Presenter. Born and raised in West Lon­don Jay has always found love and solace in being cre­at­ive and express­ing him­self. Always look­ing to improve where he can and look­ing to learn new things as that is the jour­ney of being a cre­at­ive.

Latest posts by Jay St Paul (see all)