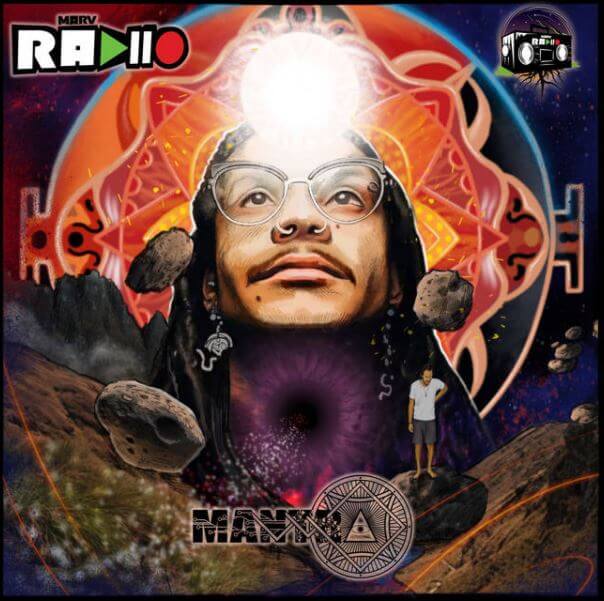 Who is Marv Radio?
"A ground­break­ing musi­cian and son­ic sci­ent­ist. He has been hack­ing his own voice to use as a tool for music, art and ther­apy for over 18 years. Marv is known for his out-of-this-world live music and theatre shows where he com­bines beat­box­ing, live loop­ing, singing and rap to make high energy motiv­a­tion­al hip hop."
Man­tra is the latest pro­ject from the ver­sat­ile being known as Marv Radio. To call this an album really does short sell the Man­tra exper­i­ence because it is an audio movie/documentary. Marv Radio really gives us a truly no holds barred insight into his life and exper­i­ences. He gives us a true reflec­tion & insight into the inner work­ings of his soul as he nar­rates his story. This is a purely vocal album minus one track. So, everything you hear or exper­i­ence on Man­tra is 100% all pro­duced Marv Radio which really adds anoth­er level of depth to the Man­tra exper­i­ence.
To express how truly unique Man­tra is and how raw the pro­ject is, listen to tracks like 'Road 2 Ruin' where Marv tells his story about try­ing to take his life as a young child and how listen­ing to Tupac saved his life. Or the crazy story of 'Fall­ing Part 1' on how he fell down a moun­tain in Peru and dis­lo­cated his spine, and then was intro­duced to the sac­red heal­ing plants and how this healed him as well as meet­ing inter-dimen­sion­al beings. Marv Radio really does dig deep on Man­tra and leaves very little to the ima­gin­a­tion, he cov­ers rela­tion­ships, his love for music, seek­ing self, mov­ing back in with his mum, get­ting back up when you have been broken down, love and much more.
This is truly a super unique pro­ject and a drastic change from the norm, and as such I would def­in­itely recom­mend that you do not approach this like a reg­u­lar album. Come with an open mind and soul and dive into the exper­i­ence and enjoy the jour­ney.
Check out our inter­view below with Marv Radio on the Hi…Creativity Pod­cast where we chop it up about Man­tra and much more.
Marv Radio You­Tube inter­view & Spo­ti­fy inter­view
Click the web­site link below to order your copy of Man­tra and check out his offer­ings and edu­ca­tion­al ser­vices.
Marv Radio Links:
Band­camp | Web­site | Spo­ti­fy | You­Tube | Ins­tagram | Face­book | Sound­Cloud | Twit­ter |
Peace,
Love,
& All That Good Stuff
Uncle JuJu
The fol­low­ing two tabs change con­tent below.

Jay St Paul
Jay St Paul AKA Uncle JuJu is Founder & CEO of Hi…Creativity LTD | Dee­jay | Graph­ic Design­er | Illus­trat­or | Journ­al­ist | Writer | Pod­cast Host | Radio Presenter. Born and raised in West Lon­don Jay has always found love and solace in being cre­at­ive and express­ing him­self. Always look­ing to improve where he can and look­ing to learn new things as that is the jour­ney of being a cre­at­ive.

Latest posts by Jay St Paul (see all)