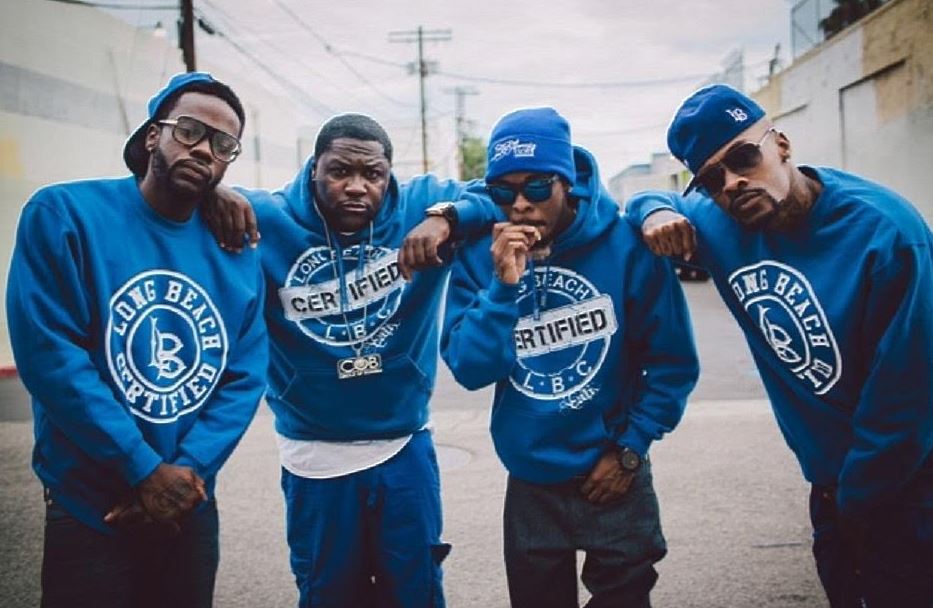 Horse­shoe Gang is an emer­ging Hip Hop col­lect­ive that is pas­sion­ate about main­tain­ing the found­a­tions and fur­ther­more devel­op­ing the future of the scene.
They have strong views and even stronger lyr­ics that approach extremely rel­ev­ant top­ics such as the rami­fic­a­tions of "Trap Music" on a young­er and eas­ily influ­enced gen­er­a­tion, which is some­thing that cer­tainly both­ers myself and many of our read­ers!
Hi guys, tell us first of all, what is mean­ing of your group name "Horse­shoe Gang"?
The "Horse­shoe" Rep­res­ents many things. Think of how horse­shoes are put on a horse; there's pain involved. We've gone through a lot of pain in our lives, so think of pain whenev­er Horse­shoe is men­tioned. Also, there's four of us and obvi­ously a horse wears four shoes. Plus a horse­shoe rep­res­ents luck and we con­sider ourselves to be lucky in many ways. But the actu­al name Horse­shoe Gang was cre­ated years ago after we star­ted wear­ing Indi­ana­pol­is Colts gear cause the horse­shoe is posi­tioned like a U and our group names used to be Untouch­able Gang. We even­tu­ally star­ted call­ing ourselves Horse­shoe Gang.
G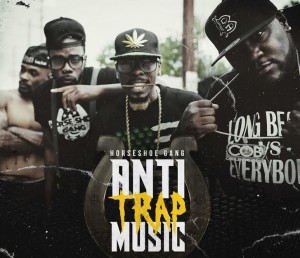 iven the title of your new album is "Anti-Trap Music", lay it out for us, what exactly is your opin­ion on the genre of Trap Music?
We feel Trap­pin' should only be a sub­ject in Hip-Hop songs rather than a sub-genre in Hip-Hop. Rap­pers have been rap­ping about either selling drugs, using drugs, or both since Hip-Hop's begin­ning. But Trap Music puts way more focus on dealing/using drugs than neces­sary. To the point where it now seems trendy. T.I. is the King of Trap Music, and he made it pop­u­lar. But he has more ver­sat­il­ity as an artist so he nev­er used the "Trap" as a gim­mick. Rap­pers like Jay‑Z, who are known for rap­ping about Trap­pin', nev­er used it as a gim­mick but rather as a part of his over­all story. Our album "Anti-Trap Music" is an album meant to express the point that rap­pers should­n't be one-dimen­sion­al.
We've seen you speak on the need for more focus on lyr­i­cism with­in hip hop. Where do you see the main prob­lems right now, and who would you say is help­ing bring it back?
Rap­pers like KXNG Crooked, Slaughter­house, Kendrick Lamar, J.Cole, and Wale are a few examples of rap­pers who still get men­tioned in Barber Shop con­ver­sa­tions and also get high praise for their abil­it­ies to make great music. This Rap industry is get­ting bet­ter, but still needs improve­ment. There's room for both lyr­i­cism and catchy/gimmicky Hip-Hop music. But it should be less of the lat­ter. It's okay to eat junk food in mod­er­a­tion, but well-bal­anced meals should be con­sumed more often.
Speak­ing of which, what promp­ted you to cre­ate the lyr­ic: "F**k Jar­ren Benton's mama with a gonor­rhea dick"?!
Dope rap­pers con­coct dope bars haha! Rap lines could be extremely dis­respect­ful, and it still could all be viewed as the accept­able nature of the sport. Since we nev­er had a per­son­al issue with Funk Volume and they had no per­son­al issues with us, everything that was men­tioned in our rap battle was per­fectly accept­able.
So going back over the years, what have been the main chal­lenges you have faced as up and com­ing artists ?
Lack of money. We came from the bot­tom of the bot­tom. We grew up so poor, we had to save up money to be con­sidered broke. And since we tried our best to stay away from obtain­ing money in ways that would land us behind bars, that makes for a hard road. Couple that with the fact that we wer­en't col­lege mater­i­al… A recipe for life-is-hard soup is cre­ated haha.
Turn­ing to your loc­al scene, who would you say are you main com­pet­it­ors in Long Beach, and who are the artists to look out for?
We've nev­er heard of the word "com­pet­it­ors" or any word syn­onym­ous with it. Maybe someday someone will define it for us. But there's a bunch of super tal­en­ted rap­pers in Long Beach. Like Kare­lezz (who's album "Space Time" drops soon) Tim West, Vince Staples, and DC Gang. Go to you­tube and search "Caine Cous­in Har­old" by Pac Ten and Tech­niec and you'll see what we mean.
Away from music, what do you all do in your spare time?
We hit up movie theat­ers reli­giously. We play Street Fight­er on Play­sta­tion like it's our jobs haha. And we've been goin' ham exer­cising a lot lately… Pre­par­ing for world dom­in­a­tion.
Who do you want to win the next USA pres­id­en­tial elec­tions?
Hard to say. Our opin­ions are sim­il­ar to those Nick Can­non expressed in his video "Too Broke To Vote". None of the can­did­ates stand out in a major way. Although, Bernie Sanders' stance on immig­ra­tion, the eco­nomy, and oth­er issues that con­cern people of the inner-city, are pretty good. And Bernie is right to feel that our pri­vacy should­n't be stripped away in an effort to fight ter­ror­ism. But still not sure we'd vote for him. Maybe if there was a can­did­ate with Trump's money and busi­ness savvy, Sanders' policies, Clin­ton's gender, and the youth of Cruz, maybe we'd vote haha.
What's your stance on Don­ald Trump?
Fuck Trump! Our album "Anti Trump Music" may be on the way.
We under­stand you have a healthy fol­low­ing in the UK. Have you ever per­formed over here and have you any plans to come and tour ?
We've nev­er pre­formed in the UK, but we'd love to. We're work­ing on pos­sible head­ing that way but noth­ing set in stone.
Have you ever worked with any UK artists, or heard any who you rate over there?
We've worked with a few up-and-com­ing artists in the UK. We've always respec­ted legends like Slick Rick and Monie Love. And we heard of a few new­er UK artists like Lady Leshurr, who's "Queen Speech" series was dope. And Hyper­apt­ive who's song/video "Big Man" is also dope. Shout out to COB Niger­ia, COB Canada, COB Nor­way, COB France, and all of our sup­port­ers across the globe.
Sum­mar­ise you music­al style in three words?
Witty, authen­t­ic, aggress­ive.
Any­thing else you'd like to say?
Go to Seven13ent.com and click on sev­en 13 store to order our album Anti Trap Music. Go buy KXNG Crooked's album Statik Kxng. Go fol­low our bro Mad Man on Twit­ter at @ungradiostation. And much love to I Am Hip Hop Magazine for giv­ing us this oppor­tun­ity. GOD BLESS!
The fol­low­ing two tabs change con­tent below.

Adam KG
Adam KG, is con­scious Hip Hop artist hail­ing from Lon­don City whilst walk­ing the world's pave­ments. He is inter­ested in the enter­tain­ment and media sec­tor, youth work and hol­ist­ic health.