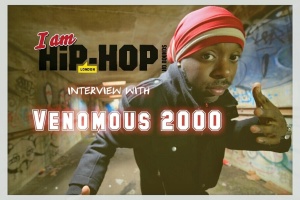 New Jer­sey's ultra emcee and out­stand­ing lyr­i­cist Venom­ous 2000, ahead of his anti­cip­ated tour in Europe, caught up with I Am Hip-Hop magazine's writer Lana Bell to talk about his craft and the Hip-Hop Scene.
Q. How would you describe your­self and the loc­al Hip-Hop scene where you live?
I would describe myself as a humble, patient, hungry artist. By that I mean that I've learned how to manuever in this cul­ture in a way that will cause the few­est amounts of head­aches for myself, my fel­low artists, and my fam­ily. I'm a cool, easy, cre­at­ive per­son to work with. As far as the Hip-Hop scene in my area, it's very diverse and over sat­ur­ated. There are lit­er­ally hun­dreds of rap­pers all try­ing to get heard. You have these pro­moters throw­ing shows, ask­ing artists to pay money for per­form­ances; which essen­tially is geared to have more estab­lished rap­pers to come head­line. It's cre­at­ing some very inter­est­ing show­cases that will have the most under­ground artists mixed in with com­mer­ic­al trap artists and neither is truly inter­ested in hear­ing the oth­er per­son's music!
Q. What inspired you to start free­styl­ing and begin record­ing your music?
I used to free­style with one of my older cous­in's who was a mem­ber of a rap group called The Deadly Snakes. I wanted to basic­ally be down and like them. We used to play beats and rhyme all day and night. The free­styl­ing even­tu­ally trans­formed to writ­ing. My cous­in sug­ges­ted that I write daily to enhance my free­style abil­it­ies. I stuck with it and con­tin­ued to devel­op my craft over the years.
Q. How has your rela­tion­ship with Hip-Hop music and cul­ture changed through your twen­ties?
Wow. As a teen­ager I did­n't have a focus or any par­tic­u­lar goals. I was just writ­ing for the sake of get­ting bet­ter. As I began to get bet­ter, the real­iz­a­tions of where my music could take and who my music could touch began to grow. I star­ted to meet more and more people that were heav­ily involved in the cul­ture that taught me many things. I no longer craved the atten­tion from my loc­al scene, but rather sought the atten­tion of those from oth­er parts of the coun­try and world. I real­ized that invest­ing time and tak­ing risks were an integ­ral part of grow­ing with­in this cul­ture. I star­ted to take more risks and put myself out there for people to hear, see and cri­tique.
Q. Who are your music­al influ­ences, and how have they influ­enced your mater­i­al?
I grew up listen­ing to pretty much the same Hip-Hop innov­at­ors that we all have; KrsOne, Rakim, Pub­lic Enemy, Wu-tang Clan, Juice Crew, etc. I was a fan of Hip-Hop music and was influ­enced by man emcees. As I began to grow I star­ted listen­ing to a lot more music out­side of Hip-Hop. I now find myself listen­ing to mainly Afrobeat…Funk…Soul of the 60's and 70's, Reg­gae, Jazz., and pretty much any­thing that catches my interest. All of these cat­egor­ies of music have helped my mater­i­al because they all influ­ence me to write and speak about things that I exper­i­ence in life. The more sounds and exper­i­ences that I am exposed to, I feel that I have new plat­forms to speak from. I'm still grow­ing as an artist and am look­ing for inspir­a­tion from oth­er inspir­a­tion­al artists out there with phe­nom­en­al music to share and teach with.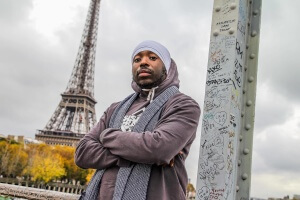 Q. Do people listen to Lon­don rap­pers over there? What do you know of the Lon­don Hip-Hop scene?
Not many of my per­son­al friends listen to emcees from the UK. There does­n't seem to be an interest for the most part to be hon­est. I wish there was some more diversity but unfor­tu­nately there isn't. It's sad because I've learned recently after spend­ing some time in Lon­don, Luton, and Not­ting­ham this past sum­mer, that the cul­ture of Hip-Hop has been alive and vibrant in the UK for quite some time now. As far as artists I know…I have worked with a few artists from the UK includ­ing the likes of Juga­Naut, Scorza­yzee, Van­dal Sav­age, PhiliNDotz, LayzeeD, TheHipHop­Found­a­tion, Prag­mat­ic The­ory, Hand­book, Yeti, and SkitSlam. They are all good friends and really dope artists. I love con­nect­ing with tal­en­ted indi­vidu­als from all over the plan­et! There are some very skill­ful emcees and pro­du­cers out in the UK scene! Massive respect to the UK for rep­res­ent­ing the authen­t­ic!
Q. What do you talk about in your music?
LIFE. As simple as that.
Q. What are you up to at the minute as an artist? Are there any tracks/albums you will be drop­ping soon?
At the cur­rent moment I am push­ing my latest release "Will To Power" that was released this past sum­mer. I'm cur­rently on mark for a Novem­ber ten day tour all through­out France with stops in Par­is, Lille, Le Harve, Metz, Stras­bourg, Orleans and more. Upon the com­ple­tion of the tour, I plan on shop­ping the Will To Power album out to a label or col­lect­ive investor that may be inter­ested in hav­ing the pro­ject pressed on vinyl. I will be film­ing a few more videos for the album and will plan a tour in European for Sum­mer 2016 with pro­jec­ted stops in Ger­many, Czech Repub­lic, Nor­way, France, Spain, and Italy. Dur­ing the same time myself and Ser­bi­an pro­du­cer and engin­eer, Tri­li­an, plan on releas­ing an album that we have togeth­er entitled Sounds Of The Great Ones, that fea­tures Inspec­tah Deck of Wutang, 9th Prince, The Arti­facts, The Cella Dwel­las, Shabaam Sah­deeq and more. I will also be drop­ping a secret pro­ject with one of Not­ting­ham's dopest emcees Juga­naut. We were able to knock out an album dur­ing my last European tour. Finally myself Man­sha, DJ EndK, and Architeknic will be work­ing on a Fam­ily Spir­it album with some crazy dope French back­ing. I guess I will busy in the next year or so in terms of music.
If you would like to know more about Venom­ous 2000 please vis­it Venom­ous 2000 Band­camp
The fol­low­ing two tabs change con­tent below.

Lana Bell, is an eight­een year old Lon­don­er who is based in Bris­tol. She is an emer­ging Spoken Word Artist, and the Poetry Edit­or for I Am Hip-Hop Magazine. She has been writ­ing for a dec­ade; though she has only been per­form­ing on from the age of fif­teen. She got into Hip-Hop music at four­teen, and she found a massive interest in Old Skl Sounds and the out­let that Hip-Hop music offered her.

Latest posts by Lana Bell (see all)