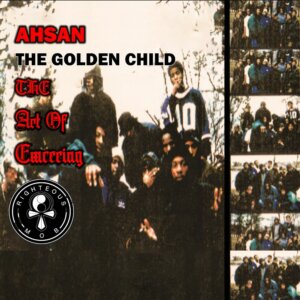 Ahsan The Golden Child digit­ally re-mas­ters the 25-year-old 'The Art of Emcee­ing' street tape. Dur­ing that time mix­tapes and street tapes ran loc­al Hip Hop scenes. Ahsan The Golden Child and Right­eous M.O.B. Enter­tain­ment both shared a vis­ion to bring new Hip Hop tal­ent on the map. The duo did just that for NY/NJ. Now the street tape is digit­ally re-mastered and avail­able exclus­ively on Audi­o­mack.
"Wheth­er it was listen­ing to Magic and Mar­ley on WHBI pri­or to WBLS, Music Fact­ory Record Store in Man­hat­tan, Red Alert on Kiss, or cop­ies of street tapes my ear was always to the ground. . I loved shar­ing what I found I would come to school and was like, yo there's this new kid Milk D flow­ing over this ill ver­sion of Impeach the Pres­id­ent."
The Art of Emcee­ing was dis­trib­uted with the assist­ance of Echo Unlim­ited through­out Hip Hop shops, skate shops, record and cloth­ing stores, events, and street teams world­wide. Legendary DJ Red Alert comes in strong with the intro to set the tone for an epic dose of earmilk. The street tape fea­tured Black Lotus (Miz, Dread­man aka Sunny Arson, Drastic), Black­mel aka Supas­tion, Broken Home (Uncle Ed the Per­vert and Man­son), High Noon (Jah­bat­ton aka Rootz & Kedar), Ill Repres­nters (Space and Digit­al aka Mr. Blo­gz), Know­ledge, Mar­zuwg, Nemes­is (Eloh Kush, Onom, Big Ciph), Sci­enz of Life (Lil Sci, ID 4 Winds, Inspect­or Wil­la­bee), The Fam (Kwa aka Glor­i­ous and Ja the Gift of Angelz Inc.), The Sorser­is, and War­bucks (Shakim Kha­di­fi, Cahoon, Dontego)…Here we are 25 years later with the digit­ally remastered pro­ject by Ahsan The Golden Child and Right­eous M.O.B. Enter­tain­ment.
'The Art of Emcee­ing' provides Hip Hop heads with over an hour of 35 tracks brim­ming with clas­sic boom-bap vibes. Upon press­ing play listen­ers will exper­i­ence a refresh­ing sense of nos­tal­gia and tran­scend to an era when the cul­ture and ele­ments thrived and people united for music. Stream Art of Emcee­ing above and con­nect with Ahsan The Golden Child below. Be sure to order your Art of Emcee­ing offi­cial tee-shirt!
Ahsan The Golden Child
Ins­tagram – @ahsanthegoldenchild
Twit­ter – @ahsanthegolden
Face­book Fan Page – @ahsanthegolden
Art of MCing (In 2011 The Golden Child changed the name when he cre­ated Art of MCing monthly show­case)
Ins­tagram – @artormcing
The fol­low­ing two tabs change con­tent below.

MJ Savino
MJ is Hip Hop Blog­ger, Pub­li­cist, Book­ing Agent, Act­iv­ist, but fan first and fore­most. "Hip Hop saved my life, it is only right I give back to the cul­ture"!

Latest posts by MJ Savino (see all)