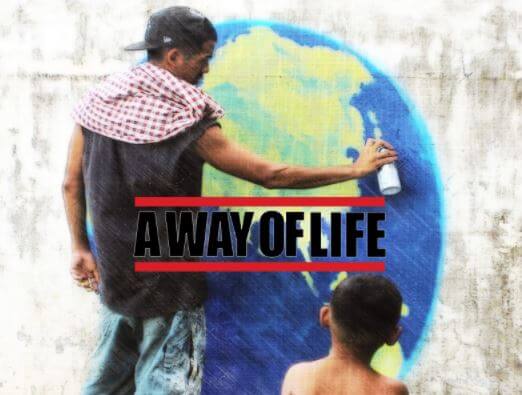 A Way of Life – A Glob­al Hip-Hop Film
Star­ing
KRS One/Jeru The Damaja/Marcelo D2/Emicida/Skinnuman/Rodney P/Big Narstie/Steffe La Cheffe/Reggie Rockstone/Brainpower/M.anifest/Homeboy Sandman/Delix De Luca/Tommy Tee/Hilltop Hoods/Maikal X (Shy Rock)/Tuy Sobil aka KK/Joe Flizzow/The Narcicyst/Omar Offendum/
Feat.
VNM/M1 (Dead Prez)/ONYX/Ladi 6/Black Milk/C‑Real/Reverie/Don Martin/
Music by Diger Rock­well | Music Com­posed by Pink Liz­ard | Nar­rated by Nor­man L Robin­son
"Once upon a rhyme there was hip-hop…"
Open­ing with a power­ful mes­sage from KRS at a show, A Way of Life — A Glob­al Hip-Hop Film is a doc­u­ment­ary that explores just how much Hip-Hop has affected so many lives, cul­tures, polit­ics, & so much more from around the Globe. It is safe to say that whenev­er Hip-Hop entered your spec­trum of music it has made some sort of impact. Wheth­er if that impact was a good or bad thing, you can­not deny the power and influ­ence Hip-Hop has. Proof? In cur­rent soci­ety Hip-Hop is now offi­cially the most pop­u­lar genre of music in Pop Cul­ture. Need I say more?
A Way of Life – A Glob­al Hip-Hop Film starts with a light recap of the roots of it all and I mean it all. Tra­cing back to cave­men, then to when our ancest­ors inven­ted the drum. Briefly explain­ing how the drum has influ­enced our roots, and by dan­cing to the beat of the drum has enabled us to be where we are today. This includes the inven­tion of Hip-Hop through the Jamaic­an Soundsystem's. But as Nor­man L Robin­son explains, "this is not a doc­u­ment­ary on where it came from". It is a doc­u­ment­ary that explores the Glob­al impact Hip-Hop has and how deeply it courses through the world. It starts by explor­ing how Hip-Hop has spread far and wide by tour­ing. Without tour­ing we would nev­er have been intro­duced to Deejay's, Emcees, Beat­box­ers, B‑Boys, B‑Girls, & Graf­fiti. Intro­du­cing a brand new but some­how famil­i­ar sound. Elab­or­at­ing a little more on what I mean by "famil­i­ar", Hip-Hop was made from cut­ting and scratch­ing breaks on oth­er artists records. It wasn't until the intro­duc­tion of the drum machine the game known as Hip-Hop was revolu­tion­ised to what we hear today.
What I really enjoyed about this doc­u­ment­ary is, how they com­bine both old and new video foot­age, images and util­ise the use of Typo­graphy so the mes­sage gets delivered. Strong nar­ra­tion which helps guide you through the amount of his­tory packed into it. For instance, how Cov­ent Garden was essen­tial for the growth of Hip-Hop in the UK through break­dan­cing. This is some­thing I am ashamed to say I didn't know how­ever this is one of the many points of the doc­u­ment­ary. It is here to explore and edu­cate on the Glob­al Cul­ture and influ­ence of Hip-Hop. They truly delivered a fant­ast­ic and innov­at­ive look into how Hip-Hop plays a power­ful part in soci­ety. Wheth­er it is the use of Graf­fiti to deliv­er polit­ic­al state­ments in places like Greece, or ex-gang­banger Tuy 'KK' Sobil who now teaches young kids how to break­dance in Cam­bod­ia. Includ­ing how we in the UK carved out our corner in Hip-Hop Cul­ture and cre­at­ing our own sound/styles with­in the genre.
This doc­u­ment­ary stands out to me as it a more grass­roots pro­duc­tion, that steers away from what we are usu­ally used too. It dives as deep as it can with­in the run­ning time, and I per­son­ally would have loved this to be a doc­user­ies so they could explore/­dive-in even more. Either way it is a great watch that will intro­duce you the view­er to artists influ­enced by the Cul­ture from places like, Africa, India, Brazil, Cam­bod­ia, Japan, Nor­way, Aus­tralia and more. It really expands and cements why we [I mean "we" as in 30+] keep banging on why Hip-Hop cul­ture is so import­ant and impact­ful. Hip-Hop changes lives, it gives the voice­less a plat­form, a mic, decks, spray can, or some card­board and Adi­das [that is that age show­ing again] to express them­selves. Finally, what took me a little off guard is just how deep in the cre­vasses in the world Hip-Hop cul­ture has touched…and you know what…I love it!
Go watch it now I highly doubt you will be dis­ap­poin­ted.
A Way of Life – A Glob­al Hip-Hop Film
Peace,
Love,
And All That Good Stuff.
Jay "JuJu Man" St Paul
Social: @jaystpaul
Founder & CEO of Hi…Creativity LTD
The fol­low­ing two tabs change con­tent below.

Jay St Paul
Jay St Paul AKA Uncle JuJu is Founder & CEO of Hi…Creativity LTD | Dee­jay | Graph­ic Design­er | Illus­trat­or | Journ­al­ist | Writer | Pod­cast Host | Radio Presenter. Born and raised in West Lon­don Jay has always found love and solace in being cre­at­ive and express­ing him­self. Always look­ing to improve where he can and look­ing to learn new things as that is the jour­ney of being a cre­at­ive.

Latest posts by Jay St Paul (see all)