Seasra23 of Top­ShelfMuzik and Apokalips the Archangel release their new pro­ject 1137Q. The 19-track album pro­duced entirely by Seasera23 fea­tures top-notch elites includ­ing DJ Glib­Stylez, DJ Mod­esty, Foul Monday, Lex, Kes­per, Crippled, Hoffa, Supreme Sniper, Voices De Silen­cio, D‑Rex, Illy the Wise, and God­fath­er part 3.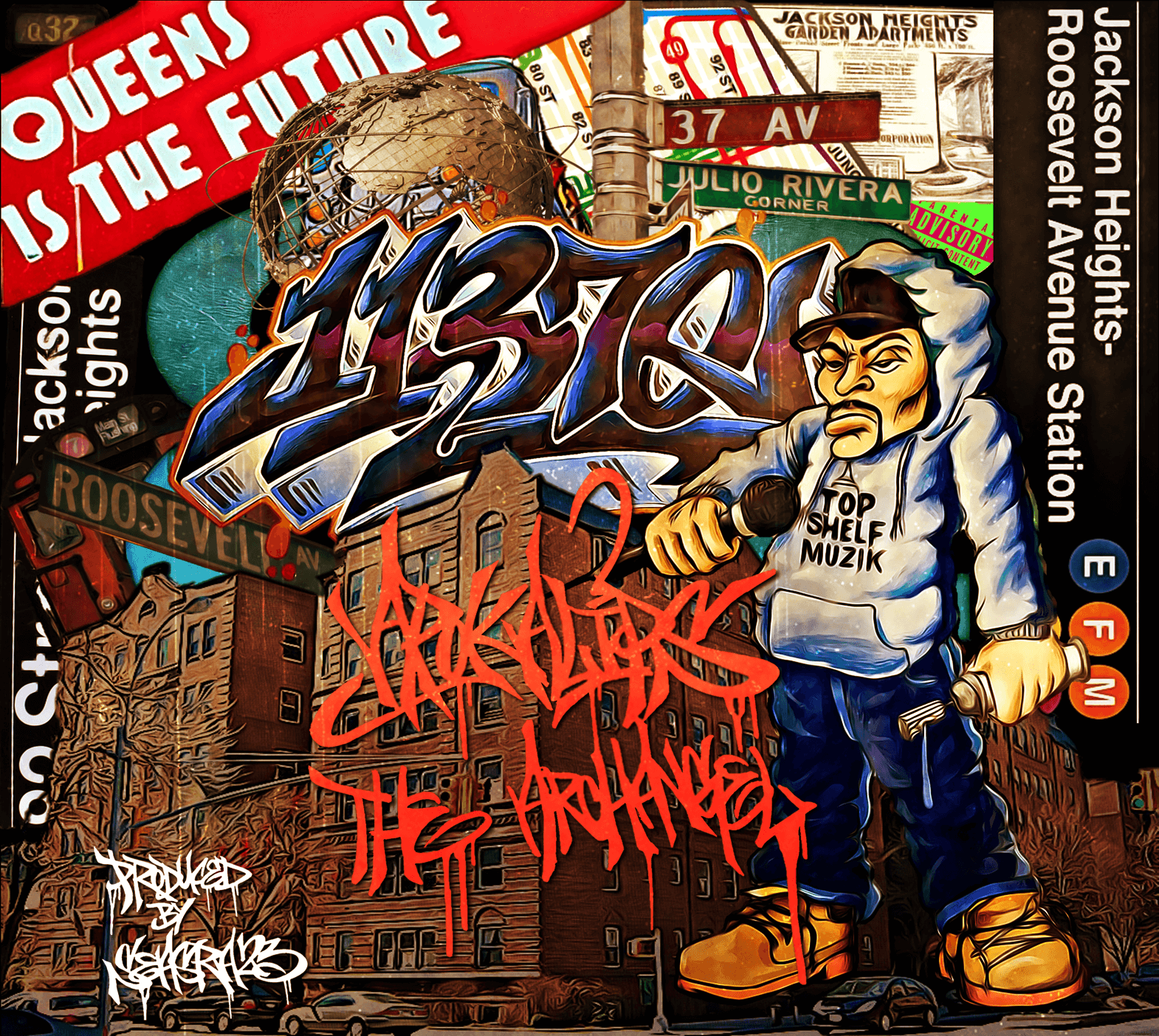 Top­ShelfMuzik and Apokalips the Archangel have become known for keep­ing Queens on the map when it comes to authen­t­ic NY Hip Hop, and 1137Q is no excep­tion. Seasra23 deliv­ers sheer 'fix-your face' head-nod­ding cadences while Apokalips admin­is­ters top qual­ity rhymes with knock­out, lyr­ic­al jabs.
On Dan­ger­ous Minds Apokalips embod­ies a Queens-thor­ough­bred life­style while show­ing off his impec­cable booth pro­fes­sion. He drills an image being hand in hand with forty's and spray cans rock­ing Polo plaid, yet a lead­er who always shows face and is nev­er under­cov­er. There's no escap­ing the "dan­ger­ous mind" of this lyr­ic­al mil­it­ant or his bars that sink to the pit of our stom­achs.
In Straight Out The Zoo Apokalips rep­res­ents his Queen's roots and exem­pli­fies the sim­il­ar­it­ies of street and wild­life sur­viv­al as well as a strong-armed emcee prey­ing on fal­la­cious industry play­ers. All the stress keep a ni**a depressed until I'm vexed then the whole world feel­ing pos­sessed / Nev­er rest Top Shelf Hip-Hop in effect / Apokalips stay humble no need to impress / I got next can­cel the haters and the spe­cial effects / when I flex call me the fin­ish­er snatch­ing your breathe to the death."
Anoth­er lead off the album is Aggres­sion. Set in a box­ing ring going round for round, bar for bar, and verse for verse, "mum­bling buf­foons" are reminded that Hip Hop runs through Apokalips blood-line and will con­tin­ue to keep it real until his last breath.
An unfor­get­table track and hair-rais­ing one is Cycles of Life which depicts the gifts and curses of life. Sur­roun­ded by dead bod­ies, moth­ers cry­ing, and man­kind fight­ing to become sur­viv­al of the fit­test; it only makes sense to embrace what lies ahead. Apokalips vows his lyr­ics and spir­it will live on through his fam­ily until his resur­rec­tion…
Each track is unique in flow and deliv­er­ance, yet con­sist­ent with a boom-bap vibe sure to please Hip Hop pur­ists world­wide. Stream 1137Q and con­nect with Seasra23 of Top­ShelfMuzik and Apokalips the Archangel below.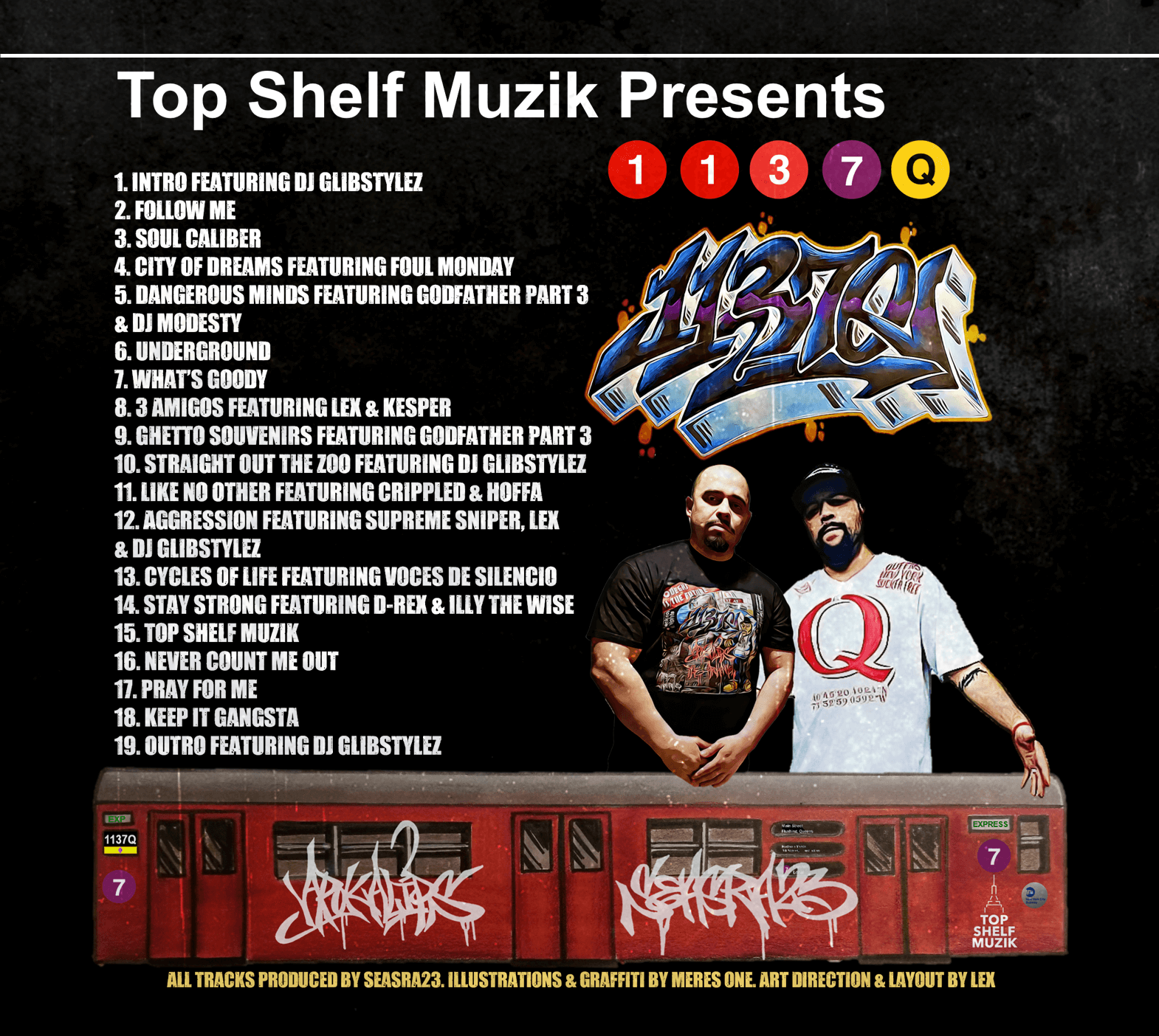 1137Q Band­camp & Spo­ti­fy links
apokalips da archangel band­camp link
TOP­SHELFMUZIK BAND­CAMP LINK
APOKALIPS THE ARCHANGEL SPO­TI­FY LINK
Apokalips The Archangel
Face­book APOKALIPS THE ARCHANGEL FACE­BOOK LINK
Ins­tagram — APOKALIPS THE ARCHANGEL INS­TAGRAM LINK
you­tube — APOKALIPS THE ARCHANGEL YOU­TUBE LINK
Twit­ter — APOKALIPS THE ARCHANGEL TWIT­TER LINK
Sound­cloud — APOKALIPS THE ARCHANGEL SOUND­CLOUD LINK

Seasra23
Face­book — SEASRA23 FACE­BOOK LINK
Ins­tagram — SEASRA23 INS­TAGRAM LINK
United­Mas­ters — SEASRA23 UNITED MAS­TERS LINK
Twit­ter — SEASRA23 TWIT­TER LINK
Sound­cloud — SEASRA23 SOUND­CLOUD LINK
The fol­low­ing two tabs change con­tent below.

MJ Savino
MJ is Hip Hop Blog­ger, Pub­li­cist, Book­ing Agent, Act­iv­ist, but fan first and fore­most. "Hip Hop saved my life, it is only right I give back to the cul­ture"!

Latest posts by MJ Savino (see all)