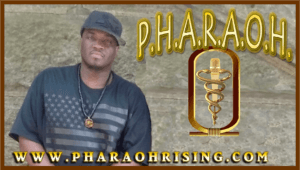 From an inmate to entre­pren­eur, act­or, radio per­son­al­ity, and emcee; Pharaoh Rising has made a world­wide name and buzz for him­self.
In his recent pro­ject titled 'Supreme Bal­ance­ment' Pharaoh dis­plays his uncanny ver­sat­il­ity with impec­cable flows and rhyme schemes remin­is­cent of authen­t­ic, clas­sic Hip Hop. The first song "Changes" cov­ers the chaot­ic Hip Hop cycles that repeat every dec­ade. The dance hall hit, "Lean on Me" encom­passes the full appre­ci­ation of a good woman. "No Mat­ter What" is a street banger for those who still head nod to boom-bap. "Panties on the Floor" was tail­or-made exclus­ively for the clubs and poles, while "Buck­wild" is a cel­eb­ra­tion of life and embra­cing free­dom. The pro­ject ends with "Think About It", a reflec­tion of the world we want to ignore, and a remind­er that our past, present, and future are con­nec­ted.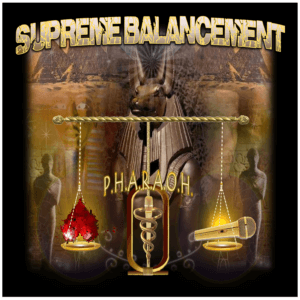 When he's not full throttle in the stu­dio, Pharaoh can be seen on Tylor The Creator's Car­toon, "The Jel­lies", "Diary of a Bad­man", and the Under­ground Urb­an web series by Bran­chout Pro­duc­tions titled "The Ninth Pawn." As a co-host on Re-Vis­ion Radio, Pharaoh guides listen­ers through mul­tiple dimen­sions, ali­en inva­sions, gov­ern­ment con­spir­acies, and rules of the mat­rix. If that isn't enough hats, Pharaoh is also co-own­er of Nat­ur­al Nature Herbs (naturalnatureherbs.com), based on the heal­ing tra­di­tion of Dr. Sebi and wife Maa of the Fig Tree.
Pharaoh Rising is a prom­ising breath of fresh air and a major staple in the music industry, Hip Hop cul­ture, along with hol­ist­ic and over well­ness. Be sure to stream/purchase his cata­log of music and his latest EP 'Supreme Bal­ance­ment.'
Con­nect with Pharaoh Rising on Twit­ter | Face­book | Ins­tagram @pharaohrising
Web­site – www.pharaohrising.com
You­Tube Chan­nel — https://www.youtube.com/channel/UCPcNTHp-eGETFfIJkaCWrcQ
Watch "Buck­wild" & "No Mat­ter What' off Pharaoh's 'Supreme Bal­ance­ment' EP
The fol­low­ing two tabs change con­tent below.

MJ Savino
MJ is Hip Hop Blog­ger, Pub­li­cist, Book­ing Agent, Act­iv­ist, but fan first and fore­most. "Hip Hop saved my life, it is only right I give back to the cul­ture"!

Latest posts by MJ Savino (see all)