Seasoned artist hail­ing from Pennsylvania, Maine The Medi­cine recently linked up with Cana­dian emcee, Sus­pect for the highly anti­cip­ated album, "The Last." The lyr­ic­al assas­sins deliv­er an epic dose of ear milk and lyr­i­cism authen­t­ic to tra­di­tion­al Hip-Hop flaw­lessly blen­ded with unique rhyme schemes. I had the oppor­tun­ity to meet with Maine to dis­cuss the album.
MJ: I'm eager to dive right into the album to give fans and listen­ers a per­son­al inside look. First tell us how you linked up with Sus­pect? In cre­ation mode did you already have him in mind for the album.
Maine: We met at a show in Scrant­on PA, when Sus­pect and Marmel were per­form­ing on the Adlib Tour. The respect was mutu­al once we both hit the stage. We stayed in con­tact, knocked out some col­lab­or­a­tions and tossed around the idea of put­ting togeth­er a pro­ject, which makes sense because we both share the same taste in Hip-Hop. We decided it would be dope to put out a Mercy Gang and Marmel Mixape "Cross Bor­der Con­nec­tion" which would turn out to be Hefty's (rip) last pro­ject with all of us. In hon­or of Hefty we agreed to release the mix­tape and ded­ic­ate the Cana­dian Tour to the memory of Hefty.
Sus­pect: Maine is one of the most lyr­ic­al artists I know. So that there was enough of a chal­lenge for me to cre­ate the best of bars. Since the whole concept of the album "The Last" is about real Hip-Hop becom­ing extinct, it only made sense for us to deliv­er it out. Work­ing with Maine before I knew our chem­istry was bana­nas and we also share the same music influ­ences and styles.
Maine: We named the album "The Last" because we truly believe we are a last of a dying breed. Last also stands for Lyr­ic­al Assas­sins Stay True.
MJ: Share the story line behind the cov­er art and album title.
Maine: The cov­er was a way to dis­play the unique bond between the US and Canada in the Hip-Hop world. We also wanted to show the his­tory of our pro­jects with our respect­ive groups.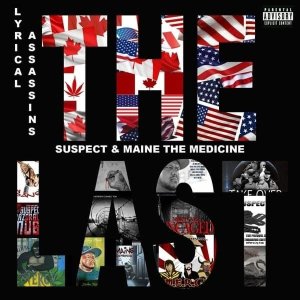 MJ: Artists strive to top pre­vi­ous released albums to dis­play growth and ver­sat­il­ity. What was your expect­a­tion with this album? Through your eyes and mind what were you aim­ing to con­vey to listen­ers? Do you feel that's been achieved?
Maine: We wanted to bring back that gritty boom bap, Hip-Hop. I feel like we really pushed each oth­er­'s pen which brought the best out of both of us. We wanted the listen­ers to indulge into some great beats and dope ass lyr­i­cism along with raw energy we bring to the tracks.
MJ: Let's talk about some of the tracks. Do you have a per­son­al favor­ite, or one record that speaks to your heart a bit more than the oth­ers? You know MJ well enough that I'm sure you can pin­point one of my favor­ites. Although I must say it was dif­fi­cult to choose just one as this album car­ries time­less tracks with no skip­ping. But l do want to talk about "Hip-Hop" and how you define that record.
Sus­pect: My per­son­al favor­ite is "Behind Every Smile." My verse spe­cific­ally is very import­ant. I wrote it as it was a let­ter to my son who I have been going through cus­tody battles with for the past 4 years. "Hip Hop" is basic­ally everything we feel about the cul­ture of Hip-Hop, the likes and dis­likes, that we have seen through­out the years.
Maine: I love the raw in your face tracks like "Rough Shit" and "Blah Blah" with U.G. The tracks close to my heart are "Close To You" and "Behind Every Smile." "Behind Every Smile" is a spe­cial track for both of us. I talk about my health and as he men­tioned, he talks about his son. The track was pro­duced by Nate Wil­li­ams and the beat just brought out raw emo­tions from both of us. "Hip Hop" was pro­duced by Will Sully. I felt some real nos­tal­gia with that beat, it made think of some real Hip-Hop moments in my life. We are very proud of "The Last" and both the pro­du­cers and artists who con­trib­uted to the pro­ject, from Real Wolf, Snow­goons, Nat­ive Seals, Know It, legendary U.G. of Cella Dwel­las, to fea­tures with Adlib, Marmel, Holla Da schol­ar, Khali Hustle, Lucas Hex, and more.
MJ: On a more per­son­al note, can you share a little bit on the adjust­ment of cre­at­ing music without Hefty (rip)? I'm sure there must be an over­whelm­ing sense of dif­fer­ent emo­tions.
Sus­pect: Speak­ing for myself know­ing Hefty and cre­at­ing music with him was a bless­ing, he had such a strong love and drive for it, and to have him part of our first pro­ject "Cross Bor­der Con­nec­tions" was amaz­ing and you can see the strong bond with his fans and Mercy Gang broth­ers still to this day .
Maine: For me, it's still hard mak­ing music without him here. I've learned a lot of things from him that I still use now. I think he would love the music were mak­ing now. Hefty will always live on in our music.
MJ: Is there any­thing else you would like the world to know about "The Last"?
Sus­pect: This will not be the only or the last time u will hear "The Last"!!!!
Maine has grown to be more than an artist I work and tour with he is fam­ily. I am super proud of this pro­ject and think it's some of my best work I have released to date!! Look out for much more to come from "The Last."
Maine: I want to men­tion we will be join­ing The Last Tour in Canada with Steve Sxaks and Kohn of M.A.D.E and we are excited to per­form hits off the album.
Watch the offi­cial video for "Rough Shit" off "The Last" LP below.
The fol­low­ing two tabs change con­tent below.

MJ Savino
MJ is Hip Hop Blog­ger, Pub­li­cist, Book­ing Agent, Act­iv­ist, but fan first and fore­most. "Hip Hop saved my life, it is only right I give back to the cul­ture"!

Latest posts by MJ Savino (see all)