Luca Brassy announces the upcom­ing release of "The Amer­ic­an Dream" Volume 1: Let­ter on the Table. This Inter­na­tion­al Affair will be released on May 14th, 2019 on all major stream­ing plat­forms.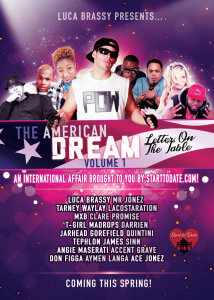 The seasoned artist and NY nat­ive, has gone abroad and through­out the states to enlist an élite group of musi­cians for the mix­tape series. Artists hail from West, Cent­ral, and South Africa to North Car­o­lina, Cali­for­nia, New York, Rhode Island, Ohio, and Michigan.
"Each volume of the mix­tapes will con­vey a new theme from diverse artists and emcees. I'm excited to announce StartToDate.com, the latest altern­at­ive dat­ing site is spon­sor­ing the mix­tape series." ‑Luca Brassy
For those not famil­i­ar with the site, their mis­sion is to cre­ate a social atmo­sphere where any­one can come and be accep­ted on their jour­ney to find a part­ner, espe­cially those suf­fer­ing from lifelong con­di­tions. The developers believe that every­one should have the oppor­tun­ity to be happy and find love, so stop wor­ry­ing, start dat­ing, live happy, and be free with StartToDate.com!
The debut mix­tape of the series "Let­ter on the Table" deliv­ers multi-genre records with fused sound­scapes of R&B, clas­sic Hip-Hop, Soul, Pop, and Reg­gae. Each artist was hand selec­ted by Brassy to ensure a lyr­ic­al mas­ter­piece.
"It's the dream of all involved to reach the masses and we are ready to do what it takes to reach what we like to call…"The Amer­ic­an Dream"…POW! ‑Luca Brassy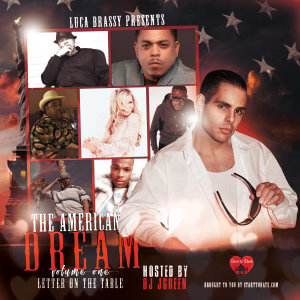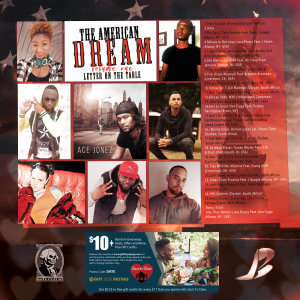 Watch the Luca Brassy's Amer­ic­an Dream Doc­u­ment­ary
Fol­low Luca Brassy Face­book/ Twit­ter/ Ins­tagram/ You­tube/ Web
About Luca Brassy
Born & raised in New York, USA, Luca Brassy, has been build­ing a repu­ta­tion in the Tri-State area as one of the hot­test emcees in the region. His jour­ney star­ted in enter­tain­ment through pro­fes­sion­al wrest­ling at age 13. By 16, he was run­ning his own pro­fes­sion­al wrest­ling train­ing cen­ter. Luca Brassy dis­covered his love for writ­ing & music in 2004 and met Jgreen Moneytalkz who has been pro­du­cing his music ever since. The mul­ti­fa­ceted artist and emcee has per­formed at numer­ous cit­ies and states includ­ing Schenectady, Albany, Glens Falls, Ams­ter­dam, Rochester, Pitt­s­field, Pitt­s­burgh, Mas­sachu­setts, Buf­falo, New­port Rhode Island, Brook­lyn, Bronx NY, Man­hat­tan, Staten Island, Ard­more PA, Uni­on­town Alabama, Birm­ing­ham, Atlanta GA, Mar­shall NC, among oth­ers while open­ing up for Hip-Hop legends includ­ing Rakim and Lil Kim. Luca Brassy is now mov­ing in a new dir­ec­tion with his music and put­ting his old school lyr­ic­al men­tal­ity to use with his club vibe which has brought him a whole new fan base as well as a dif­fer­ent kind of recog­ni­tion. Luca was recently signed to Sony RED where he released 2 singles "Like That" and "3000" (pro­duced by Young­lord) and runs his own pod­cast every Sunday — called Brassy's World.
Luca Brassy is proudly pro­moted in SA by Slight Edge Media & Pro­mo­tions.
The fol­low­ing two tabs change con­tent below.

MJ Savino
MJ is Hip Hop Blog­ger, Pub­li­cist, Book­ing Agent, Act­iv­ist, but fan first and fore­most. "Hip Hop saved my life, it is only right I give back to the cul­ture"!

Latest posts by MJ Savino (see all)