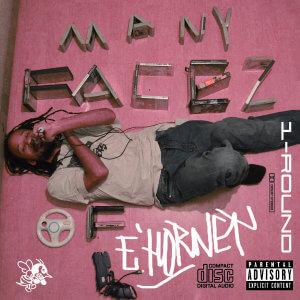 The debut solo EP 'Many Faces of Le Hor­net' by West Lon­don emcee and poet Le Hor­net is out today along­side the offi­cial video for his track 'Bap­tized in Roy­al Jelly'. The cre­at­ive EP is built around a video game mind­set for the 80s and 90s babies. The cre­at­ive EP includes fea­tures from Naykye, Dat Guy Shi­esty and The Sham­an and pro­duc­tion from IOA, OMezi­ah, Chris CROOKS and Zakari Gantan.
Le Hor­net is a poet by nature, nur­tured in the cap­it­al of Lon­don. His main skill is writ­ing, which he likes to express over music. He has col­lab­or­ated with many tal­en­ted artists includ­ing Apex Zero and OMeza Omni­scient. He released a book "Just Your Every­day Thoughts" in early 2012, which was a short poem com­pil­a­tion based on his child­hood exper­i­ences.
Le Hor­net has worked on music tracks for the last few years and fea­tured on the Pan­theonz of Zenn-la mixed group com­pil­a­tion, as well as in video fea­tures and at spoken word events dur­ing the early work of the group. He is known for his ver­sat­il­ity and adapt­ab­il­ity to express ran­dom thoughts through sporad­ic ideas or through in the moment free­styles.
When Le hor­net is not free­styl­ing, he is inspir­ing youth via skate­board­ing and pro­mot­ing pos­it­ive aware­ness to his com­munity. He is a con­stant poetry blog­ger, speak­ing on social and emo­tion­al aware­ness, shar­ing spir­itu­al and daily insight through bite sized sen­tences that are thought pro­vok­ing yet simply struc­tured, and cap­ture mixed emo­tions.
Check out the EP and video below:
'Many Faces of Le Hor­net'
Poetry Blog – www.lehornet.blogspot.com
FB – https://www.facebook.com/lehor­net
Twit­ter – @LeHornet
You­Tube – https://www.youtube.com/channel/UCN3Rc2qjus8yYfYQ2xn0nTA
Google+ – https://plus.google.com/116242321360204403065
The fol­low­ing two tabs change con­tent below.

Apex Zero
An emcee, beat­maker, film­maker and writer from Lon­don with Gren­adian roots, Apex Zero has spent his life learn­ing and liv­ing Hip Hop cul­ture, using it to inspire and affect change. Based in Beijing for a few years and reg­u­larly tour­ing the globe, Apex is well trav­elled, and uses the les­sons this provides to inform his art and out­look. He is a mem­ber of the Glob­al­Fac­tion digit­al pro­duc­tion house and the inter­na­tion­al Hip Hop col­lect­ive End of the Weak.

Latest posts by Apex Zero (see all)