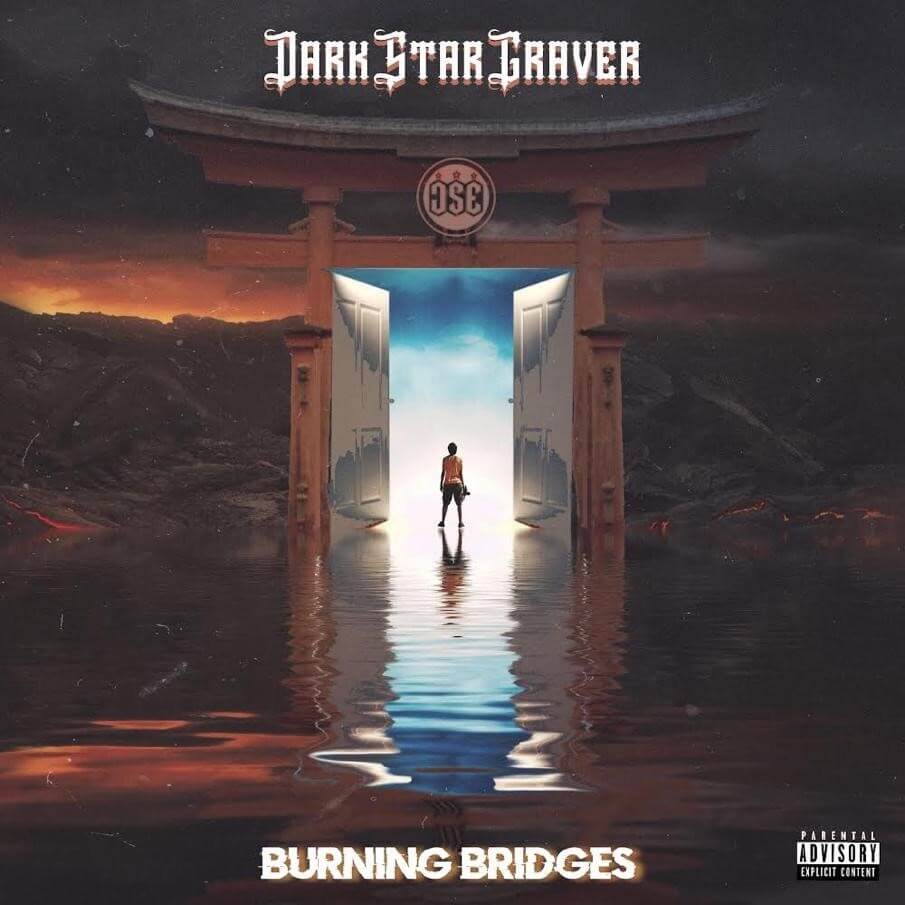 PORTS­MOUTH RAP ARTIST AND SONG­WRITER DARK­STAR­GRAVER UNVEILS DEBUT EP 'BURN­ING BRIDGES'
Hail­ing from the south coast of Eng­land in Ports­mouth, DARK­STAR­GRAVER is an excit­ing UK rap pro­spect for 2020, who comes highly recom­men­ded if you like the hard-hit­ting sounds of Octavi­an, Skep­ta, Den­zel Curry, A$AP Rocky, or Kojey Rad­ic­al. Led by intro­duct­ory tracks 'CodeRED' and 'Snakes & Lad­ders', which were released earli­er this year to rave reviews, Burn­ing Bridges is the debut EP from the 22-year old Brit­ish Zam­bi­an rap­per, sing­er and song­writer Dark­Star­Graver.
While he cut his teeth and honed his skills in the south of Eng­land, and has estab­lished him­self at the fore­front of the emer­ging Hip Hop scene in Ports­mouth, Dark­Star­Graver draws his influ­ences from diverse cul­tures and back­grounds, hav­ing exper­i­enced life all over the UK in his very young 22 years, from Birm­ing­ham to Kens­al Green to Rich­mond to Glas­gow – travels and exper­i­ences which have shaped his per­spect­ive, music­al tastes and styles, as is evid­ent on his new Burn­ing Bridges EP.
Son­ic­ally, Burn­ing Bridges sees Dark­Star­Graver tak­ing an inter­na­tion­al approach, work­ing with pro­du­cers from Rus­sia, Ger­many and Amer­ica to help map out the glob­al rap sound of the record, includ­ing Min­nesota pro­du­cer P.SOUL, who has worked with YBN Cordae, Trip­pie Redd, XXXTENTA­CION, and Joey Bada$$, Rus­si­an beat­s­mith Roman RSK, whose cred­its include pro­du­cing for Nasty C, The Under­achiev­ers, and ELLEVN, and NC-based pro­du­cer Air­avata, who has worked with Ger­man chart-top­per Apache 207, French pop star Max­enss, and Venezuelan trap music fron­trun­ner Big Soto.
As for the themes the Burn­ing Bridges EP addresses, Dark­Star­Graver is vul­ner­able from the start as he dis­cusses fake love and cut­ting off dead weight on the defens­ive 'Without A Heart' and the EP's title track 'Burn­ing Bridges', and on 'Last One Stand­ing', 'Snakes & Lad­ders' and 'CodeRED', he is in defi­ant self-motiv­a­tion­al mode, while 'See­ing The Signs' sees him learn­ing a hard les­son on trust and loy­alty, with the Ports­mouth rap artist com­ing to terms with the con­flict in his life and let­ting go on 'Walk On By', and find­ing the peace he needs to move for­ward on 'Win­ning Lane'.
Speak­ing about the inspir­a­tion behind his Burn­ing Bridges EP, Dark­Star­Graver says, "this pro­ject explores the men­tal & spir­itu­al changes I went through, my per­son­al chrysal­is from light to dark, the road from chaot­ic rage into com­pas­sion & tran­quil­lity. It's all about the paths we can take, even the track titles make ref­er­ence to this, as well as the art­work being a Japan­ese Torii Gate, which sym­bol­izes the trans­ition from the mundane into the sac­red. Around the time of writ­ing this 'Burn­ing Bridges' pro­ject, I came to real­ize that the people I had close to me wer­en't on the same vibra­tion as me, when I was striv­ing for more in my life.
I'm not afraid of show­ing my deep­est vul­ner­ab­il­it­ies or being open with my emo­tions, I feel it's import­ant to share my per­son­al truths, and while this can be intense, I want to be real with my thoughts and exper­i­ences. Mak­ing this EP was a moment of self-dis­cov­ery for me, as I had to let go of the people and things that were no longer doing any good for me, in order to serve my highest pur­pose. I had to burn a couple of bridges along the way to find peace with­in myself, this feels like a real jour­ney start to fin­ish".
'BURN­ING BRIDGES' EP TRACK­LIST
Without A Heart
Burn­ing Bridges
Last One Stand­ing (fea­tur­ing Frank Myth)
Snakes & Lad­ders
CodeRED
See­ing The Signs
Walk On By (fea­tur­ing Fatal K)
Win­ning Lane
'BURN­ING BRIDGES' UK AUTUMN TOUR DATES
Novem­ber 29 – Fid­dlers Elbow, Lon­don, UK
Novem­ber 30 – Heart­break­ers Bar, Southamp­ton, UK
Decem­ber 2 – The Edge of the Wedge, Ports­mouth, UK
Decem­ber 3 – Cow­ley Club, Brighton, UK
Decem­ber 5 – St. George Hotel, Kent, UK
More Dates to be Con­firmed
CON­NECT WITH DARK­STAR­GRAVER
Ins­tagram: http://www.instagram.com/DarkStarGraver
Twit­ter: http://www.twitter.com/DarkStarGraver
Face­book: http://www.facebook.com/DarkStarGraver
MEDIA & PRESS:
Please dir­ect all media and press inquir­ies to Ayo Ade­po­ju: ayodele@wepluggoodmusic.com
The fol­low­ing two tabs change con­tent below.

MJ Savino
MJ is Hip Hop Blog­ger, Pub­li­cist, Book­ing Agent, Act­iv­ist, but fan first and fore­most. "Hip Hop saved my life, it is only right I give back to the cul­ture"!

Latest posts by MJ Savino (see all)