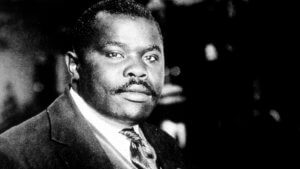 Mar­cus Mosi­ah Gar­vey was born on August 17, 1887 in St. Ann's Bay, Jamaica. Greatly influ­enced by Book­er T. Washington's auto­bi­o­graphy Up From Slavery, Gar­vey began to sup­port indus­tri­al edu­ca­tion, eco­nom­ic sep­ar­at­ism, and social segreg­a­tion as strategies that would enable the assent of the "black race." In 1914, Gar­vey estab­lished the Uni­ver­sal Negro Improve­ment Asso­ci­ation (UNIA) in King­ston, Jamaica, adopt­ing Washington's inspir­a­tion­al phrase "Up, you mighty race; you can con­quer what you will."
By May of 1917, Gar­vey relo­cated the UNIA in Har­lem and began to use speeches and his news­pa­per, The Negro World, to spread his mes­sage across the United States to an increas­ingly recept­ive Afric­an Amer­ic­an com­munity. His major audi­ence included the thou­sands of South­ern blacks who were then migrat­ing from the "shad­ow of slavery and the plant­a­tion" to the urb­an North. Black vet­er­ans of World War I were anoth­er Gar­vey audi­ence. Most of them had exper­i­enced both French equal­ity and US mil­it­ary bigotry and returned home as mil­it­ant "race men." They were attrac­ted to Garvey's calls.
The UNIA grew lar­ger still fol­low­ing the race riots in the Red Sum­mer of 1919. Gar­vey­ism res­on­ated with the rap­idly urb­an­iz­ing black com­munity and spread bey­ond the United States to the Carib­bean, Lat­in Amer­ica and Africa. Regard­less of the loc­ale, Garvey's UNIA prom­ised black eco­nom­ic uplift via self-reli­ance, polit­ic­al equal­ity via self-determ­in­a­tion, and the "lib­er­a­tion of Africa from European colo­ni­al­ism via a Black army march­ing under the Red, Black, and Green flag of Black man­hood." Africa's redemp­tion, accord­ing to UNIA sup­port­ers was fore­told in the mes­si­an­ic Bib­lic­al Psalms 68:31 "Princes shall come out of Egypt; Ethiopia shall soon stretch out her hands unto God." How­ever, it was Garvey's abil­ity to con­vey, in his vivid and power­ful speeches, the dis­tinct pos­sib­il­ity of achiev­ing these goals that led the UNIA to become an organ­iz­a­tion of mil­lions.
When Gar­vey bel­lowed, "I am the equal of any white man [and] I want you to feel the same way," he inspired the faith­ful and attrac­ted the curi­ous. Address­ing the gender ques­tion Gar­vey wrote, "Black queen of beauty, thou hast giv­en col­or to the world…Black men wor­ship at thy vir­gin­al shrine of purest love…!" Gar­vey even cre­ated a new black faith by ordain­ing Rev­er­end George Alex­an­der McGuire as Chap­lain Gen­er­al of the Afric­an Ortho­dox Church. McGuire's ser­mons urged Gar­vey­ites to "Erase the white gods from your hearts." At the 1920 UNIA Inter­na­tion­al Con­ven­tion at Madis­on Square Garden, with twenty five thou­sand del­eg­ates and observ­ers in attend­ance, Gar­vey issued the Declar­a­tion of Rights of the Negro Peoples of the World. The con­ven­tion also pro­duced the Uni­ver­sal Ethiopi­an Anthem. The Negro World, the offi­cial news­pa­per of the UNIA, also spread the organization's philo­sophy glob­ally. With a cir­cu­la­tion of over 200,000 and pub­lished in three lan­guages, Span­ish and French as well as Eng­lish, the Negro World was read on four con­tin­ents.
Garvey's most ambi­tious effort was the estab­lish­ment of the Black Star Steam­ship Line. Gar­vey hoped that this joint stock cor­por­a­tion would devel­op luc­rat­ive com­mer­cial net­works between the United States, the Carib­bean, and the con­tin­ent of Africa. He also hoped that his three ships would help in the return of mil­lions of blacks in the "Dia­spora" to Moth­er Africa. How­ever, because of heavy debt and mis­man­age­ment, the steam­ship line went bank­rupt and Gar­vey was charged with using the US Mail to defraud stock investors.
Ulti­mately, Gar­vey garnered the wrath of Afric­an Amer­ic­an lead­ers when he met with the Ku Klux Klan lead­er, Edward Young Clark. Gar­vey naively believed the two organ­iz­a­tions could work togeth­er since they both sup­por­ted the goal of racial pur­ity. Clark in fact did prom­ise some fin­an­cial assist­ance for the UNIA. After hear­ing of this meet­ing, how­ever, the NAACP lead­er, W.E.B. DuBois, called Gar­vey the greatest enemy of the Negro race. The Urb­an League called Gar­vey a "swind­ler" and black uni­on lead­er A. Philip Ran­dolph said that Gar­vey and Gar­vey­ism should be purged from Amer­ic­an soil. Vari­ous civil rights organ­iz­a­tions now moun­ted a coördin­ated "Gar­vey Must Go" cam­paign.
The Justice Depart­ment, seek­ing to dis­cred­it Gar­vey because it felt he rep­res­en­ted a threat to colo­ni­al interest and men­aced racial peace in the US, hired its first black officer to infilt­rate the UNIA. Gar­vey was con­victed of mail fraud in 1922 and sen­tenced to five years in fed­er­al pris­on. In part, because of a let­ter writ­ing cam­paign orches­trated by Garvey's second wife, Amy Jacques Gar­vey, Pres­id­ent Calv­in Coolidge pardoned him in 1923 in exchange for the UNIA Pres­id­ent accept­ing deport­a­tion.
Gar­vey spent his last years in Jamaica try­ing to revive his polit­ic­al for­tunes and even­tu­ally died in Lon­don, Eng­land in 1940.
[Source: http://www.blackpast.org/ ]
The fol­low­ing two tabs change con­tent below.

Rishma Dhali­w­al has extens­ive exper­i­ence study­ing and work­ing in the music and media industry. Hav­ing writ­ten a thes­is on how Hip Hop acts as a social move­ment, she has spent years research­ing and con­nect­ing with artists who use the art form as a tool for bring­ing a voice to the voice­less. Cur­rently work­ing in TV, Rishma brings her PR and media know­ledge to I am Hip Hop and oth­er pro­jects by No Bounds.

Latest posts by Rishma Dhaliwal (see all)