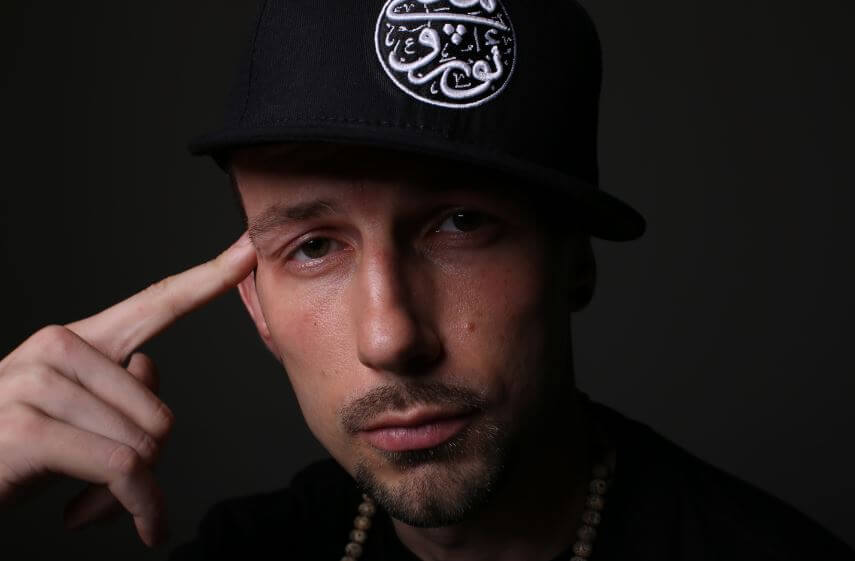 Q. As an emcee who grew up in New York and is based in Beijing, you might be a bit unknown to some of our UK read­ers — can you intro­duce your­self and your music? When and how did you first get con­nec­ted with Hip Hop? When and how did you start mak­ing music?
I was born in Brook­lyn. When I was young, I moved right across the river from NYC to a spot called Nyack. My moms stayed there. My pops moved back to the city, to Wash­ing­ton Heights. I was first intro­duced to hip-hop by my fath­er. When I was 11, my pops gave me a Tribe Called Quest CD and told me to go home and listen. I did­n't really under­stand the music at that time. Later, I dis­covered groups like Wu Tang, Nas and Big Pun on my own and that whole 90's New York sound had a big influ­ence on me. I think at that age it was the raw­ness of the sound and the rebel­li­ous­ness of the cul­ture that attrac­ted me. By the age of 15 or so I had become par­tic­u­larly attrac­ted to the intric­ate lyr­i­cism of Hip-Hop.
I began to write, free­style and per­form around the age of 17. I col­lab­or­ated with a friend from school who could pro­duce (at that time he called him­self But­ter­balls; he still dee­jays and pro­duces today) and we made an EP. I was so young, I just dis­trib­uted the EP on the street and used it as a busi­ness card to give to people. Around that time I par­ti­cip­ated in a few free­style battles as well. The biggest one was held at the Uni­ver­sity of Buf­falo, where I was going to school. I took home 2nd place and parts of the battle were aired on MTV.
I moved to China at the age of 20. I was get­ting into a lot of trouble back home and needed to get out of the US. I star­ted to learn Chinese and travel around Asia. Later I found a decent job in Beijing and stayed. I got back into the music around 2009. There were a lot of dope under­ground emcees and dee­jays (both for­eign and Chinese), and the live jazz scene was pop­ping. I would go to the live shows and kick it and free­style with the per­formers after the show. One night, I went to see this dope jazz‑R&B band and I met their producer—Jewell Forten­berry. This dude was an ill pian­ist and pro­du­cer, and he could spit too. He had this band with the Chinese sing­er Tia-Ray and he would be killing the keys and rap­ping in between her vocals. He was the one who put me on. He intro­duced me to the key people in Beijing and helped me pro­duce (along with the Chinese Amer­ic­an pro­du­cer Soulspeak) my first full-length album. Jewell's an amaz­ing musi­cian and per­son and I've been blessed to be able to work with him again on my latest album.
Q. Your music has a very soul­ful sound. How did you devel­op this style? Who and what are your influ­ences?
I think this has deep roots. In my ele­ment­ary school we had a very pas­sion­ate music teach­er. Her name was Judy Thomas. She would teach us these old Afric­an Amer­ic­an Gos­pel and civil rights songs. I've always been par­tic­u­larly moved by this kind of music, which I still love today. I mean, I'm not reli­gious really, but that Gos­pel music can move me to tears, that's how power­ful it is. So as I grew older, I began to search out and listen to a lot of Soul music, which is the mod­ern evol­u­tion of Gos­pel.
My music has been influ­enced by a whole range of people from Nas to Eminem, to Bob Mar­ley and Sizzla, to Aretha Frank­lin, Ray Charles and Otis Red­ding. Even musi­cians far away from hip-hop, like Col­trane, Min­gus, John Lee Hook­er and Bob Dylan; they've all influ­enced me in vari­ous ways. I listen to all kinds of music and am con­stantly try­ing to learn and incor­por­ate new ideas from oth­er genres into Hip-Hop. This is how Hip-Hop began and, to me, it's the spir­it of Hip-Hop.
Q. The mes­sage in a lot of your tracks has a strong anti-estab­lish­ment, pro-revolu­tion­ary thread (in line with the kind of stuff we love to pro­mote at IAM­HIPHOP!). How did you devel­op your way of think­ing? How import­ant is it for you to incor­por­ate these thoughts (and actions) into your music?
I would say my new album is more in the con­scious Hip-Hop tra­di­tion of Tribe, Mos Def and Com­mon. Cats look­ing to hear that hard-hit­ting polit­ic­al cri­tique should check out my 2013 album "Long Time Com­ing". I def­in­itely am a polit­ic­ally minded per­son and I love polit­ic­al music. I don't believe, how­ever, that all art should be polit­ic­al. I think art and music should always have a mes­sage of some kind—a deep­er mean­ing that goes bey­ond just the aes­thet­ic. So some of my music is polit­ic­al, some of it is about love or emo­tion, but all of my music tries to con­vey a mes­sage.
I developed my polit­ic­al views partly because my par­ents are both very left-wing and partly do to my exper­i­ences grow­ing up in New York. When I was young, my par­ents nev­er talked about polit­ics with me dir­ectly, but they def­in­itely provided me with a per­spect­ive on life that cham­pioned the under­dog. Later, when I was around 19, I star­ted form­ing my own polit­ic­al views. These views developed out of the exper­i­ences I had and the shit that I saw grow­ing up. As a teen­ager espe­cially, I wit­nessed a lot of social injustice and racism. I saw kids I grew up with go to jail, people get har­assed by the police and folks unable to get good jobs. I per­son­ally was arres­ted and expelled from high school over a rhyme I had writ­ten and this gave me a strong sense that the power­ful will per­se­cute people who they can­not con­trol. I also wit­nessed a lot of viol­ence grow­ing up. When I was 18, I saw a kid get shot five times right in front of me. This had a deep impact on me. It pushed me to look for answers to some of the social prob­lems we deal with in the US. Why were Black and Latino folks killing each oth­er and going to jail in much lar­ger pro­por­tions than white folks? Why did some folks get to go to col­lege and get high-pay­ing jobs and oth­er folks forced to sell drugs on the street? These were the imme­di­ate ques­tions I had that lead me down a socially con­scious path.
I love to see how music can edu­cate and inspire people down a sim­il­ar path. In 2012, I went to South Africa to do some hip-hop work­shops and per­form in the town­ships (ghetto com­munit­ies) there. I was invited by a group called Soundz of the South. Those kids are doing some really cool work with the com­munity. They were using the music as a plat­form to edu­cate people, some­thing sim­il­ar to what the Zulu Nation does. They later star­ted the Afric­an Hip-Hop Cara­van, where they took this same com­munity-based per­form­ance mod­el to some­thing like sev­en Afric­an coun­tries. That trip was an amaz­ing exper­i­ence for me and I would def­in­itely be down to get involved in some­thing like that again in the future.
Q. Is it these kinds of exper­i­ences and these ways of think­ing that lead you to Beijing? Why did you decide to move to China?
My jour­ney to Asia def­in­itely developed out of me becom­ing socially aware. If you read a lot about his­tory and polit­ics, you learn how the world is inter­con­nec­ted. Of course, I wanted to travel to oth­er coun­tries that I was read­ing about and see how the people of those coun­tries lived and thought.
I was always inter­ested in Asi­an cul­ture though. My grand­fath­er lived in China and Japan when he was in the navy. My step-moth­er is Korean. And so, since an early age I had been exposed to aspects of Asi­an cul­ture that I wanted to under­stand in more depth. I chose to come to China, in part because I felt like it was the foun­tain head of East Asi­an cul­ture, and in part because of its his­tory with Social­ism. I was curi­ous to see what Social­ism was about.
Spend­ing 12 years in China must have impacted your out­look. Do you feel that's the case? Are there any par­tic­u­larly moments that have had a par­tic­u­larly sig­ni­fic­ant impact on you?
China has influ­enced me in many ways that I can't even explain. I've learned to be tol­er­ant, humble and mature. I've learned to under­stand the world from a dif­fer­ent per­spect­ive. A lot of the same issues that cats are deal­ing with back home, the Chinese are deal­ing with too. China has taught me a lot about my own coun­try and to see the world more object­ively.
Social­ism in China is a dif­fi­cult ques­tion. The Chinese have basic­ally aban­doned Social­ism and embraced cap­it­al­ism. This has brought a lot of wealth to the coun­try as a whole, but the wealth is being dis­trib­uted more and more unevenly. There have been a lot of improve­ments in the past 30 years in China, but also a lot of prob­lems that they can­not eas­ily fix. I think China needs to slow down the eco­nom­ic growth and focus on issues of soci­ety, edu­ca­tion, and cul­ture. If there is to be real social­ism in China, it can't be the wel­fare state and it can't be author­it­ari­an rule; it's gotta come from the work­ing people them­selves.
Q. How much of an influ­ence has Beijing and your travels in China influ­enced your music?
I would say my music comes out of my iden­tity as an Amer­ic­an. Most of what inspires me music­ally is my con­nec­tion with New York and the exper­i­ences I've had liv­ing there. In fact, Hip-Hop helps me get back to those roots. China has influ­enced me in oth­er ways, but music­ally not so much.
Q. How is your Chinese lan­guage skill? Can you under­stand Chinese emcees? Can you spit bars in Chinese?
My Chinese is pretty much flu­ent. I can under­stand Chinese emcees if I listen care­fully and rewind and double check the shit they are spit­ting. Oth­er­wise, I can com­mu­nic­ate nor­mally in Man­dar­in with no prob­lem.
I can spit writ­ten bars in Chinese but I can't really free­style. I've got a few songs writ­ten in Chinese which I will drop at some point. I'm always con­cerned though that the songs I've writ­ten in Chinese are good for a non-nat­ive speak­er, but that they will seem corny to a Chinese per­son because I can't express myself poet­ic­ally in the same way they can.
Q. What is the Hip Hop scene like in Beijing? How do you per­ceive it and what is your place and role with­in it? How does it com­pare to New York?
Hip-Hop cul­ture in Beijing is strange because it is extremely divided between Chinese and for­eign Hip-Hop. The Chinese Hip-Hop heads are either cre­at­ing their own under­ground music and per­form­ing it at live shows or they are doing the club thing. The for­eign Hip-Hop heads are mostly involved in deejing and hype-man shit in the big night clubs. There are some people in Beijing who are try­ing to break down these bar­ri­ers and make music and do events that involve both sides. I have always viewed this as one of my goals of doing music in China, though I have not always suc­ceeded.
The Chinese lan­guage Hip-Hop scene is inter­est­ing because it has main­tained the old-school 90's cul­ture and for the most part has tried to stay loy­al to that. I see this as both a good and a bad thing. It is good because it is pre­serving a tra­di­tion that is dying out. It can be a bad thing, how­ever, when Hip-Hop iden­tity becomes too rigidly focused on the golden age 90's cul­ture. Music is a cre­at­ive art. I think the real chal­lenge that Chinese Hip-Hop faces, as Hip-Hop faces every­where, is how to bal­ance the tend­ency to pre­serve with the tend­ency to innov­ate. If they can fig­ure that out, I think we will see a lot of beau­ti­ful music in Beijing.
The oth­er thing that is essen­tial in order for Chinese Hip-Hop to flour­ish is to have fin­an­cial sup­port. Wheth­er this means the dir­ect sup­port of record labels or indir­ect sup­port of spon­sors, fans, and inde­pend­ent organ­iz­a­tions, the fact is that without ser­i­ous sup­port of the music there will be no future. From what I have noticed, there seems to be a much stronger sup­port on the dan­cing side of Hip-Hop, and very little sup­port for ori­gin­al Chinese lan­guage Hip-Hop music. This may be because break dan­cing isn't per­ceived as a threat in the way that Chinese Rap music is.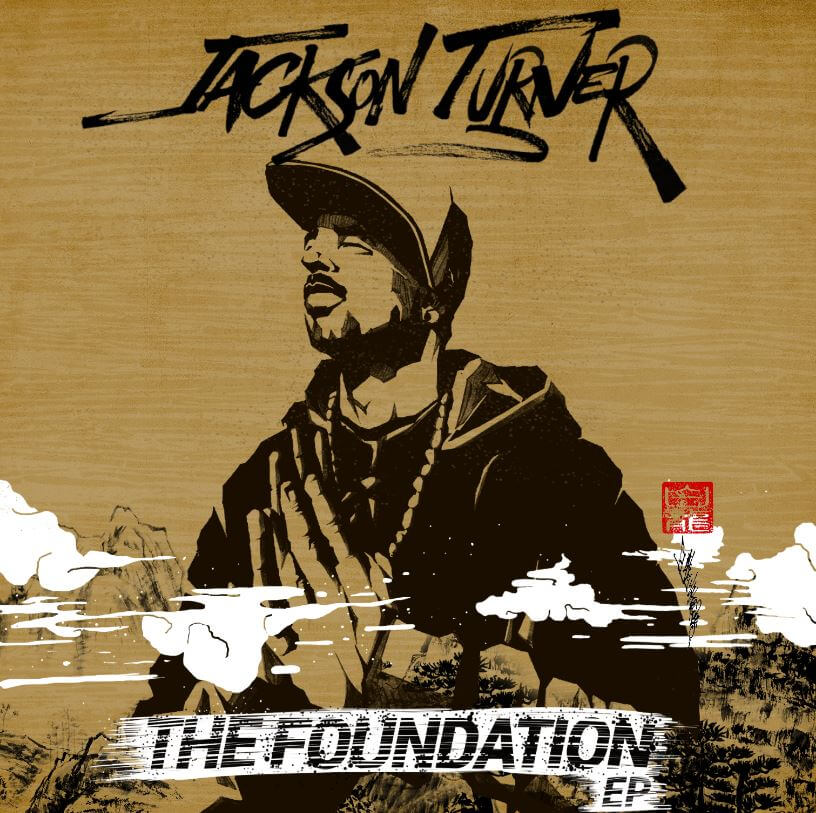 Q. You've just dropped your second pro­ject 'The Found­a­tion' EP. Tell us about the cre­at­ive pro­cess you went through in cre­at­ing this pro­ject.
'The Found­a­tion' is a pro­ject which cuts to the heart of the music. To me, Hip-Hop music is about two things; the groove and the art of lyr­i­cism. Hip-Hop comes out of Soul and Funk music and ori­gin­ated as a kind of urb­an dance music. Today, a lot of what is con­sidered Hip-Hop is barely danceable—there are no changes in the songs; things have been sim­pli­fied and made mono­ton­ous. Real lyr­i­cism has incred­ibly com­plex rhythms and rhyme schemes; just like that of a drum. Today, the art of rap­ping has become almost a joke. Rap­ping has no mes­sage and is rhyth­mic­ally flat and routine. 'The Found­a­tion' tries to get back to the roots of the music and cul­ture, while still being fresh and innov­at­ive.
Five songs made the final cut for the album. Each song is meant to dis­play a dif­fer­ent style that I am cap­able of as an artist, as well as the dif­fer­ent styles that Hip-Hop is cap­able of as an art form. Themes on the album range from the philo­soph­ic­al, to the hard­core, to the party groove, to the romantic love song. In my mind, this range of sounds and themes form the found­a­tion of Hip-Hop.
The title 'The Found­a­tion', also comes from the name of the last song on the album. This song is about under­stand­ing love as the basis of human­ity. To me, love is the spir­itu­al force that unites human beings as a com­munity. It is the force that cre­ates new life; the force that heals and strengthens us. The album title, 'The Found­a­tion', also car­ries with it this mean­ing because all the songs on the album are meant to be uplift­ing in some way.
For this pro­ject, I was blessed to col­lab­or­ate with a vari­ety of pro­du­cers, mix­ers and fea­tured artists. I was able to team back up with the immensely tal­en­ted pian­ist and pro­du­cer Jew­ell Forten­berry, who has worked with Chinese sing­ers Tia-Ray and Fang Da Tong. And I also had the priv­ilege to col­lab­or­ate again with the main pro­du­cer of my first album — Soulspeak. Oth­er pro­du­cers I worked with include the Nor­we­gi­an pro­du­cer DJ Peewee, Afric­an pro­du­cers from the Tri­ad Music Crew DJ Moss Da Boss and DJ Shaba, and the Azerbaijani pro­du­cer Dojo Shaol­in. On the EP, I have two fea­tured artists. The first is the Ger­man sing­er Lisa Rowe, who's 2012 single "United" with the Dan­ish duo Nik & Jay did extremely well in Den­mark. The second fea­ture is from the French reg­gae artist Gen­er­al Huge, who is a mem­ber of the Ulti­mate Band Crew. Finally, the album was primar­ily mixed by the Ger­man mix­er Michael Seifert, who did an out­stand­ing job. I also gotta thank the Japan­ese illus­trat­or Haku-Ryu and the Chilean graph­ic design­er Jose Alvarez for the dope album cov­er art­work. In addi­tion to writ­ing the song lyr­ics, I acted as exec­ut­ive pro­du­cer through­out, provid­ing the over­all vis­ion and scope as well as coördin­at­ing, arran­ging, revis­ing and fund­ing all the music on the album.
Q. So this is an extremely inter­na­tion­al pro­ject. You have a lot of tal­ent from all over the world con­trib­ut­ing to your sound and imagery. Was that delib­er­ate? Does this affect the nature of the pro­ject?
It was delib­er­ate in the sense that I sought out people who had the sound or fla­vour that I was look­ing for. As I said I wanted an album that had a wide range of sounds. I thought the best way to achieve this was to work with a vari­ety of dif­fer­ent people. As rough drafts for the songs developed, I star­ted to under­stand more clearly what was needed in each song and looked for people who could bring that spe­cif­ic fla­vour. The album is even more inter­na­tion­al when you include the ses­sion musi­cians I worked with (who were not form­ally cred­ited on the songs). Artists like the Thai sing­er OMG, who did back-up vocals on two of the tracks; Detroit bass play­er Dan Zyl­in­ski; and the Chinese viol­in­ist Xu Ming­mei all brought a unique feel to the pro­ject. Not only am I lucky to have worked with such diverse and tal­en­ted people, but the album also bene­fits from this diversity. We were able to achieve both the music­al range that I wanted and a strong con­tinu­ity between the tracks. That's not easy to do. So I feel very proud that we were able to pull it off.
Q. What are your goals for this pro­ject? How are you releas­ing it? Will you focus on Beijing, China, Asia, New York, the US? Are you plan­ning any tours or inter­na­tion­al shows?
'The Found­a­tion' EP is being released com­pletely inde­pend­ently. For now I am focus­ing on the digit­al dis­tri­bu­tion and pro­mo­tion and so haven't prin­ted any phys­ic­al cop­ies of the album yet. This may change in the future if it seems like I also need the phys­ic­al dis­tri­bu­tion.
My plans for the album are to build more of an inter­na­tion­al fan base so that I can meet up, learn from and col­lab­or­ate with people doing this all over the world. I will focus on Asia because that's where I am closest in prox­im­ity too. But I will also devote a lot of atten­tion to pro­mo­tion in Eng­lish speak­ing coun­tries like the US, UK, Aus­tralia and South Africa. Ger­many, and Europe in gen­er­al, will also be a focus. I plan to travel to Ber­lin in Octo­ber to shoot a video with Lisa Rowe.
I am cur­rently try­ing to work out tour plans for sev­er­al coun­tries includ­ing Japan, Korea and Ger­many. If any­one read­ing is inter­ested in hav­ing me per­form def­in­itely get in touch.
Q. What are your plans bey­ond this EP?
I want to keep trav­el­ing and keep doing my music. I'd like to get more involved in organ­iz­ing events and cross-cul­tur­al music col­lab­or­a­tions. I've teamed up with a part­ner — Danny G. — and the two of us have star­ted an organ­iz­a­tion called No Play Con­cepts. No Play is involved in record­ing and pro­du­cing music in Beijing. We hope to not only help grow music in China, but also facil­it­ate more col­lab­or­a­tion between Chinese and inter­na­tion­al artists.
Q. Finally, do you have any advice for any Hip-Hop heads who might be inspired by you and want to travel to China, as fans or as artists?
Def­in­itely come check out China. China is a beau­ti­ful coun­try with amaz­ing diversity. From the Muslim Uyghurs and Kaza­khs in the West, to the Tibetan and Mon­go­li­ans, to the Han Chinese them­selves, music is alive in China. If you a straight Hip-Hop head come to Beijing and check out the Nat­ur­al Fla­vor ven­ue or dee­jay Wordy. If you into Reg­gae, check out dee­jay Rad­dam Ras. Shang­hai, Guang­zhou, Wuhan and Xi'an also all got dope under­ground Hip-Hop scenes. You can travel and eat great food here for real cheap.
Q. It's been a pleas­ure build­ing with you, we hope everything goes well with 'The Found­a­tion' EP and with your future goals and ambi­tions. Before we fin­ish, let every­one know where they can find your music.
You can order my new album 'The Found­a­tion' EP on Itunes and on Amazon:
https://itunes.apple.com/us/album/the-foundation-ep/id1021775130
http://www.amazon.com/gp/product/B0129L94JU/
You can find my old album and music at: http://emceeheretic.bandcamp.com/music
Fol­low my face­book page at: https://www.facebook.com/mcheretic
You can watch my vids on my You­tube chan­nel at: https://www.youtube.com/user/emceeheretic
The fol­low­ing two tabs change con­tent below.

Apex Zero
An emcee, beat­maker, film­maker and writer from Lon­don with Gren­adian roots, Apex Zero has spent his life learn­ing and liv­ing Hip Hop cul­ture, using it to inspire and affect change. Based in Beijing for a few years and reg­u­larly tour­ing the globe, Apex is well trav­elled, and uses the les­sons this provides to inform his art and out­look. He is a mem­ber of the Glob­al­Fac­tion digit­al pro­duc­tion house and the inter­na­tion­al Hip Hop col­lect­ive End of the Weak.

Latest posts by Apex Zero (see all)