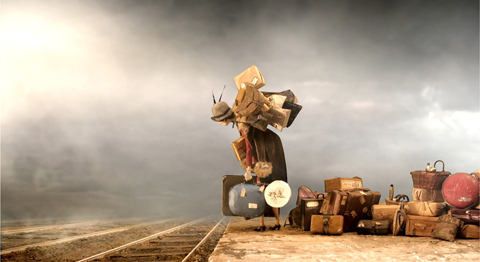 When I am trav­el­ling to work on the Lon­don Under­ground, one of my favour­ite things to do whilst stood inert on the escal­at­or is to look at all the people passing me on the oth­er side (espe­cially at Water­loo and Hol­born Sta­tion!). The real­isa­tion that all these people have their own stor­ies; dreams, struggles, his­tory and have at least once con­sidered what their pur­pose is here on Earth, always awes me. I most prob­ably won't see these people again, our paths are crossed and for that moment we find ourselves in the same place, yet we do not know each oth­er, we do not talk, they aren't 'Human-ised' – they remain a stranger to my world: silent. What I do know how­ever, is that all these people have a suit­case on their head – a suit­case filled with their memor­ies, learned beha­viour, par­ent­al expect­a­tions, pain­ful child­hood exper­i­ences, hopes and dreams, ideals of the Self and hap­pi­ness, basic­ally everything that makes up a per­son is in this suit­case, care­fully bal­anced on the base of their head, some­times sup­por­ted by the hands if weight and imbal­ance neces­sit­ate.
As you're walk­ing on your path, head­ing in your dir­ec­tion, per­haps stum­bling around, run­ning fast, reach­ing a fork in the road, whatever you're doing on your path, you have your suit­case on your head. In this suit­case you accu­mu­late everything, the mind unless trained in 'let­ting go' becomes a sort of hoarder of exist­ence. The brain itself has the capa­city to store almost unlim­ited amounts of inform­a­tion indef­in­itely, so everything you've exper­i­enced, even if you can­not recall it at a moment's notice, it is still in your suit­case, just because you aren't con­scious of it, doesn't mean it isn't there. Even if you think you have for­got­ten some­thing on the basis that that memory no longer exists, sci­ence has found for­get­ting is more akin to a tem­por­ary or per­man­ent inab­il­ity to retrieve a piece of inform­a­tion, rather than a loss of it.[1] If this suit­case becomes cluttered, heavy, full of things that no longer serve you, you stop liv­ing in the Now. You could devel­op anxi­et­ies for the future, depres­sions from the past, or per­haps become so con­cerned with this bal­an­cing act, pre­tend­ing that the suit­case sits just fine so that you can fit in, that the strain on your head and shoulders can be tem­por­ar­ily numbed with some med­ic­a­tion or a new purse, that you end up for­get­ting to be alive.
I had not real­ised that my suit­case had become extremely and dan­ger­ously heavy. I was not con­scious, or per­haps chose not to be con­scious of the repressed memor­ies and emo­tions, espe­cially from my child­hood – the fear of fail­ing, the messy divorce of my par­ents, the need to aca­dem­ic­ally be the best in order to have any self-esteem. I had exter­n­al­ised my value and self-worth onto man-made con­structs, to the point that I nev­er actu­ally felt proud of my achieve­ments, even when they placed me in the top glob­al per­cent­ile, I was not happy. I could boast about it, rely on some illu­sion of ima­gined superi­or­ity, but when it came down to basics, no amount of A*'s can ever com­pare to your real value – this is immeas­ur­able. If self-worth does not come from the core being, from You, you will nev­er be sat­is­fied.
The decep­tion of my strong found­a­tion all came crash­ing down when I found myself in a very stress­ful peri­od of my life, and I felt I could handle it, but I wasn't aware that I was even car­ry­ing this suit­case on my head. I didn't know I had to factor it into my sur­viv­al. I col­lapsed. This is that part of the story where you here about the life-change that happened dur­ing that break­down, you always find that people dis­cov­er a new sense of Self and who they are when they hit rock bot­tom; when they have to stand-up by them­selves, that's nor­mally when we real­ise that hold on, I haven't actu­ally ever done any­thing solely for myself (not out of ego, but self-com­pas­sion). This becomes an issue of sur­viv­al – not just phys­ic­al, but men­tally. From any great mis­for­tune can come the most beau­ti­ful blos­som­ing – here's the catch, it doesn't hap­pen by itself, it requires your con­scious and con­tinu­ous tend­ing to. That point where You change, does not need to be caused by some mag­ni­fi­cently dra­mat­ic event, there are stor­ies of people com­ing face to face with sui­cide, or per­haps ven­tur­ing out into the unknowns of the Amazon or Him­alay­as, these are all in them­selves beau­ti­ful, but your moment could be as simple as sit­ting in Hyde Park feel­ing the wind, hear­ing the birds and smelling sum­mer.
What I learnt from my time at the bot­tom and going for­ward, is that there will be points in your life when you really have to stop and con­sider the weight of this suit­case. You have to have enough love and com­pas­sion for your­self to find the time and way, per­haps even help, to just get that suit­case on the ground, open it up and see what no longer serves you. See what is hid­ing in the corners, get rid of dirty laun­dry, get rid of oth­er people's dirty laun­dry! Really con­front your suit­case, inspect it like Lon­don Heath­row does with flights from the Middle East!
If you're brave enough, invite a pro­fes­sion­al over to help you go through what's in your suit­case. They can be that guid­ing light, per­haps gently draw­ing your atten­tion to mater­i­al which per­haps you missed or didn't want to see (and there's noth­ing wrong with that – no judge­ment!). The thing with ther­apy I have found, and I have for­tu­nately had an excel­lent exper­i­ence thus far, is that it neces­sit­ates you sit­ting down with you (espe­cially if you choose psy­cho­ther­apy). I always felt I knew my Self quite well, hav­ing stud­ied psy­cho­logy and philo­sophy, I felt com­fort­able but with the Self that I had cre­ated, not with who I actu­ally was. If you're not com­fort­able with ther­apy yet, per­haps you have a trus­ted fam­ily mem­ber or friend that feels deeply and could guide you, or next best option: books! I've been digest­ing these and shall post a list of self-growth books I have found par­tic­u­larly help­ful.
The suit­case ana­logy came to me when I was try­ing to explain and jus­ti­fy really the concept and nature of ther­apy to fam­ily mem­bers, who just really for lack of edu­ca­tion and aware­ness, weren't famil­i­ar with ther­apy. I have found this rings par­tic­u­larly true with non-West­ern cul­tures (grant me this broad and flawed gen­er­al­isa­tion for the point of argu­ment), but dis­cuss­ing ther­apy with the Middle East­ern-side of my fam­ily was like telling them I am now leav­ing soci­ety to be tied up in a small, white, pad­ded room, that said how­ever, I am also Por­tuguese and the same lack of under­stand­ing was found on that side. Even though the men­tal-health taboo is still present in our Brit­ish soci­ety, with the rising levels of stress, anxi­ety and depres­sion repor­ted by the NHS to go up to 1 in 3 report­ing men­tal-health prob­lems by 2030, I can guar­an­tee you, mil­lions of more people are going to have to take some pauses and open that suit­case up, not just you.
Our world has led to so many of us exist­ing in a sin­gu­lar plane, that we no longer are able to con­nect with our souls (if you don't like the concept soul, per­haps take it more as the 'auto­nom­ic self' or your 'inner being). We spend a lot of time doing things that fail to nour­ish us, that fail to chal­lenge us, how pos­sibly could we become attuned with our minds when we are busy meet­ing pro­ject tar­gets or avoid­ing a hor­rible boss? Those of you who have the cour­age, com­pas­sion and auda­city to open your own suit­case, well that is what strength is made of. The struggle with the world is hard and exhaust­ing, but the know­ing and mas­ter­ing of one's own mind? Well, that's as rare as a red dia­mond.
When exper­i­en­cing com­plic­ated and intense feel­ings for the first time, it may be hard to determ­ine wheth­er these emo­tions are related to depres­sion or oth­er men­tal health issues. Learn the signs of depres­sion and when to get help in this Bet­ter­Help art­icle.
[1] http://www.human-memory.net/processes_storage.html
The fol­low­ing two tabs change con­tent below.

Through exper­i­ence Nadia explores ways to help oth­ers har­ness the power of their mind, their body and their fem­in­in­ity. Read more at nomadicwanderer.com

Latest posts by NADIA MARQUES DE CARVALHO (see all)