So, I am going to start with some­thing corny if that is ok? To any­one who doesn't know Sophia how would you describe your­self in one word?
Pas­sion­ate
Com­pared to who you were when you first star­ted your jour­ney to now, what would you say has evolved with you?
Ooo, I am a lot more con­fid­ent in chal­len­ging the craft before I might have wanted to stick more inside the box. This was the spoken word, slam poetry box but now I have seen poetry from a wider lens and my heart reflects that…I hope! (laughs)
You have had quite the cre­at­ive jour­ney, from per­form­ing at Gla­ston­bury, BET, BBC, Sky, Nike, to name just a few and now you are here at the icon­ic Jazz Café. Can you describe what this jour­ney has been like?
Man, it has been a river of ebbs and flows (laughs) I have gone through some funny poetry stages. I remem­ber when I first star­ted, I was doing events that were only centred around free­ing Palestine. Then I did loads of really Afro­centric events, then just female empowered events, then domest­ic violence…I have gone through loops of events but now I think I should just put on events of my own (laughs) and then sort of loop everything back togeth­er. It's been amaz­ing because I met phe­nom­en­al people inside all of these spaces who cham­pi­on dif­fer­ent things, I think I have soaked in a lot to sort of tell my stor­ies now. But again, it might be a phase I might stop doing my own shows who knows.
With most poetry it is done without a back­ing track and your poems are strong enough without them. Was it your inspir­a­tion from Hip-Hop and artists like Erykah Badu that made you decide to col­lab­or­ate with musi­cians? Or is there more to this?
I think music adds anoth­er lay­er to words and I think any art form essen­tially trans­lates words in its own way, and I think when you put four voices togeth­er it's going to be more power­ful. So, I think I found that and I come from a music­al back­ground my broth­er (Latir Thak­ur) is per­form­ing as well — he is doing sound­check now. Yeah, I come from a very music­al back­ground, learnt instru­ments from very young and I think that has always stayed inside of my head and I have listened to more musi­cians than I have poets. So, I think that is why I am prob­ably more inclined.
Kumasi is your latest track…correct me if I am wrong but was this track that was inspired by you close friend who you lost to can­cer? If not, I apo­lo­gise BUT what was the inspir­a­tion behind this mas­ter­piece?
That track was Dance, Kumasi is about the story in Ghana where I made a mis­take (laughs) as we all do, two things happened in Ghana I made a mis­take and I heard more Afrobeats then I have ever heard in my life and I real­ised ahh ok that I am in Africa. Because you could be in like the Ghanai­an ver­sion of Star­bucks but the norm is Afrobeats because you are in Africa. So, I came back and I just had that hop in my sys­tem, so when I went in to stu­dio I was like for­get all this poetry that we have been record­ing I need some­thing to this hop and it ended up being this song. I think what was really nice for me, I was able to tell the story in a more con­cise way, so that means that with me I don't have to tell you all the details because I am not silent, and not just using words for 8 minutes because there is still a chor­us and a bridge but I am still going to get my point across. So, I think it was a more subtle way of telling the same story which I quite liked.

Many cre­at­ive people includ­ing myself come across the notori­ous "cre­at­ive block" what do you do when you find your­self in this place?
Man­nn, I just ride them out…yeah…I just think that if it doesn't want to come just leave it for a bit, just let it brew for a little bit. If it gets to a point where I got a brief or a cli­ent that I need to write a poem for then I soak myself in inspir­a­tion. So, I listen back to old poems that inspired me some­times, I may go to an exhib­i­tion, see a dance show. I really sat­ur­ate myself with things that should trig­ger words at least, and If noth­ing is still com­ing then I may read a poem or a bunch of poems that really inspire me. And I may write a poem based off one of the lines in the poem, and let's say the line is 'he was a gap in ocean' I will take that line and make it the title and then sort of free flow from there. So, the top­ics will give them­selves to me then even­tu­ally some­thing will just start vibrat­ing, but if I'm not hav­ing to rush to catch a cli­ent or brief then I just ride it out. You can't be flu­id all the time that's not how it works even rivers are like that (laughs).
Your TED Talks are amaz­ing and very unique and I love the com­bin­a­tion of mix­ing poetry with a strong mes­sage. Why did you decide to approach it this way?
I can give a talk; I pub­lic speak so I can give a talk and it doesn't have to rhyme… but I just think that the beauty of poetry is that it's the fine line in-between con­ver­sa­tion and art. Which means it is under­stand­able so every­one can be privy to what you want to get across, but the art side means that it pen­et­rates and I think for me that is the only art form that really does that. So, I think when I do stages, such as TED Talks, or Gla­ston­bury for example I just think if I want to get to the core of you, and I really believe in the mes­sage then I am going to com­bine that art and con­ver­sa­tion, because you're going to get the angle and you're going to feel it.
'My boy­friend isn't allowed to cry' unfor­tu­nately is a true and unfor­giv­ing tale of a struggle that many males go through. Since you gave the TED Talk what reac­tions have you got from it?
Ooo so, I did the bad thing, I checked my You­Tube com­ments and I have nev­er done this. I pretty much just use You­Tube as a thing that I put my stuff on and left it. So, for years I haven't looked at the com­ments and then…I looked at these TED Talk com­ments and it was a sea of men say­ing, 'ahh it's anoth­er women telling us how to behave' or 'that's the prob­lem with these fem­in­ists'. Remem­ber I was 18 at the time as well and I mean I was not even that well versed in come back I was just hurt and I was just upset by it. But that being said now I do a lot of work in the space of tox­ic mas­culin­ity, because I think at a time like now where fem­in­ism is the loudest and strongest con­ver­sa­tion, there is no such thing as lev­el­ling the play­ing field without talk­ing to the men in that same breath. When people are get­ting more power than they have ever had at any giv­en time, which is women at this point in time, a lot of the time it can almost become a reverse reac­tion and can become even more one sided. I think some of us can for­get these stat­ist­ics that men are the biggest com­mit­ters of sui­cide, and men do exper­i­ence men­tal ill­ness, and I am more inclined to speak on my prob­lems than you are. Because cul­tur­ally it is the case across more cul­tures than any oth­er cul­ture with any oth­er sort of con­ver­sa­tion. So, I think I am really pas­sion­ate about that as I think where, we have a for­um at the moment to express and talk, its mak­ing or for­cing men to be quieter and that is not healthy… it's just not healthy.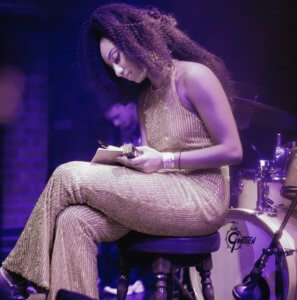 You per­formed with the Lon­don Sym­phony Orches­tra as part of UnFOLD's col­lab­or­a­tion with Jer­wood com­poser+ Jas­min Kent Rodg­man at LSO St Lukes. What was exper­i­ence that like and how did the whole thing come togeth­er?
Man, it was so cool so I worked with UnFOLD pri­or to this and it was just like a string quar­tet and we went on a UK Tour, and strings are I would say the closest thing to an opera sing­er very, very emotive. I think the elec­tric gui­tar sings like a human, the piano is like the base of someone's voice but I think strings are almost like the cry of a per­son. So, what they asked me to do was a big com­pos­i­tion, it was a shade show, put on by Jas­min who com­posed it and the whole talk was about shade or shadism in race. They heard this poem before and they were like we want to do this poem I worked actu­ally with Kam­ila and a few oth­er people sort of piecing it togeth­er. And I just remem­ber the first rehears­al we went into you go in with an image of how you think it is going to sound, and I was very much like this needs to be like this, this, this. But then when you're work­ing with very intel­li­gent musi­cians who under­stand the com­pre­hen­sion of the poem it takes it to a whole oth­er level. And they did, they just got poetry, they got that we are not look­ing for beats and bars, you're look­ing for like a line or verse that will sort of make the change. They got that and I think that took it to a level and it really pulled the emo­tion out of me as well because it changed the whole per­form­ance. The way I per­formed was very dif­fer­ent to when I just per­form to a Hip-Hop Beat to how I per­formed with the Lon­don Sym­phony Orches­tra, was very, very dif­fer­ent but it was amaz­ing.
'Just a friend' with Chozen is a beau­ti­ful and raw emo­tion­al story about hav­ing a close male friend com­bined with the Biz Markie song. How did that col­lab­or­a­tion and idea come about?
So, I saw Floetry's song, I can't remem­ber what it is called but (starts singing the lyr­ics) …but yeah, they did that, and I thought why haven't I done a col­lab­or­a­tion with a poet this is so sick? I was doing the poetry cir­cuit with Chozen at the time and we tried to write it…and it is weird sud­denly writ­ing with someone, and we knew we wanted to be so close-knit with the con­ver­sa­tion. We were like 16⁄17 at the time as well so it was very weird try­ing to write togeth­er. I think we took a pic­ture that we were work­ing togeth­er and a show called Vocals & Verses con­tac­ted us to per­form togeth­er, and we were like yes but we hadn't writ­ten the poem at this point. So, we had two writ­ing ses­sions, we got like pretty much noth­ing done, and then the writ­ing ses­sion before the show we got the whole poem writ­ten. It was very flu­id once we sort of stepped into it, it was very much like he was say­ing some­thing, 'but you said this and I said de, de, de, de, de ' and it became a really flu­id writ­ing exper­i­ence once you sink into that same rhythm, but before that it was just a mind block.
Your book Some­body Give This Heart a Pen (Paper­back) a col­lec­tion of your amaz­ing poetry is out now. Like many artists who go through the pro­cess of selec­tion and elim­in­a­tion how did you decide which ones to keep in and what ones that didn't quite make the cut?
I think I set myself the tar­get of writ­ing a 120 to cut it down to 60. So, I wrote like a 110 then I cut it down to 70, and it was very much the poems I would go and read again like what poems if I picked up the book would I be happy to see. And I was very com­fort­able to throw poems away, I was like you don't give me a strong feel­ing, you're not even a true story, no, this didn't actu­ally hap­pen, no, the rhyme struc­ture is off, no, then I got the final 90 and that's when it became hard. Then I made chapters and thought ok what fits in the sort of story line in the book and I think that was final cut­ting it down part.
You men­tion the con­tra­dic­tions of how people assume you to be and in the inter­view with Reform Funk you men­tion that the thing that was hold­ing you back was not actu­ally the expect­a­tions of oth­ers, but your guilt for not con­form­ing to these ste­reo­types. What was the "ohh" or "aha" moment that bought you out of this thought pro­cess?
Wooo, I was at uni I star­ted real­ising what people would laugh at, and what people wouldn't laugh at, so I wrote accord­ing to them. And then I real­ised I am sad and I think it was the last day of the tour this was way back…I think it was Manchester to Lon­don when I was start­ing this whole jour­ney I felt like I was a clown, I felt like a comedi­an and didn't really feel like I was writ­ing from the space I wanted to write. I didn't think I was an artist, "ARTIST" I didn't feel like I needed to be like hon­est I didn't think I needed to be like that. I felt really, really sad and I just thought if I knew that if God has told me to speak, and chan­nel him and the stor­ies around me why am I mak­ing these people my God. Of course, I under­stand writ­ing from grief and writ­ing for cer­tain medi­ums but right now I am writ­ing for your laughs, and your approv­al if you know what I mean. I wasn't let­ting God chan­nel through me for the whole peri­od, once I real­ised this is my pur­pose and this is my gift I am doing a dis­ser­vice, mak­ing some­thing else my God oth­er than the writ­ing pro­cess I just switched back and I was like yep this is for God.
Last but not least what is next? Any exclus­ives that you can give us with what maybe in the pipeline?
Ooo, I have anoth­er single com­ing out and you are the only per­son who knows that at the moment…but I won't give you a name!
And finally, we would love to have you on the I Am Hip-Hop Pod­cast would you do us the hon­or and join us for one of our shows in the near future?
Abso­lutely, of course, of course, of course.
Sophia Thak­ur­'s book 'Some­body give this heart a pen' Is out now. Get your copy here.
The fol­low­ing two tabs change con­tent below.

Jay St Paul
Jay St Paul AKA Uncle JuJu is Founder & CEO of Hi…Creativity LTD | Dee­jay | Graph­ic Design­er | Illus­trat­or | Journ­al­ist | Writer | Pod­cast Host | Radio Presenter. Born and raised in West Lon­don Jay has always found love and solace in being cre­at­ive and express­ing him­self. Always look­ing to improve where he can and look­ing to learn new things as that is the jour­ney of being a cre­at­ive.

Latest posts by Jay St Paul (see all)