Olive Morris. Community Leader; Equality Campaigner; Political Activist. Born: 1952. Jamaica. Died: 1979, London.
Olive Morris moved from Jamaica to England in the 1960s and the family lived in South London where she was to become a significant character in local history.
Morris experienced injustice and discrimination at her local school and left without any qualifications. However, determined to succeed in education she went to a local college to study for her 'O' and 'A' levels while working in a full-time job. It was during this time, her teenage years, that Olive Morris became politically active. Morris practised direct action when confronted with injustice and she was arrested innumerable times and saw herself as a victim of police harassment. There is evidence that she was arrested in November 1969 when she intervened after the police arrested a 'black man driving a nice car' – later revealed to be a diplomat at the Nigerian High Commission. Morris asserted that she beaten up by the police and a photograph from the 15thNovember shows her bruised and dishevelled on her release from custody.
In the 1970s Morris became an active member of the Black Panther Movement and was a founding member of the Organisation of Women of African and Asian Descent (OWAAD), and she set up the Brixton Black Women's Group in 1984. With a group of local people Morris set up Sarbarr Bookshop, the first black self-help community bookshop in South London. Her political activism was not limited to her local community.
While studying for three years in Manchester to obtain a social science degree, Morris co-founded the Manchester Black Women's Co-op and the Manchester Women's Mutual Aid Group. In 1978 she visited China as part of a delegation of Marxist students from Manchester University. A keen traveller, Morris and her friend Liz Obi hitch-hiked their way to North Africa in 1992 in search of a Eldridge Cleaver who was a Black Panther in exile from the United States of America.
Rented accommodation was increasingly difficult to find in the inner city and many people turned to squatting as a housing alternative. Morris, a squatter herself, was a significant member of the squatters' campaign in the 1970s. Along with her friend Liz Obi, Morris became the first successful squatter of private property in Lambeth. She continued to use direct action to challenge injustice for herself and for other members of the local community. She became renown for her fearlessness in the face of discrimination and inequality.
At the young age of 27 Olive Morris succumbed to a terminal illness. Her legacy for political activism and community work influenced her communities at a local and international level. In 2009 Olive Morris was one of the people to be honoured when they were featured on the local currency of Brixton showing what an indelible mark she had made on the area: the introduction of the Brixton Pound was designed to encourage people to use their money to support local businesses and invest in their own community. Brixton, a community with a high migrant population (in 2001 the white population was less than 25%), was the first urban area to use a local currency.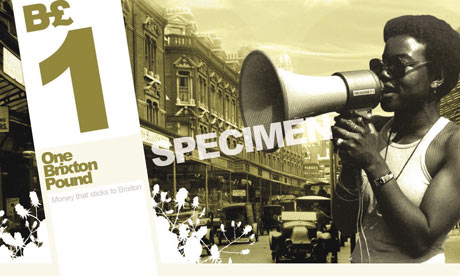 In 1986, in honour of her contribution to the local community Lambeth Council, in London, named one of their buildings at 18 Brixton Hill as Olive Morris House. In 2008 the commemorative plaque and building name was removed from the front of the building and it was renamed the Brixton Customer Service Centre. After a campaign it was reinstated in 2009 in the foyer of the staff entrance to the building and a window display, viewable from the street, was also installed.
[Source: http://historicalgeographies.blogspot.co.uk]
The following two tabs change content below.
Rishma Dhaliwal has extensive experience studying and working in the music and media industry. Having written a thesis on how Hip Hop acts as a social movement, she has spent years researching and connecting with artists who use the art form as a tool for bringing a voice to the voiceless. Currently working in TV, Rishma brings her PR and media knowledge to I am Hip Hop and other projects by No Bounds.
Latest posts by Rishma Dhaliwal (see all)