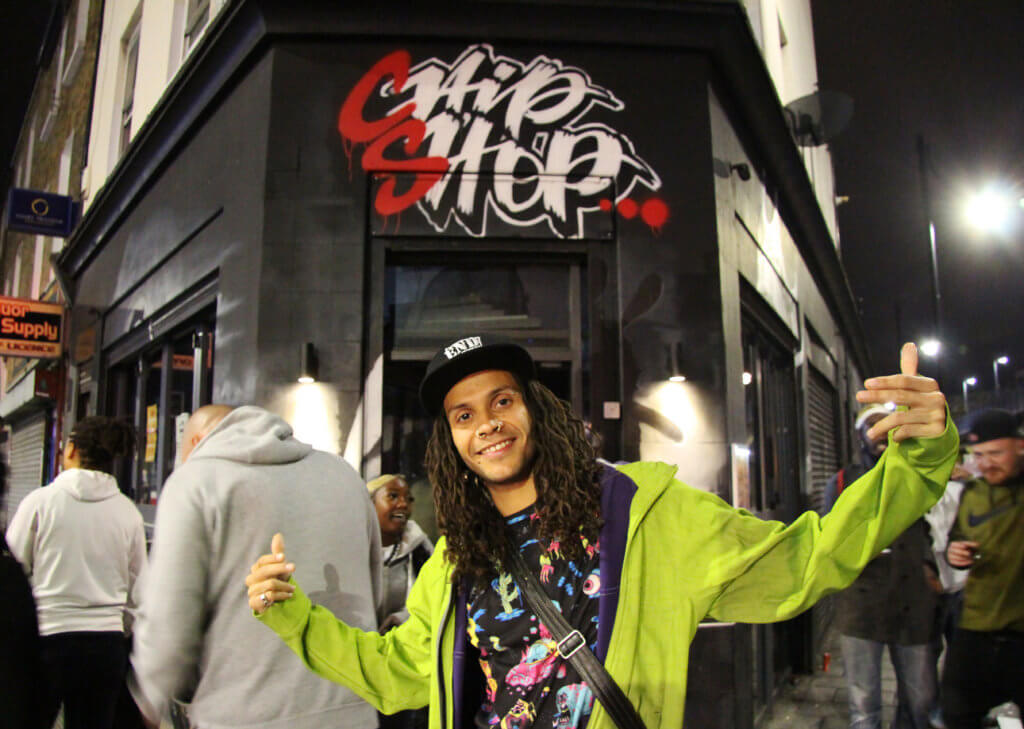 I've been watch­ing and involved with the End of the Weak MC Chal­lenge for 10 years now and wit­nessed some incred­ible moments; Stig of the Dump and Jack Flash win­ning world titles against some of the best emcees in the world, heats includ­ing the likes of M9, Cyr­us Mala­chi, Kate Tem­pest, Da Flyy Hoo­ligan, King Pin, DubbleEdge, Ten­choo, Emcee Killa and more. I was even blessed to be involved in what people have called one of the best heats we've ever had, com­pet­ing against the beast Mas Law and an emcee and beat­box­er who used to go by the name Marv-ill. That man now goes by Marv Radio and can say that he has com­peted in anoth­er of the best – heat #3 of EOW Eng­land 2019, that went down at cHip sHop Brix­ton on Septem­ber 8th. The line-up will start to explain just why it was so deep.
Men­ace Men­d­oza
A mul­tiple EOW Eng­land final­ist and genu­ine lyr­ic­al mon­ster, Men­ace is a mem­ber of Dark Side of the Moon and has shared stages with, battled and col­lab­or­ated with some of the best Hip Hop artists in this coun­try and bey­ond.
Justice
An under­ground legend in Birm­ing­ham, Justice is a lyr­i­cist, sing­er and act­or, who has fea­tured in the award-win­ning Hip Hop music­al fea­ture film 'One Day' and helped to build the Birm­ing­ham and wider UK Hip Hop scene. This sis­ter is dan­ger­ous on the mic.
Benny Dic­tion
The intel­li­gent, reflect­ive word­smith that is Benny Dic­tion has been a main­stay of the UK Hip Hop scene for years, pro­du­cing qual­ity mater­i­al, col­lab­or­at­ing with import­ant heads and rep­pin' for Boom Bap Pro­fes­sion­als
Marv Radio
Beat­box­er, beat­maker, emcee, act­or – there's not a lot this broth­er doesn't do. Fresh off a run of his deeply per­son­al one man music­al theatre piece as well as co-cre­at­ing the Hip Hop Palace cir­cus event at the Under­belly fest­iv­al, Marv Radio came into EOW ready to keep his momentum going.
Gee Bag
This man needs little intro­duc­tion, his achieve­ments speak for them­selves; three con­sec­ut­ive EOW Eng­land titles in 2016, 2017 and 2018 and the cur­rent num­ber two in the world after fin­ish­ing only behind two-time EOW World Cham­pi­on Osyr­is Antham last year in Par­is. Gee Bag is now a genu­ine EOW legend as well as an estab­lished artist in his own right.
In addi­tion to this crazy line-up, we were blessed with 3 incred­ible judges – Amy True, Sus Bully and DJ Shorty, who each put down their skills on the mic and decks in the judges show­case, and man like Itch FM's DJ Main­tain back in Lon­don from Uganda to run the chal­lenge. The levels were a mad­ness! Who­ever was going to win this heat would have to fully earn their place in the 2019 EOW Eng­land Final.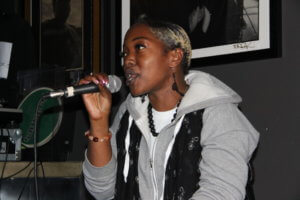 The first round was no dis­ap­point­ment. Every­one killed it, in their own style – Men­ace with pure dark Boom Bap, Gee Bag with his effort­less flow and cha­risma, Benny with deep intro­spec­tion, and Marv with a lyr­ic­al jour­ney though his view of psy­che­delics, drop­ping one of my favour­ite lines of the night "No rehab, I re-up, no Jihad, I'm G'd up'. BARS!! But…then came Justice. This 5 ft. woman rolled up, humble as can be ima­gined, singing in low, throaty tones, then when the beat dropped and she unleashed all the power of an Afric­an queen into double time bars on a grime/trap style rid­dim and cHip sHop went insane. Every­one fully under­stand­ing what had just happened; Justice had won the round with the bar set as high as it has been this year. It was game on.
Justice returned for round 2 with a dope acapella ded­ic­ated to her glob­al sis­trin. Lyr­ics were fyah, but hav­ing only decided to enter the day before, she slipped up mid-way and had to restart her bars. It wasn't a big slip, but with com­pet­i­tion this close, it felt like it might cost her later on. Again, the man­dem all kinda did what they do – sol­id, lyr­ic­al per­form­ances, with maybe Gee Bag and Marv stand­ing out for dif­fer­ent reas­ons. Gee showed his exper­i­ence with pure show­man­ship, sit­ting in a chair with his legs crossed, like he was talk­ing to his grandkids, drop­ping wis­dom about tribu­la­tions in life and music. Marv just sprayed pure fire, with relent­less bar­rage of lyr­ics, chan­ging sub­ject and flow at will.
There was no clear lead­er as the field evened out as the free­style rounds began, and again these rounds were close. Kissy K pulled out his grab bag, and every­one held it up, nobody really pulling fur­ther ahead or fall­ing behind, except Marv Radio. The man turned the grab bag round into a party! He man­aged to use his items mas­ter­fully and got the crowd par­ti­cip­at­ing with call and response about each one, some­thing I've nev­er really seen someone do.
The DJ vs MC round was dope. Any­one who's been to a DJ Main­tain event knows this guy's selec­tion is A‑class. He's a cer­ti­fied party DJ, and he turned the per­form­ances into a shoobs. Most of the emcees just took it like that, and had a good time flow­ing over Boom Bap clas­sics, Gar­age, Jungle and Afrobeats. Gee Bag come dif­fer­ent though! Hav­ing battled against DJs from all over the world, as well as our own Snuff and Jazz T, who aim to kill, he came for beef! He stuck it on Main­tain, call­ing for the hard­est beats he had and boast­ing it was too easy. Main­tain just laughed and kept the flava com­ing, but Gee Bag showed again how he'd won this com­pet­i­tion so many times.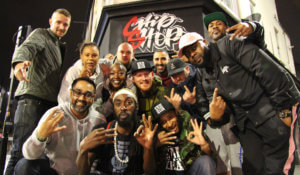 Going into the cypher round, there was nev­er gonna be any mis­takes with a field of this cal­ibre, and com­ing out the com­pet­i­tion was close, but in my view, a clear top 2 – Gee Bag and Marv Radio. Was Gee Bag going to get back to the final and get closer to reclaim­ing his title, or was Marv going to steal it mean­ing we'd see a new champ after 3 years of Gee Bag dom­in­a­tion? After Sus Bully shut down his set as expec­ted and a typ­ic­al EOW fire open mic, the judges handed in their scores and the win­ner was…Marv Radio. Every­one in the room knew it was a fair decision and paid respect to both the win­ner and the former champ.
Marv Radio had over­come one of the strongest rosters we've ever had and the cur­rent num­ber 2 in the world. It has to make him one of the favour­ites going into the 2019 EOW Eng­land Final, being held on Thursday Octo­ber 17that The Lock Tav­ern, Cam­den. We have the cur­rent heat win­ners Emerge MC and Redi in train­ing right now, aim­ing to take their shot at the title and win the chance to rep­res­ent in Brus­sels on Novem­ber 2ndat the EOW World Finals, as well a crazy line-up of live acts and judges. Keep an eye on the EOW Eng­land Ins­tagram for updates, includ­ing the line-up for our 4thand final heat at cHip shop, Brix­ton on Sunday Octo­ber 13th.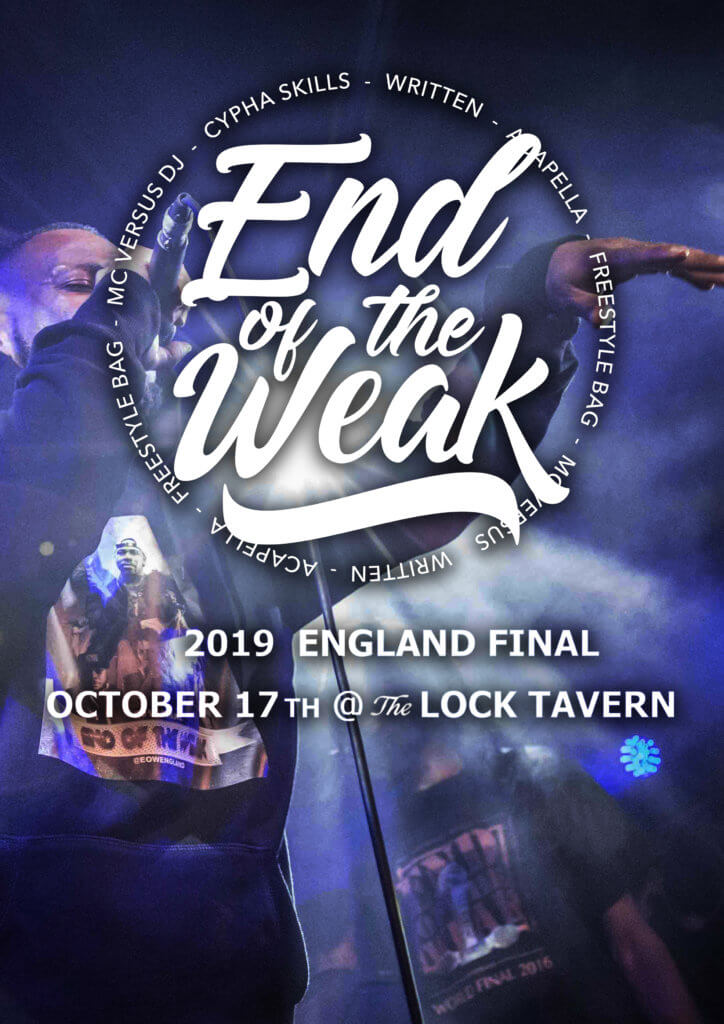 The fol­low­ing two tabs change con­tent below.

Apex Zero
An emcee, beat­maker, film­maker and writer from Lon­don with Gren­adian roots, Apex Zero has spent his life learn­ing and liv­ing Hip Hop cul­ture, using it to inspire and affect change. Based in Beijing for a few years and reg­u­larly tour­ing the globe, Apex is well trav­elled, and uses the les­sons this provides to inform his art and out­look. He is a mem­ber of the Glob­al­Fac­tion digit­al pro­duc­tion house and the inter­na­tion­al Hip Hop col­lect­ive End of the Weak.

Latest posts by Apex Zero (see all)