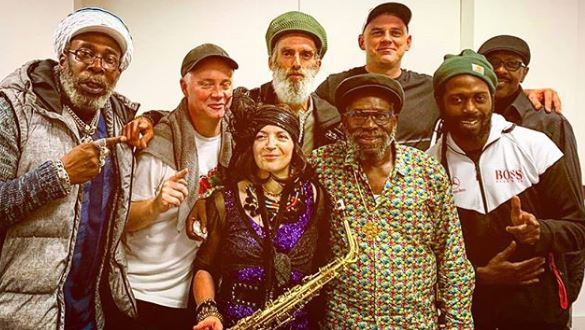 Every Jazz Café, Cam­den exper­i­ence dif­fers from night to night.
This even­ing began with the well-known Mandingo record pro­du­cer and journ­al­ist wel­com­ing every­one!
Hear­ing Mandingo got the crowd ready and set the scene, explain­ing who the first sup­port­ing artist was, where they were from and the energy they had shared in the industry thus far. The upper­cut band came out and star­ted jazz­ing and the crowd got mov­ing and a groov­ing!
West Lon­dons very own, Solo Ban­ton stepped out and wel­comed the crowd, and showed some love to the audi­ence. Solo Ban­ton born and raised in West Lon­dons, Shep­ards Bush star­ted MCing at the age of 11 on his brother's sound sys­tem, King Shamma Inter­na­tion­al.
There are a num­ber of first­name-some­thing last­name-Ban­tons in the industry and Solo, gave a small pre­amble into what Ban­ton means. "Ban­ton" is a Jamaic­an word refer­ring to someone with a super­i­or atti­tude and a gift with speech. Some of men­tion, Buju Ban­ton, Burro Ban­ton, and even Pato Ban­ton.
Solo Sang Talk to me, which if you listen here off the record is a hard tune! Live the jazz café sound sys­tem could not of done it justice unless we had a couple tower sound sys­tems, but it was fant­ast­ic none the less. This is on the Maf­fi label pro­duced by Jahtari.
Oth­er songs that night were Music addict, Walk like Rasta, No, Sleep­walk­ing, and the real reg­gae heads will know Den­nis Browns — I Don't Want To Be No Gen­er­al. The Upper­cut band played that live whilst Solo sang over that rid­dim. Vibes!
Also Solo has a song from this year with Macka B, that got sang live too, Edu­tain­ment.
The good vibes and banter were high. There is a sec­tion in Talk to me where there is a rolling of the tongue, the same word repeated like 5 times, Solo pulled someone from the audi­ence and put the mic to them to try it and they were pretty close at pulling it off.
There was anoth­er joke about a small spillage on the floor, someones Guin­ness and even­tu­ally a jazz café mem­ber came over and got that cleaned up pronto ahead of the main artist com­ing up on stage.
Solo Ban­ton is a char­ac­ter, a real Rag­gamuffin, I loved his banter­ous energy and its hard not to like him and his music!
When Mandingo came back on stage the vibes where good, the audi­ence were def­in­itely warmed up!
I know I was, and I had a good spot, to the right of the stage.
Johnny Osbourne, born 1948, mak­ing him 71 years old to date, took to the stage and boy, was he ener­get­ic!
The last dance I went to was King Yel­low­man, read my review here And he was 63 and jump­ing, push ups and run­ning left and right on the stage, and now Johnny Osbourne, just as spritely. Whats their secret? A plant based diet?
The per­fect song to start with, We Gonna Rock It Tonight, ori­gin­ally on Jammys label 1986. The "ver­sion" to this is great!
Then onto Truths and Rights — As the album is also called from 1979. Which was and still is a very well know huge roots reg­gae hit!
Jah Prom­ise (also from the Truths and Rights album), Sing Jah Stylee, We Need Love — I love this song! Buddy Bye which is over the Sleng teng rid­dim, as every­one knows and loves!
For the lov­ers out in the audi­ence he went onto Ice Cream Love (Album by Johnny Osbourne and Mun­go's Hi Fi) the A side and then onto the B side! Which is Roots Radics Band "ver­sion" where he sang over Ice Cream Love bits too, and the Upper­cut band jazzed out to.
Johnny Osbourne is undoubtedly one of the most pop­u­lar Jamaic­an reg­gae and dance­hall sing­er of all time.
Not played that night and if you dont know, Johnny Osbournes song Mr. Mar­shall ( which is a great song — so listen to it right now! ), it was that, that was sampled for Major Lazer­'s song, Jah No Par­tial, which was a hit in 2012, espe­cially in the raves.
It was a really spe­cial night to be so close to the stage and see as well as hear the Dance­hall God­fath­er, of 50 years stand­ing and I am sure of it, still plenty more years to come.
The fol­low­ing two tabs change con­tent below.

Jymit S Khondhu
Jymit, dur­ing the day a tech­ie in the soft­ware world, at night, a reg­gae and good vibes seeker. On the forever search for strictly roots and cul­ture in the form of music. Be it live jazz, reg­gae & Dub, around the world.

Latest posts by Jymit S Khondhu (see all)