We gulped the last bit of drink and from across the road took the view in.
A Large ice blue neon sign hung high above the entrance and read SCALA. Boun­cers huddled around below con­duct­ing the large and grow­ing queue.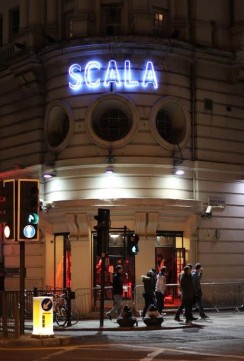 A couple of small sep­ar­ate rap cyphers were run­ning par­al­lel to each oth­er. Pro­moters swaggered around the rap­pers pla­cing fly­ers into the hands of those wait­ing and wit­ness­ing. A guy with his hoody up fol­lowed behind them try­ing to sell last minute tick­ets..
I dug into my pock­ets search­ing and found some tick­ets that read 'Spin Doc­tor 250th Anniversary with Jazzy Jeff'.
My friend put the cam­era back in it's pouch and gave me an approv­ing nod. We crossed the road towards the queue and into the warm noise it was eman­at­ing.
We climbed the stone stair­case and the volume of the music climbed with us. People were sat on the steps and were stood by the walls. They laughed, talked and peered down from their vant­age points attempt­ing to recog­nise their friends from the ascend­ing crowd. I held the met­al rail­ing it was trem­bling gently from the big bass­line of the song that was play­ing. It was a famil­i­ar vibra­tion but not entirely dis­tin­guish­able. A door high­er up some­where opened and a melody ori­gin­ally recor­ded by the Amer­ic­an funk band 'Funkadel­ic' flooded our hear­ing. A joy­ous roar ran down the stair­case in a sort of dom­ino effect.
Heads bounced to the snares of the Prince Paul pro­duc­tion. The chor­us was com­ing and togeth­er every­one sang 'It's just me myself and I'.
…I recog­nised that it was Mr Thing on stage. I had seen him per­form at oth­er 'Doc­tor's Orders' events, he was a DJ I held in high regard and nev­er felt uncer­tain recom­mend­ing. He was play­ing a Funk-heavy set and the seam­less trans­itions he blen­ded between the records felt as con­fid­ent as the tracks them­selves. Lean­ing over the bal­cony I could see the dance floor filling up. Hips were swinging, knees were shak­ing and fin­gers were point­ing at the man on the decks. We looked around- the bal­cony seemed more of a place where couples hung out. After listen­ing to a few more tracks we drank our Red Stripes, took some pho­tos and des­cen­ded to the smoking area…
Emer­ging red eyed and dry mouthed we decided to refuel on drink. At the bar we dis­cussed wheth­er or not DJ Babu would play. Weeks before we had noticed fly­ers that read his name under Dj Jazzy Jeff's but in the more recently prin­ted fly­ers his name seemed to be absent. It was a shame we thought that for whatever reas­on he would not con­trib­ute to what was quickly becom­ing a mem­or­able event. Someone more clued up than us over­heard us talk­ing and told us he had seen DJ Babu hours before the event in the sur­round­ing area. A good sign we thought.
The speak­ers silenced for a second and the anxi­ety and anti­cip­a­tion of the crowd could be felt… then the host shouted 'DJ Babu'!
Minutes that felt more like seconds filled with pre­cise scratches and vinyl cuts pierced through the speak­er and his set began.
He eased through a few records from his group Dilated Peoples, sep­ar­at­ing them with short raw and per­cus­sion-laden snip­pets of his indi­vidu­al releases.. Instru­ment­als and less­er-recog­nised but very com­plete efforts. We staggered through the crowd with our cam­era on and what was left of our senses as nav­ig­a­tion, absorbed by the atmo­sphere.
Time con­tin­ued to pass without the feel­ing it often leaves and the night appeared young. We had explored the floor, danced with and talked to strangers, found places to take pho­tos from and people to take pho­tos with.
Unaware of what was impend­ing we stared out at the smoke that crept from machines on the stage. It sifted through and over the uncon­cerned dan­cing audi­ence. Laser beam like lights began to streak across the dance floor paint­ing the eager faces in large stripes of emer­ald green and dreamy purple. The stage lights dimmed and the audi­ence chanted his name.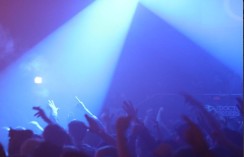 It was dark now and a single spot­light shone over the decks. Amidst the smoke a sil­hou­ette approached slowly mov­ing towards the light. The crowd noise heightened. The sil­hou­ette was closer and lar­ger until it was clear…Dj Jazzy Jeff was on the stage. A col­lect­ive gasp and then a roar. A blind­ing white light flashed across the entire floor illu­min­at­ing the star-struck faces, expos­ing the gap­ing mouths, the widened eyes and anten­nae-like arms that dangled upwards in the smoky air.
….He per­formed a few songs with the MC he had brought. The rap­per did well to increase the momentum con­sid­er­ing how ener­get­ic and demand­ing all the pre­vi­ous sets had been.
The music played and even­tu­ally the MC who's time had ended on the stage exited to grate­ful whistles and shouts from the joy­ous crowd.
DJ Jazzy Jeff con­tin­ued to play, a set diverse and unpre­dict­able but meth­od­ic­al. Gritty golden era New York Boom-bap joints like Mobb Deep­'s 'Shook ones' were seam­lessly fol­lowed by hyp­not­ising neo-soul records remin­is­cent of tracks from his own solo release 'The Mag­ni­fi­cent'.
Into the depths of the night the crowd relent­lessly danced and listened as the legendary Dj Jazzy Jeff guided them.
Review by A.A
Pho­to­graphy by Mozer Ilisia
The fol­low­ing two tabs change con­tent below.

Gata is a music and arts lov­er, stud­ied anthro­po­logy, art man­age­ment and media pro­duc­tion ded­ic­at­ing most of her time to cre­at­ive pro­jects pro­duced by No Bounds.

Latest posts by Gata Malandra (see all)