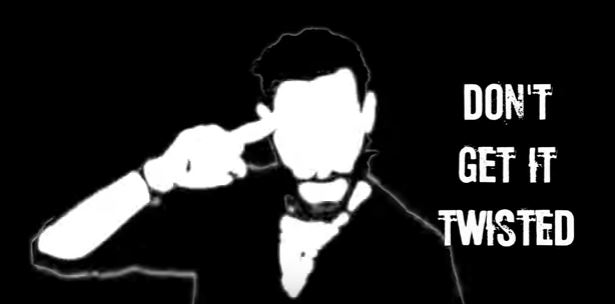 After lay­ing it low for some time on the live show and solo release-front, Car­pet­face makes a well-timed comeback with his polit­ic­ally and socially con­scious single 'Don't get it twis­ted'. Serving poignant lyr­i­cism on the cur­rent glob­al trends and their counter effects, served with a deep word-flow, the single offers a smooth and prom­ising glimpse of what is to expec­ted from his 2nd album, 'Cog­nit­ive diss', to be released later this year.
Car­pet­face is an inter­na­tion­al hip hop artist, pro­du­cer and song­writer from Lon­don, who first hit the UK scene already back in 2002, with his debut single 'Fri­day night sniper', receiv­ing a suc­cess­ful wel­come with 6 months of play­time on MTV. 14 years later and hun­dreds of inter­na­tion­al shows later, sup­port­ing the likes of De La Soul, Break­estra and DJ Scruff, he has kicked off the new year prom­ising to release a tonne of new mater­i­al, to show he is not only back but also still going as strong as ever.
Con­sid­er­ing his named influ­ences drawn from hip hop legends such as Chuck D, Beast­ie Boys, Run DMC and Tribe Called Quest, it comes as a no sur­prise to the listen­er that his songs carry in them­selves a strong mes­sage of 'keep­ing it real', in the name of hip hop. The heavy pres­ence of base, fast-paced yet impec­cably artic­u­lated pro­nun­ci­ation and the boom bap drums bring­ing it all togeth­er pays due respect to the early years of hip hop and is guar­an­teed to get the break­ers going on the dance floor. How­ever, Don't get it twis­ted takes a slightly dif­fer­ent turn from the per­haps assumed dir­ec­tion based on Carpetface's pri­or releases. While you can hear the artist's infatu­ation to jazz and blues along­side hip hop in most of his tracks, it is in Don't get it twis­ted that he allows it to come out in full force, even down­play­ing or even sac­ri­fi­cing many oth­er sound tricks to make the final product clear and stripped from any­thing that might dis­turb the mes­sage.
Don't mix the rules with your inform­a­tion
Don't mix worth­while up with a trend
Indeed, as much as it is a song, con­sid­er­ing its deep and enorm­ously con­scious lyr­ics, pro­duced over this crazy peri­od the world is facing, I can't help but won­der if it is in fact the artist's inten­tion for the track to be stud­ied and enjoyed as a polit­ic­al pamph­let, a call to action to those who might still be sleep­ing, as opposed to a straight up, albeit con­scious, hip hop tune.
Don't let your rights be some­thing they read you
Don't let your life be some­thing they rule
Don't mix tax with your con­tri­bu­tion
Don't mix an adult up with a man
Per­haps it is both, just as many legendary hip hop songs and albums have been, start­ing from Grand­mas­ter Flash and Furi­ous Five's 'Mes­sage' to the likes of Saul Williams's 'The Noise Came from here' and Lamar's 'The black­er the berry'. Car­pet­face offers a very up-to-date and plaus­ible lyr­ic­al cri­tique on the cor­rup­ted world sys­tem and pro­pa­ganda tied to themes of indi­vidu­al sov­er­eignty, but it is most not­ably his very per­son­al sound and flu­ency mixed with the haunt­ing har­mon­ies that bring the mes­sage to the sur­face.
On the down­side, flow as it may, for those hop­ing for anoth­er groovy boom-bap tune served for rest­less dance-lov­ing feet, a dis­ap­point­ment might be expec­ted in the hori­zon. As much as you find your head nod­ding along­side the track, and enjoy­ing the depth added with the piano riffs on the back­ground, it is more for the accur­acy and poignancy of the rhymes, than for the irres­ist­ible rhythms. More than mak­ing you jump up and down, the stripped down sound world in the ori­gin­al mix per­haps envis­ages its listen­er to take all the thoughts in — and chew later. Be as it may, the track provides wel­comed com­fort for any­one, might say most par­tic­u­larly the older gen­er­a­tion of fed up mil­len­ni­als, wish­ing to make some sense of this upside world and its all-round twis­ted rela­tion­ships, while mak­ing you smile with the trend­ing thoughts of won­der: 'You know we used to make love but today we just screw'.
The song will be avail­able on all digit­al plat­forms 30th Janu­ary, and comes served with two addi­tion­al mixes: A D&B mix by Philly the Kid of the Urb­an War­fare Crew, and anoth­er a more down­tempo hip hop tune remixed by a French pro­du­cer Djar One from Beats House records.
[youtube]https://www.youtube.com/watch?v=ZW9HWjb00lk&app=desktop[/youtube]
Pre order and down­load the release here : http://carpetface.com
https://www.facebook.com/carpetfaceofficial
The fol­low­ing two tabs change con­tent below.

Aino Lisma
Aino Lisma is a Finnish street dan­cer, dance teach­er and writer. She holds a BA in Inter­na­tion­al Rela­tions and Peace Stud­ies from Lan­caster Uni­ver­sity, and has been a mem­ber of a Ugandan grass­roots organ­iz­a­tion Break­dance Pro­ject Uganda since 2011. Fol­low­ing her gradu­ation, she has been trav­el­ing to vari­ous com­munit­ies to teach, learn and com­mu­nic­ate about hip hop cul­ture and its power to empower and edu­cate, includ­ing Cam­bod­ia, Indone­sia, Uganda, Rwanda and South Africa. She is cur­rently based in Hel­sinki.

Latest posts by Aino Lisma (see all)