Fea­tured Image — Flockey (Pho­to­graphy by Paul Ham­part­sou­mi­an)
Breakin' Con­ven­tion
Saddler's Wells, Lon­don, 2nd & 3rd of May 2015.
"Dance, when you're broken open. Dance, if you've torn the band­age off. Dance in the middle of the fight­ing. Dance in your blood. Dance when you're per­fectly free." – Rumi.
Over­ture
2015 has been a tumul­tu­ous year. The con­tin­ued expend­ab­il­ity of Black lives has led to revolts in com­munit­ies oppressed by police bru­tal­ity and a racist judi­cial sys­tem all over the USA. The vis­cer­al real­ity com­mu­nic­ated in pho­to­graphy from the streets of Bal­timore today is not dis­sim­il­ar to the strife imagery exhib­ited pri­or to the 1964 Civil Rights Act.
Furi­ous Styles
Forged from poverty's ubi­quity in the 1970s, Hip-Hop's grow­ing tendrils were already sup­port­ing the minds of young Black and His­pan­ic kids in the Bronx whose cre­ations would change the world for dec­ades to come. Re-rout­ing elec­tri­city from street poles to power park parties with DIY sound-sys­tems; dan­cing to break-beats and toast­ing emcees, and feel­ing good about your­self and your fly attire sur­roun­ded by tapestries of graf­fiti was itself revolu­tion­ary action. There is joy to be found through struggle, and out of this emerged the most influ­en­tial dance cul­tures of the cen­tury.
Breakin' Con­ven­tion, spear­headed by artist­ic dir­ect­or Jonzi D is in its 12th year of "cel­eb­rat­ing, elev­at­ing and sup­port­ing hip-hop dance theatre." Rooted in b‑boy and b‑girl cul­ture, Breakin' Con­ven­tion presents solo and group mas­tery of top-rock­ing, lock­ing, pop­ping, crump­ing, tut­ting and waack­ing com­bined with con­tem­por­ary and clas­sic styles. All furi­ous. And all rev­elled over two nights at Sadler's Wells full of breath-tak­ing stunts and sub­lime motion.
Fluor­es­cent Black
France's street-dance luminary Ant­oinette Gomis' piece Images´ began a sta­tion­ary sombre lam­ent­a­tion of a Black woman's deflated self- image at the hands of white European ideals. Exquis­ite waack­ing to Nina Simone's rendi­tion of Warey Cuney's poem ("she does not know her beauty, she thinks her brown body has no glory") transitioned into self-dis­cov­ery, empower­ment and love as Nina's Sea Line Woman tri­umphant up-tempo took over to allow Gomis to gazelle around the stage in splend­our. Black power remained at the fore­front via time travel to April 4 1968, where Jade and Shango (as Edna and Thomas Chap­man) hear news of Mar­tin Luth­er King's assas­sin­a­tion over the radio and pro­ceed to lindy hop and jazz dance their des­pair over the next three minutes. Dis­asters hap­pen. The beat doesn't stop. The Dance con­tin­ues.
Blue Boy Enter­tain­ment are con­sidered London's most import­ant street dance insti­tu­tion by many and on evid­ence of their sprawl­ing epic The Dojo, it is easy to see why. B‑boy and B‑girl cul­ture has always had an affin­ity with mar­tial arts and it is easy to pick visu­al sim­il­ar­it­ies to Kung Fu, capoeira and jail­house rock/52 blocks. The Dojo is expertly cho­reo­graphed by ten of Blue Boy's tutors and incor­por­ates the anim­al styles of Shaol­in Kung-fu and move­ment to rep­res­ent Wu Xing's five phases (wood, fire, earth, met­al and water). Fea­tur­ing over thirty per­formers, many in their teens and some as young as sev­en years old, the story of a mas­ter teach­ing a dojo of ram­bunc­tious youths who even­tu­ally mas­ter dis­cip­line and move­ment; lead them­selves into battle against a foe who is defeated and then assim­il­ated into their 'tao'. This is as beau­ti­ful as it is rep­res­ent­at­ive of a gen­er­a­tion passing-the-bat­on to ensure a pros­per­ous future. Michael 'Mikey J' Asante's music provides a soar­ing sound­scape for the piece that would rival any Shaw Broth­ers mas­ter­piece.
Free­dom to Express
Per­son­al journ­als were doc­u­mented through per­form­ance as Flockey of Ger­many explored alco­hol addic­tion and an obscur­ity from sense and mean­ing; lock­ing and jazz dan­cing through the light and shad­ows accom­pan­ied by a gen­er­a­tions span­ning soundtrack fea­tur­ing James Brown, Mar­vin Gaye and Kendrick Lamar. Australia's Gianna G immacu­lately util­ized pup­pet-like motions, dan­cing to invis­ible strings as she recol­lec­ted her inter­pret­a­tion of placebo, nocebo and mind over mat­ter in rela­tion to our own bod­ies. Adorn­ing Hip-Hop's fash­ion­phil­ia, Saran Kohli and com­pany cel­eb­rated his slick return to the dance world with a well heel and suited routine. Kohli is also a fash­ion design­er and cre­ated the company's dap­per ward­robe. Else­where, Pro­tocol Dance Com­pany com­bined explos­ive bursts of energy and lucid motions to exam­ine patriarchy's role in the com­plex­it­ies of mas­culin­ity: an inter­est­ing per­spect­ive ask­ing ques­tions throw­ing back to the b‑boy battles of the 70s where gang beefs were settled (and some­times star­ted) through dance.
Exper­i­ment­al pieces by Iron Skulls Com­pany (Spain) and Lloyd's Com­pany (Neth­er­lands) pushed the bound­ar­ies of Hip-Hop dance to the ledge. The former util­ized hip-hop, acro­bat­ics and con­tem­por­ary dance as gas-mask wear­ing anim­al­ist­ic humanoids. In a post-apo­ca­lyptic dark­ness, per­formers fer­vently danced out of the crowd onto the stage with the only light in the per­form­ance eman­at­ing from the troupe's flash­lights. They dis­ap­peared back into the same dark­ness of the crowd for the finale. Lloyd's Company's Xisco and Rabani emerged as one per­son in gold light, to seem­ingly sep­ar­ate and battle each oth­er – is this one against one­self or the dis­placed human con­di­tion that sep­ar­ates indi­vidu­als from one anoth­er? Most of the piece was per­formed without music with appar­i­tion like fluid­ity yet bordered on lit­tan­ous. The reward for endur­ing was received how­ever, when the duo fused back into one under the prim­or­di­al gold light.
The Breaks
For all the high con­cep­tu­al­isa­tions, self-indul­gency was gen­er­ally kept to a min­im­um and none were as joy­ously self-assured and without pre­tence as G.O.P Dan­cers. Patience James and Fumi Opeyemi's blend of azonto, n'dombolo and oth­er Afro styles fused togeth­er for a rauc­ous recep­tion where energy levels spiked to rap­tur­ous amidst the pound­ing drums and shak­ing hips for their piece What's in the Bag?. Hip-Hop first gen­er­a­tion made a spe­cial appear­ance cour­tesy of the Legendary Twins who intro­duced London's own Twin Peaks' mirrored per­form­ance which led into the most renowned names on the card Les Twins. Larry and Laurent Bour­geois free­styled mix of slow-motion robot­ics and up-tempo moves aug­men­ted why they are a staple of Beyonce's world tours. Their syn­chron­icity seemed tele­path­ic, the way the twins would fin­ish one another's moves with spec­tac­u­lar flam­boy­ance and show­man­ship.
For those who pre­ferred a B‑boy and B‑girl throw-down with few­er frills; Mam­son of Seri­al Step­perz cho­reo­graphed Soul Foot­work Col­lect­ive raised the flag for UK routines and cur­rent UK B‑Boy cham­pi­ons The Rugged (Neth­er­lands) con­tin­ued to innov­at­ive in tra­di­tion with breath-tak­ing acro­bat­ic stunts, one-ups in a phys­ic­al adren­aline fuelled par­agon of break­ing.
Mani­festo
Since becom­ing a glob­al­ised entity, Hip-Hop has become a lense through which the prac­ti­tion­er sees the world; and their art becomes a pro­jec­tion of this real­ity. From social calls to action to show­boat­ing dis­plays of ill skills: Breakin' Con­ven­tion show­cased more elec­tri­fy­ing diversity than cas­u­al observ­ers of either dance or the Hip-Hop-sphere would hope to expect.
'Our mani­festo is peace, love, unity and hav­ing fun' pro­claimed Jonzi D. Sadler's Wells multi-tiered build­ing was burst­ing with par­ti­cip­at­ive activ­ity for all ages: graf­fiti work­shops, dance classes (led by per­formers such as Ant­oinette Gomis, Gat­or and Les Twins) and DJ and dan­cing ciphers peppered the sched­ule cli­max­ing in a free park party to close the Bank hol­i­day week­end. Future Ele­ments is a pro­ject for 13–16 year olds to make an entry point into the dance world and this year an excit­ing music video entitled Unso­cial Media was premiered on stage. Like the rig­or­ous syn­chron­ised train­ing dis­played in The Dojo, Breakin' Con­ven­tion is estab­lish­ing its leg­acy. 2016 couldn't come soon enough.
Review by Wasif Sayyed
The fol­low­ing two tabs change con­tent below.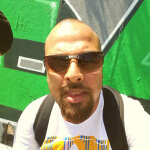 Wasif Sayyed's many years as a writer, rap­per, pro­moter, ment­or and hip-hop pro­du­cer have shaped him into an enthu­si­ast­ic and insight­ful cul­tur­al cryp­to­graph­er. He loves read­ing and cook­ing, and can hear the whis­per of an unsheathed liquid sword from 50 paces. Twit­ter @WasifScion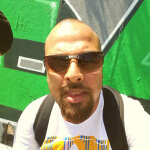 Latest posts by Wasif Sayyed (see all)