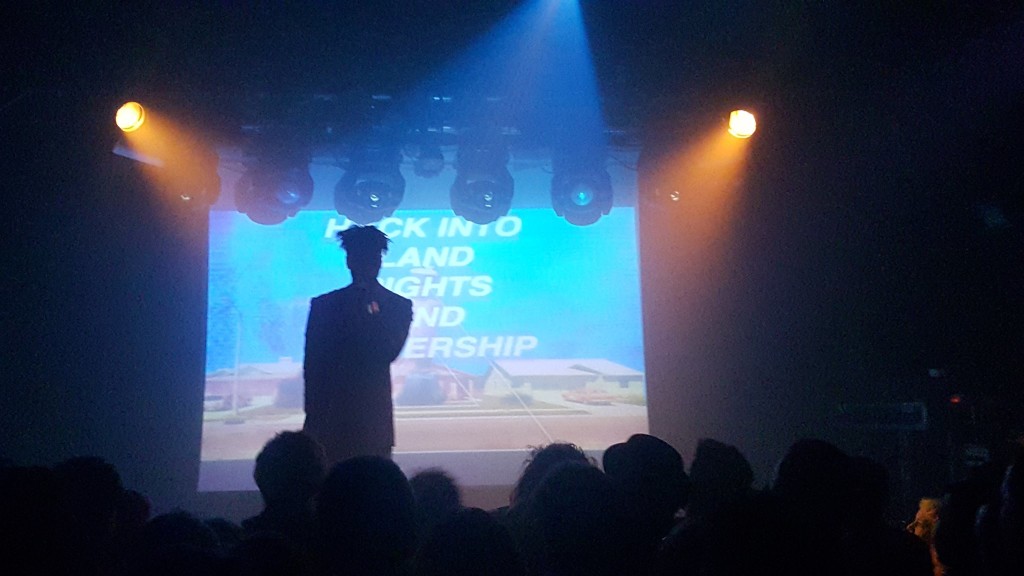 Saul Williams live @ Garage 6th March. Gig Review
Call Saul Bet­ter
To label Saul Wil­li­ams a mere 'spoken word poet' is a dis­ser­vice to his exper­i­ence base as an excep­tion­al act­or, sing­er, mas­ter of cere­mon­ies, pro­du­cer, writer and act­iv­ist. Big Dada records' 1998 'Black Whole Styles' ensemble album with UK and USA Hip-Hop artists fea­tured Saul Wil­li­ams speak­ing on one of his first released record­ings:
"As if the heart beat was­n't enough
They got us using drum machines now
The hums of the machines
Try­in' to make our drums hum­drums
Try­in' to mute our magic
Instru­ments be polit­ic­al pris­on­ers up inside com­puters
As if the heart were not enough
As if the heart were not enough"
Saul Wil­li­ams, Twice the First Time.
Almost twenty years after first being pissed off by com­puter trap­pings: it's fit­ting that Saul Wil­li­ams is address­ing the motifs of protest in the age of inter­net inform­a­tion via his latest album's prot­agan­ist: Mar­tyr­LoserKing. This is the eponym­ous screen name of a Bur­undi based miner turned hack­er, on an album that was ini­tially con­cep­tu­al­ised as a music­al. The second half of the album, a graph­ic nov­el and a film will land later in 2016.
Saul Wil­li­ams is a weary mas­ter of tech­no­logy. A son­ic innov­at­or that util­izes haunt­ing acous­tics to fren­et­ic elec­tron­ica, pound­ing drums, dis­tor­ted instru­ments and indi­gen­ous grooves that punc­tu­ate his ubi­quit­ous and rad­ic­al mes­sage to 'dis­rupt.'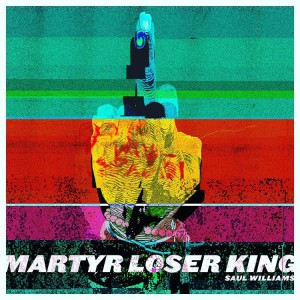 Mar­tyr­LoserKing – A Hack­er from Bur­undi
In The Mat­rix, Neo is a Christ like hero hack­er instruc­ted to unpack real­ity by Morph­eus. Ghost in a Shell exhib­its a hack­ing vil­lain: Pup­pet Mas­ter D, who can change people's per­son­al­it­ies. Mar­tyr­LoserKing wants US ALL to hack.
"Hack into diet­ary susten­ance
Tra­di­tion versus health
Hack into com­fort com­pli­ance
Hack into the rebel­li­ous gene
Hack into doc­trine
Cap­it­al­ism, the rela­tion of free labor and slavery
Hack into the his­tory of the bank
Is beat­ing the odds the mere act of join­ing the win­ning team?
Hack into des­per­a­tion and loneli­ness
The his­tory of com­munity and the mar­ket­place
Hack into land rights and own­er­ship
Hack into busi­ness, law of pro­pri­et­or­ship
Hack into ambi­tion and greed
Hack into forms of gov­ern­ment
The his­tory of revolu­tions
The rela­tion of suf­fer­ing and suf­fer­ance
Hack into faith and mor­al­ity
The treat­ment of one faith towards anoth­er
Hack into mas­culin­ity, fem­in­in­ity, sexu­al­ity
What is taught, what is felt, what is learned, what is shared
Hack into God
Stor­ies of cre­ation, ser­pents and eggs"
Saul Wil­li­ams, The Bear / Coltan as Cot­ton.
Read Octavia But­ler.
Resound­ing indi­gen­ous voices from Rawanda or Bur­undi (I think?) singing with per­cus­sion and hand clapped accom­pani­ments announced the forth­com­ing arrival of Saul Wil­li­ams to the stage. Through­out the show, a screen behind the stage exhib­ited slides of slo­gans and motifs adorned with indi­gen­ous vs. future-tech imagery with sen­tences from the afore­men­tioned song'The Bear/Coltan as Cot­ton;' names of indi­vidu­als shouted out by Saul Wil­li­ams on Amethyst Rock Star's (Def Jam Poetry's) famed poem 'Coded Lan­guage;' and imper­at­ive lit­er­ary recom­mend­a­tions such as 'Read Octavia But­ler,' which gave the night the air of a Pub­lic Ser­vice Announce­ment from the bunkers. Many of these motifs and signs can be found on http://martyrloserking.com/.
The Noise Came from Here
The pitched up vocal sample and omin­ous tolling sound­scape of "Ground­work" revealed Saul to the audi­ence for the first time — lit­er­ally cloaked in an over­coat with a bird beak-resem­bling hood. His mor­ose singing took own­er­ship of the Gar­age ven­ue over the gor­geous, fuzzy bass of the album's open­ing song, trans­ition­ing into stun­ningly off-kiltered and syn­co­pated drums as Saul Wil­li­ams danced and head-bopped around the stage, mark­ing it as his home for the best part of 40 minutes.
Pro­du­cer, rap­per, engin­eer and an over­all Ableton teach­ing elec­tron­ica extra­dan­noire Thavi­us Beck was in charge of sequen­cing and sound. He proved through­out the night how essen­tial a sound per­son who under­stands the dynam­ics of the record as well as the nuances of the artist's voice is to man­age a sound­sys­tem exper­i­ence that holds back when required, pounds when needed and serves justice to a crisp voice with appro­pri­ate amounts of delay, reverb and dis­tor­tion where neces­sary.
"Horn of the Clock Bike": Saul's most haunt­ing piano offer­ing since "Talk to Strangers" was delivered with an open top theatre soli­lo­quiy performer's author­ity and not for the first time in the night, Saul Wil­li­ams went into acapella mode, gradu­ally mov­ing the mic away from his mouth to fade amp­li­fic­a­tion in order to soap­box to the audi­ence — 100% organ­ic. You could hear every word all night. "No Different"s pained disco-sque groove allowed anoth­er oppor­tun­ity to dance.
Saul even­tu­ally exten­ded a taut mic chord a third of the way into the audience's space to per­form among his packed wit­nesses. A return to the show's intro­duct­ory chant­ing, which serves as a sound bed for one of this generation's most poignant protest songs 'The Noise Came from Here,' instruc­ted the audi­ence to clap along to the rhythm of the sample before more acapella poetry. Lam­ent­a­tions about USA's polit­ic­al cli­mate and a world in dis­ar­ray were made. Long de-cloaked, Saul's off the shoulder vest-top exhib­ited as a con­tin­ued and needed sym­bol of address­ing (hack­ing) Hip-Hop con­cep­tions of mas­culin­it­ies on an artist who is com­fort­able enough to 'shout out the trans com­munity' on DJ Sway's Wake Up show.
The protagonist's anthem 'Bur­undi' saw Saul take back to the stage to defi­antly pro­claim on a hook that chilled spines as much as it pumped fists:
'I'm a candle! I'm a candle!
Chop my neck a mil­lion times I still burn bright and stand, yo!"
Oth­er high­lights from the new album were provided by the sham­an­ic techno trance of 'Ashes', Saul's stac­cato deliv­ery on the break­beat­ish "Think Like They Book Say." The melod­ic song sec­tion of "The Bear…" with its uni­ver­sally applic­able and decipher­able lyr­ics that would eas­ily find a home on a pop/nu-met­al (remem­ber that)/emo/ folk/ mod­ern r&B song was extremely enjoy­able:
"How can I describe it? It's a feel­ing
That no one would talk about, but every­body knows
How to get inside it and reveal it…"
Saul Wil­li­ams could be a Kathy Den­nis (Britney's "Tox­ic", Kylie's "Can't Get You out of my Head", Katy Perry's "I Kissed a Girl") level pop song writ­ing mil­lion­aire if he wanted to — until lines like "pain is the gov­ern­ment that gov­erns the unknown" and thun­der­ous 808s appear for more hack­ing talk. Sadly, the indus­tri­al stomp of "All Col­trane Solos at Once" (with its implor­a­tion of "Fuck you under­stand me") and "Homes/Drones…" were missed.
"Coded Lan­guage" was per­formed acapella and cres­cendoed to its roll call of inter­sect­ing char­ac­ters made up of Afric­an & (Black) Asi­at­ic deit­ies (Isis, Kali, Krishna, Oshun, Yemaja), Black and oth­er radicals/revolutionaries (Shak­ur, Guevera, Shabazz, Tub­man) , musi­cians & artists (Hendrix, Kuti, Rip­per­ton, Shak­ur again, Hath­away, Mar­ley, Khalo), poets, thinkers and philo­soph­ers (Dubois, Gibran, Lourde, Rumi…) and oth­ers. One wondered wheth­er an approach­ing two dec­ades old piece would now ques­tion the sus­pect shout outs to the racist Gandhi or reli­giously oppress­ive Teresa. I don't even remem­ber if Cosby's shout out was omit­ted on the night. Maybe these lat­ter names are the ones that need extra hack­ing.
This Sunday even­ing served mainly as a showpiece for the new­est record, but Saul made a brief vis­it to the pre­vi­ous dec­ade with ener­get­ic rendi­tions of "Grippo" and "List of Demands (Repar­a­tions)." The themes of these songs are still per­tin­ent today as the former's lines of "I gave Hip-hop to white boys when nobody was look­ing" relates to the #sowhite of so many art forms today where ori­gin­al cre­at­ors are still left robbed, lurched and dis­en­fran­chised. "Found it locked in a base­ment when they gentri­fied Brook­lyn" sounds like Grime music and Lon­don. And Repar­a­tions are still light years away from being paid.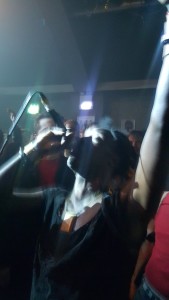 I'm Mad (He's mad!) but I Ain't Stress­ing
There was an inter­est­ing nar­rat­ive dur­ing Saul's per­form­ance of "Niggy Tardust"'s hook. On the song record­ing, the faux call and response com­mands "When I say Niggy, you say noth­ing – 'Niggy…'" The response is left blank as a com­ment­ary on white audi­ences and respons­ib­il­ity when it comes to Hip-Hop music and the 'N word.' An uncred­ited voice does respond with a "noth­ing" every four bars, to which a dead­pan Saul Wil­li­ams responds with "shut up." Well… watch­ing this play out live, nearly the entire audi­ence shouted back "noth­ing!" to each prompt of the hook cre­at­ing an increas­ingly exas­per­ated Saul Wil­li­ams.
Maybe it's just a simple rap call and response and Saul Wil­li­ams is a trained act­or who deliv­ers his reac­tion very well. Maybe Saul Wil­li­ams was mad that the (mainly white) audi­ence didn't GET it and maybe they nev­er do and his cry of "SHUT THE FUCK UP!" at the end of the final hook was genu­ine. Maybe a year after Kanye West had mil­lions of white people singing along to "All Day Nigga," an audi­ence really needs to under­stand the mes­sage of the "Niggy Tar­dust" hook. Maybe my ana­lys­is of this is incor­rect. Maybe Saul Wil­li­ams is mad that Kanye gets lauded as a music­al geni­us by many when really Yeezus and sub­sequent works have been poor imit­a­tions of the sort of mater­i­al Saul was con­jur­ing up more than a dec­ade ago (Kanye did employ Saul for writ­ing duties on 808s and get live light­ing and rig­ging and sound advice from Saul & crew – go watch the recent Break­fast Club inter­view with Saul Wil­li­ams). Maybe Saul Wil­li­ams is mad that the unapo­lo­get­ic­ally Black Tupac Shak­ur inspired Broad­way pro­duc­tion he starred in got shut down. Maybe he is mad that we don't ingest what is good for us hol­ist­ic­ally as a soci­ety and this is why Don­ald Trump has ris­en to power. Maybe that's vic­tim blamey. Maybe there's a point to this rhet­or­ic because Beyonce's Form­a­tion and Super­bowl per­form­ance, and Kendrick's Grammy awards per­form­ance happened because the audi­ences DEMAN­DED their move­ment to be rep­res­en­ted by those at the top. Maybe…
Dance Apo­ca­lyptic
Saul gave no reas­on to cel­eb­rate and pos­tu­lated few solu­tions but we danced the apo­ca­lypse regard­less. Ety­mo­lo­gic­ally, the word 'apo­ca­lypse' is rooted in Lat­in 'apokalypsis,' which means the lit­er­al lift­ing off of a lid and sym­bol­ic rev­el­a­tion of truth. Saul Wil­li­ams is an aud­it­or for Pan­dora's Box on Earth right now and his right­eous polem­ics are a call to intent. Per­haps, the sequel to this 'dis­rupt' will action the changes to bet­ter­ment via Mar­tyr­LoserKing. In the mean­time, I'm still enjoy­ing the buzz from one of Saul Wil­li­ams' finest shows and anoth­er stel­lar addi­tion to his already vast dis­co­graphy. Saul Wil­li­ams' per­form­ance was unin­hib­itedly intense but not over­power­ing. His smiles in between songs showed us the human behind the words and beats. This is after all, a per­son who is happy to accept a role as an exag­ger­ated ver­sion of him­self on US sit­com "Girl­friends" that the pro­du­cers were sure he would turn down. There are no maybes that Saul William's anger comes from love. Go listen to the new album and work your way back­wards through his dis­co­graphy to get a pic­ture of a man who is too multi-layered to be effect­ively por­trayed in one gig review.
Eagerly await­ing the next.
Review by Wasif Sayyed [@WasifScion]
The fol­low­ing two tabs change con­tent below.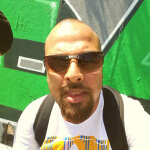 Wasif Sayyed's many years as a writer, rap­per, pro­moter, ment­or and hip-hop pro­du­cer have shaped him into an enthu­si­ast­ic and insight­ful cul­tur­al cryp­to­graph­er. He loves read­ing and cook­ing, and can hear the whis­per of an unsheathed liquid sword from 50 paces. Twit­ter @WasifScion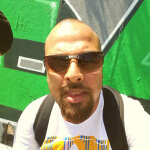 Latest posts by Wasif Sayyed (see all)