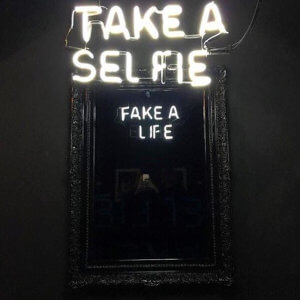 Rough Copy
Liv­ing on a con­crete slab of fake ideals
A mesh of cor­rup­ted ideo­lo­gies run by plastic man­nequins.
'Excess­ive' waists restrained by cos­met­ic straight jack­ets.
Hair­less private parts slid into candy flossed magazines.
Hair­lines untrace­able, the strenu­ous duty of inter­woven thoughts run by a dead ringer.
"Keep your legs closed!" They say "Why are you so fri­gid?!" They say…
Pre­ju­diced based on the per­ceived monthly 'curse'
Mis­guided…
"Miss?…Here…Take This Once a Day…Please Con­trol Your Birth!"
Baby moth­er? Fash­ionista? Hoe? Tom­boy? Super­wo­man?
Why so many boxes to fall into?
Long and thin? Fat and short? Mas­cu­line status decided by notches on a meas­ur­ing stick.
Who owns that stick? Who owns that fic­tion­al fantasy?
Fath­er fig­ures, fig­ures of speech as the ideal man is with­in reach, but often the stu­dent has no one to teach him.
Shoot­ing in the gym.
"Ay! Are you listen­ing? Cool. Here…take this…shoot…HIM!"
Sponge twists and beards. Con­scious­ness or copycat mir­ror images?
Bread­win­ners? Emas­cu­la­tion? Effem­in­ate? Road­man? Crisis of mas­culin­ity?
Why so many boxes to fall into?
Young men and women imprint­ing on a car­bon copy.
Lost notes in bottles all giv­ing the same mes­sage.
Social media…the stomp­ing ground for adop­ted per­so­nas.
The face behind the mask is afraid of being socially inferi­or.
Socially awk­ward, socially stun­ted, socially incom­plete, socially replace­able…
Try­ing to find iden­tity, seek­ing indem­nity for emo­tions and energy lost in the costly battle of self dis­cov­ery.
Con­stantly being told…
"You're so late!"
"That was so last year…"
"I use those shoes to walk my dog!"
Play­ing a game of kiss chase with a foggy ideo­logy.
All run­ning towards the goal. Wear­ing dif­fer­ent col­ours of the same brand.
Are we really all that dif­fer­ent? Are we really that com­plex?
Surely not, with all the pic stitches and "out with my bitches!"
The "With the team" and "I look too clean" head­lines
Subtle cues of pro­gress of a flu­id ideal.
What has been gained? What will have to be lost?
What has been improved? What will have to deteri­or­ate?
You have the latest yes…
But you're inter­per­son­al skills aren't the greatest…stress…
We don't con­nect with each oth­er, because we are too busy being vex with each oth­er.
Jeal­ousy a hid­den melody in our sing-song re-affirm­a­tions of self.
"I'm doing bet­ter than you"
These are com­pet­i­tions with no award.
Are we who we say we are? Maybe we don't know ourselves at all…the depths more com­plex…
Afraid to engage in deep dig­ging.
So we evade, occupy mind space with magazine cut outs and idle think­ing…
I think it's safe to say we are a first draft, walk­ing dif­fer­ent paths with sim­il­ar pit stops….
We are yet to sub­mit the final form.
The fol­low­ing two tabs change con­tent below.

Efé
Efé is a Poet/Writer and Spoken Word Artist. Her work is influ­enced by a col­li­sion of her Afric­an ances­try and upbring­ing coupled with her Brit­ish-born life exper­i­ences often told in a humor­ous and relat­able way.