Two sis­ters, abduc­ted by reli­gious extrem­ists, fight for their lives, free­dom, and their san­ity
DIR­EC­TED BY DES­MOND OVBIAGELE
For Tick­ets Click Here
The Milk­maid – Nigeria's first-ever qual­i­fy­ing sub­mis­sion for Best Inter­na­tion­al Fea­ture Film at the Academy Awards – will have its European première at2pm Sat­urday 10 July 2021 at BFI South­bank as part of the BFI Afric­an Odys­seys pro­gramme, fol­lowed by a one-off Q&A with Dir­ect­or Des­mond Ovbiagele and Exec­ut­ive Pro­du­cer Oluseun Sowe­mimo.
An unflinch­ing explor­a­tion of the human cost of the reli­gious extrem­ism sweep­ing across the Afric­an con­tin­ent like a vir­us, The Milk­maid tells the story of two sis­ters, Aisha and Zain­ab, who are abduc­ted from their vil­lage on Zainab's wed­ding day in a deadly attack. This trau­mat­ic encounter forever alters their path, des­troy­ing their rela­tion­ships and for­cing them to fight for their lives, their free­dom, and their san­ity.
A story about Niger­ia, made by Nigeri­ans, Ovbiagele's film – told through Hausa, Ful­fulde and Arab­ic – com­bines stun­ning cine­ma­to­graphy with a power­ful script to shine a spot­light on the ordin­ary people vic­tim­ised by extrem­ist ter­ror­ists, trans­form­ing them from anoth­er hor­ri­fy­ing stat­ist­ic into real, flesh-and-blood char­ac­ters with lives, loves, desires, and hopes.
The crew them­selves over­came unima­gin­able chal­lenges while film­ing in order to com­plete the film.The team were appre­hen­ded at a check­point when their cargo – includ­ing props for the film – was deemed sus­pi­cious by loc­al police. The situ­ation escal­ated when a mem­ber of the loc­al com­munity – believ­ing the crew to be insur­gents them­selves – advoc­ated for viol­ence. A num­ber of the team were severely beaten and detained for sev­er­al days before they could con­vince officers of their inno­cence and be allowed to con­tin­ue on their way, as seen in the doc­u­ment­ary: The Mak­ing of The Milk­maid.
In The Milk­maid, Ovbiagele skil­fully jux­ta­poses the vis­cer­al hor­ror and har­row­ing ordeal faced by vic­tims of con­flict with the serene nat­ur­al beauty of West Africa – espe­cially the jungle, forest, and moun­tains of Tara­ba State in north-east­ern Niger­ia. Ovbiagele approaches dif­fi­cult top­ics sens­it­ively, care­fully con­sid­er­ing how trauma and indoc­trin­a­tion cre­ates per­pet­rat­ors of viol­ence as often as it cre­ates vic­tims. Indeed, the film­makers have taken the delib­er­ate decision not to name the Islam­ic extrem­ists as Boko Haram, com­ment­ing that the scourge of extrem­ism has now tran­scen­ded their most infam­ous group.
Dir­ect­or Des­mond Ovbiagele said: "The reli­gious extrem­ist insur­gency that has raged in north­ern Niger­ia for almost a dec­ade has reduced human lives in the con­scious­ness of the gen­er­al pub­lic to mere stat­ist­ics, typ­ic­ally name­less and voice­less. Inspired by the two Fulani milk­maids depic­ted on the Nigeri­an ten naira note, I felt a strong oblig­a­tion as a film­maker to har­ness the con­sid­er­able tools avail­able with­in the medi­um of cinema to help give a voice to those, liv­ing or dead, who are not in a pos­i­tion to speak for them­selves."
Star­ring Anthoni­eta Kal­unta and Maryam Booth and Gambo Usman Kona, The Milk­maid has already garnered crit­ic­al acclaim, win­ning five Africa Movie Academy Awards for Best Film, Best Film in an Afric­an Lan­guage, Best Nigeri­an Film, Best Sup­port­ing Act­ress and Achieve­ment in Make-Up, with UK and USA release dates to be con­firmed.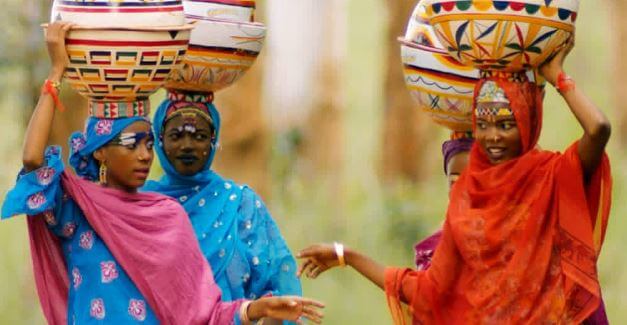 Now in its 15th year, BFI Afric­an Odys­seys pro­gramme monthly events at BFI South­bank, as well as lar­ger sea­sons and cel­eb­ra­tions of work by and about the Afric­an dia­spora. The series is pro­grammed by the Afric­an Odys­seys Steer­ing Group in col­lab­or­a­tion with a cross sec­tion of act­iv­ists, cul­tur­al fig­ures and com­munity lead­ers; the group also runs ded­ic­ated train­ing and edu­ca­tion and pro­grammes to sup­port diverse film­makers and devel­op bet­ter under­stand­ing of Africa and Afric­an dia­spora film cul­ture.
Recent high­lights of BFI Afric­an Odys­seys include spe­cial screen­ings of Rafiki (Wanuri Kahiu, 2018), Toni Mor­ris­on: The Pieces I Am (Timothy Green­field-Sanders, 2019), If Beale Street Could Talk (Barry Jen­kins, 2018), Pres­sure (Hor­ace Ové, 1974) and Sar­raounia, an Afric­an Queen (Med Hondo, 1986) and sea­sons explor­ing work by and about the Afric­an dia­spora that were sub­ject to cen­sor­ship (Black and Banned, Octo­ber 2018) and a series of doc­u­ment­ar­ies which high­light the injustices exper­i­enced by Black Brit­ish com­munit­ies at the hands of the police (Afric­an Odys­seys Presents: Injustice, Septem­ber 2020).
BFI South­bank is cur­rently oper­at­ing with robust health and safety meas­ures in place, includ­ing social dis­tan­cing and the wear­ing of face cov­er­ings as stand­ard. The cinema will con­tin­ue to oper­ate with these meas­ures until gov­ern­ment guid­ance advises oth­er­wise. A full list of the health and safety meas­ures can be found on the BFI web­site.
The fol­low­ing two tabs change con­tent below.

Mark Mukasa
Mark is a South Lon­don based writer and avid fan of all things hip hop. He's also an MMA and his­tory enthu­si­ast who tries to keep his love of animé under wraps.

Latest posts by Mark Mukasa (see all)