"You either sur­vive and thrive or lay it down…I lay down for noth­ing."
Brooklyn's lyr­ic­al threat, Thunny Brown aka "The Thundah God" and "Thundah Foot", releases his latest single and video titled "Evagladez U.S.A." The single is avail­able on all digit­al plat­forms for stream­ing and pur­chase.
The record depicts the laws of the streets of his homet­owns, The Flor­ida Evagladez and Brooklyn's infam­ous Buck­town. Thundah God comes fully loaded with rig­or­ous bars to describe a life­style of warpath he's endured and now reigns as 'sur­viv­or' of the fit­test.
Thunny's ruth­less flow embod­ies the pred­at­ory knock­ing of hard beats and DJ scratches. While the echo­ing sounds height­en the hair-rais­ing emo­tion felt by his raw deliv­er­ance.
In a time where trends of flashy jew­els, Gucci slip­pers, video vix­ens, and raps cre­ated over non­sense has taken over the industry; it's refresh­ing to shine on MC's who thrive to keep the lost ele­ments of Hip-Hop and the cul­ture at the fore­front. "Evagladez U.S.A." is a rel­at­ive record for Hip-Hop enthu­si­asts world­wide to embrace.
Stream "Evagladez U.S.A." here and pur­chase on iTunes and Google Play. Watch the offi­cial video below.
About Thunny Brown
Thunny was born in Bush­wick and raised in Browns­ville, Flat­bush, and The Flor­ida Evagladez. He grew up with the sounds and alarms of the war­fare ringing in his ears from the streets. Determ­ined to make it through he linked up with Boot Camp Clik friends and his War­hedz team from Flor­ida to estab­lish him­self as an artist. "It all came nat­ur­ally and I became recog­nized as one of the best MC's in Orlando and one of the sick­est out of Browns­ville and Buck­town." Thunny has shared stages with major artists includ­ing Big­gie Smalls, Meth­od Man, Craig Mack, Mobb Deep, KRS‑1, and G‑Unit. He's also toured with Red­man, Meth­od Man, Ghost­face, Cap­padonna, and the Out­sidaz on the "Black Out" tour. "I'm unstop­pable, there's noth­ing I can't do and a man like myself, that can do everything, is an asset and a threat. "Which one would you rather deal with? Thunny the asset or Thunny the threat..You decide, one way or the oth­er I'm here and reign­ing."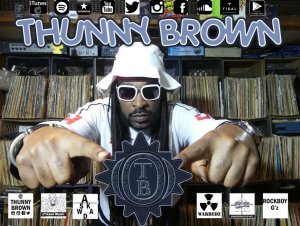 Fol­low Thunny Brown
Ins­tagram / @thunnybrown @rockboygz_pbgz
Face­book / Thunnybrown, Thunnybrown­muzik, Rock­boy­g­zthunnybrown
Twit­ter / @thunnybrown
The fol­low­ing two tabs change con­tent below.

MJ Savino
MJ is Hip Hop Blog­ger, Pub­li­cist, Book­ing Agent, Act­iv­ist, but fan first and fore­most. "Hip Hop saved my life, it is only right I give back to the cul­ture"!

Latest posts by MJ Savino (see all)