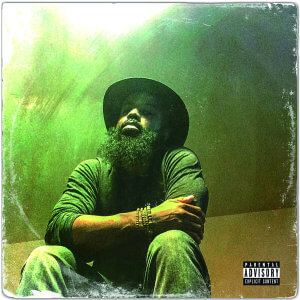 Few weeks ago, I am Hip Hop Magazine presen­ted you a new artist, J Sci­en­ide, with his first solo album "The Actu­al Heat". The guidelines of this new gen­er­a­tion rap­per are clear : mak­ing time­less music. It's quite para­dox­ic­al nowadays while new Hip Hop songs are only though to be quickly con­sumed. But it's the essence of Hip Hop, being listened through ages. Hope­fully for us, this emcee knows his thing. This dis­ciple of MF Doom mas­ters his own art with pre­ci­sion.
A thing is sure, J Sci­en­ide is a fresh air in the Hip Hop scene and you don't want to miss this out.
Can you speak a lil bit about you and your music ?
I'm a emcee/ pro­du­cer based out of Wash­ing­ton DC. I would con­sider myself little bit of a "throw­back" artist. My style isn't the norm espe­cially with the music that's com­ing out today. Maybe if it was a few dec­ades ago this album would be con­sidered a clas­sic lol.
What are your inspir­a­tions ?
My inspir­a­tions vary from all types of music Ultra­mag­net­ic MC's, Nas, MF Doom, Joy Divi­sion, Madlib, The Police, I could keep going with the inspir­a­tions.
In last April, you released a first album, The Actu­al Heat. Can you talk about its cre­ation ?
I cre­ated my album with a old bus­ted dino­saur sampler and stacks and stacks of records in my old base­ment apart­ment. Just stay­ing in the house up all night with all these ideas and lyr­ics spawned my album. I would go into the stu­dio with Kev (Kev Brown) and lay everything down. Some of the beats i'd make on the spot while we were tak­ing breaks from record­ing. Dur­ing the pro­cess of mak­ing the album I did­n't listen to too much hip hop or what every­body else was doing. I was really into NOT hav­ing my album sound like any oth­er albums.
For this pro­ject, you have worked with a lot of artists (DJ Iran,Kev Brown, DJ Jon Doe, Kenn Star, Grap Luva, Nolan the Ninja, Supasti­tion, Y U). It was import­ant for you to col­lab­or­ate with them for your first pro­ject ?
Yes it was these are all ppl I con­sider fam­ily and my peers. It's great hav­ing friends that you can just call up and they come thru with that heat! Every­body came thru and killed that shit!
Fol­low­ing this album, do you have any new planned pro­jects ?
Yes I have a few singles drop­ping at the start of the year. I've been work­ing with a few pro­du­cers (I don't wanna say the name yet ) but they are pretty major. I just wrapped a pro­ject with anoth­er pro­du­cer it's on some Jaylib ( Dilla & Madlib ) type shit. 2 pro­du­cers who rhyme and we're going back and forth on each oth­ers beats. We're in the pro­cess of mix­ing that at this moment I'm in the stu­dio now.
Do you think you will per­form in the UK in the next months ?
Yes that is a def­in­ite the way things are going. And the love I'm get­ting from the UK for the album has been crazy! We are apply­ing to a few fest­ivals and look­ing to make that move in the sum­mer. I would also like to work with some UK artist.
What is your vis­ion about the cur­rent Hip Hop ? You can be con­sidered as a new gen­er­a­tion artist. Non­ethe­less, you are very dif­fer­ent from this new wave of rap­pers with very trappy beats and lyr­ics about drugs and depres­sion. What's your pos­i­tion about that ?
I try to make time­less music. The music i cre­ate would be con­sidered "golden era" or "throw­back" but to me that's time­less music. The music that is out now is basic­ally for this moment. My music does­n't bang in the clubs/strip clubs like that lol. I under­stand music and trends change I'm not mad at it at all. We gotta have vari­ety. It would be great to hear more of my peers and myself on the radio but the emo depres­sion type rap is win­ning right now. I don't know to much about pop­ping pills, drink­ing cough syr­up, or being insanely high. I know how to make a beat a rock a mic though.
The fol­low­ing two tabs change con­tent below.
Timothée Chataux
Com­ing from Par­is and inter­ested in French & US Hip Hop top­ics. I'm writ­ting about any rel­ev­ant sub­jects for I am Hip Hop magazine. You only know MC Sol­aar ? My mis­sion is to show you many more.
Latest posts by Timothée Chataux (see all)